Seb Bouin reports he has climbed his multi-year project "DNA", giving it a grade of 9c (5.15d). If confirmed, this would be only the second 9c in the world.
Seb has been working on the project since 2019 when he first discovered and bolted it himself. It's been included on our list of the hardest climbs in the world as a known project for a while. The project needs good conditions and finally went down just a few days ago.
From Seb's Insta post, he'd "tried it for 6 months in 2020, and for 6 months in 2021, I finally managed to clip the belay this spring during my second trip. I've spent over 150 days in it (close to 200 I think), and tried the route over 250 times".
"DNA" is a steeply overhanging route nearly 50 meters long. It's on the limestone walls of Ramirole, a cave above the Verdon Gorge in France. The area is famous for its bolted multi-pitches and was one of the most popular areas for the new, harder style of Sport Climbing that emerged in the 70s.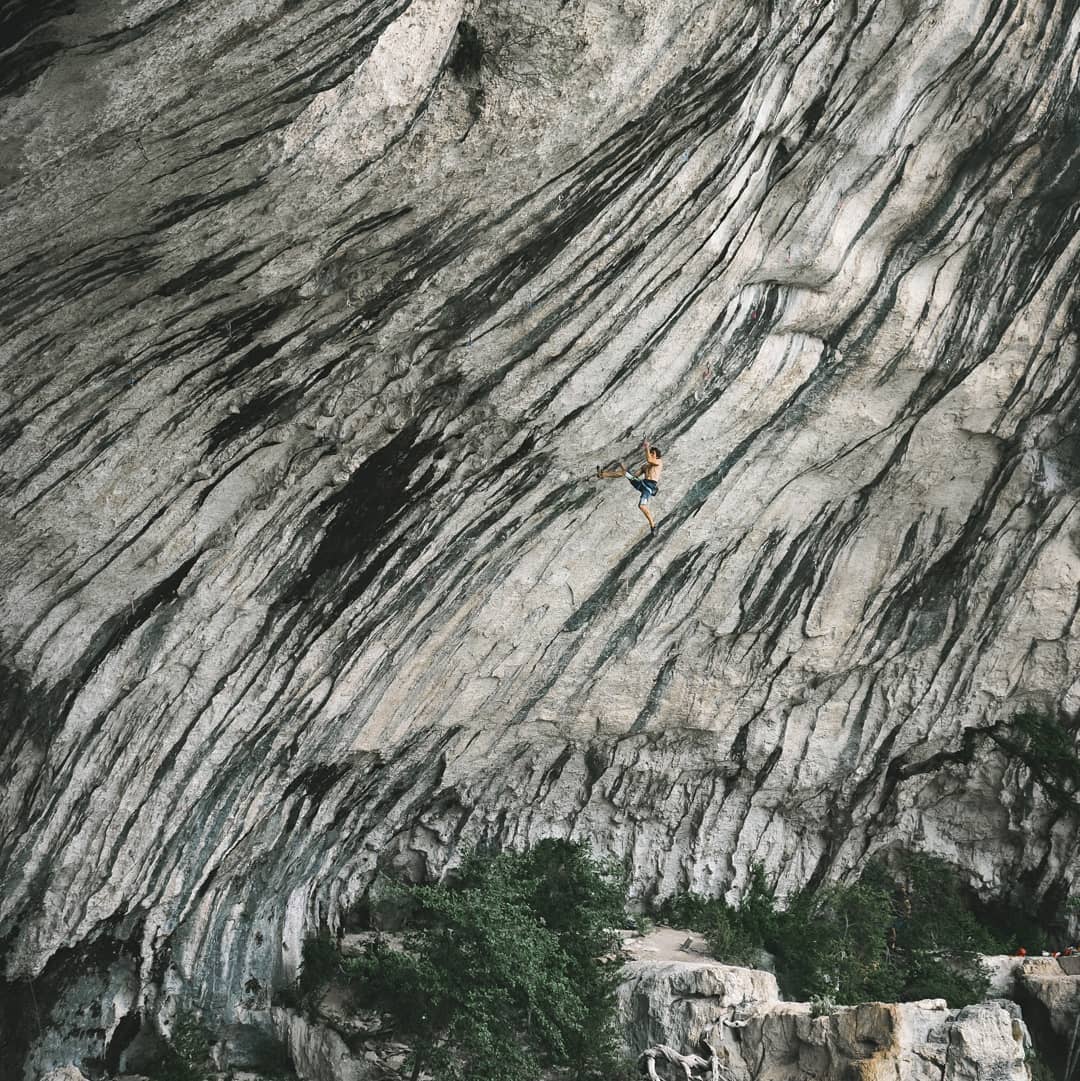 According to Seb, the route starts with an 8c+ sport section, into two boulder problem cruxes. The first is around an 8A (V11) and requires a modern-style dynamic move to a tufa. The second crux is around an 8A+ (V12) boulder that's burly, needing a big move to a harsh undercling.
Ramirole is a fairly new crag that is full of incredibly hard routes. Many were bolted by Antonin Rhodes. In just this crag Seb Bouin has made the first ascent of four 9a's, a 9a/+, one 9a+, and "La Rage d'Adam". That route he graded at 9b/+, though it hasn't seen a repeat and could well be a full 9b+.
Seb is very honest about grading his projects and giving his opinions when he repeats the routes of others. As a result, he's downgraded a fair few hard climbs. Probably the most famous would be the controversially graded "Akira" 9b, which he dropped two full grades to 9a.
"DNA" Grading
So of course with this new route, Seb carefully considered the grading, saying "If I compare DNA with other routes I've done or that I've tried, it's really a step above. If I compare it with Move 9b/+, or if I compare it with Bibliographie 9b+, I have the feeling that this route is just harder. I spent about 40 days on Bibliography, and I was really not far from succeeding (I fell three times at the top of the route). I spent about 40 days on Move 9b/+ and succeeded in 2019. Choosing 9b+ would be the safe bet…"
He also takes into account how much he's climbed at Ramirole and how the route is very much in his preferred style. He's thrown open the route to other climbers and welcomes their attempts and personal grades.
His comments on "Bibliographie" were that he's actually managed the full route but fell right at the top three times. So although he hadn't sent the route properly he feels it wasn't as hard, plus wasn't his personal favored style.
Other 9c / 5.15d Routes
There have been a couple of 9c routes proposed. Only one has been repeated. "Silence" is a route put up by Adam Ondra in the Hanshelleren Cave in Norway. It was first sent in 2017 and has seen many attempts at a repeat, with no one coming as close as Adam.
"Bibliographie" was a long-term open project in Céüse, which was eventually worked on and climbed in 2020 by Alex Megos. He proposed 9c but later the route was repeated by Stefano Ghisolfi who proposed a downgrade to 9b+. Sean Bailey also repeated it later that year.
That leaves "Silence" as the only 9c that still stands. The fact it hasn't had a repeat after five years is stunning. The route isn't too remote and Adam's other hard route "Change" 9b+ is in the same cave. It was the world's first 9b+ and was recently repeated by Stefano Ghisolfi.
We'd expect "DNA" to get some attempts at a repeat soon. Stefano Ghisolfi is a likely bet, though along with many others he's on the IFSC competition circuit right now. Adam Ondra's son was just born, so he's unlikely for the time being.
Reel Rock also posted about Seb sending the project, saying "stay tuned for the full story #reelrock17" on Instagram. You can watch the most recently released Reel Rock 16 streaming now. You can read Seb talking about his thoughts on the new route on the Black Diamond blog.
Pictures by Lena Drapella – Lena Drapella Instagram