Almost out of nowhere, Adam Ondra has sent a new 9b+ / 5.15c at his home crag in Czechia. Naming the route "Zvěřinec" – which translates to "Menagerie" – he says it is "surely the second hardest route of my life".
The Route
"Zvěřinec" is a variation of an old first ascent of his, with a much harder start. Situated at his home crag of Moravian Karst, which is known for its huge cave systems and ancient limestone rock faces. It's also infamous for its steep grading for weird moves on really polished rock.
The original is called "Perlorodka" (translates to "Pearl Oyster") and was first climbed by Ondra back in September 2011. "Perlorodka" is a variation of another Ondra route: "Perla Východu" (which translates to "Pearl of the East"), a 9a Ondra made the first ascent of when he was just 14 years old in 2007.
Ondra talks of the "Perlorodka" route, saying it is a "…striking line in possibly the best rock that we have at our home crag. Very improbable crux at solid 8B+ (boulder) difficulty with reachy moves and desperate slapping of the completely rounded lip of the overhang. Back then, I gave it 9a+, but I think it deserves more 9b".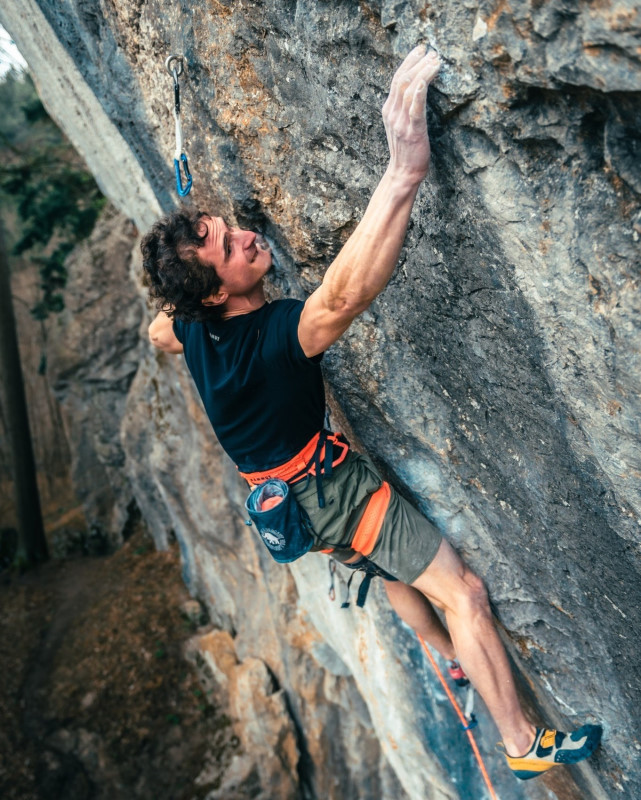 This new route climbs the same 8B+ boulder crux but starts in a different place. That bumps the start up to "9a+ on its own, with a good rest in between". On the day Ondra found the crag in perfect condition. With crisp, cold weather and completely dry rock, he fired up the route to send it.
He says a full video will be released on his YouTube channel in the new year. It ties in nicely with his new film "Adam Ondra: Pushing the Limits", which chronicles the last few years of his life. That includes competing at the Olympics, pushing climbing to a new level, and having a child with his now-wife Iva.
Ondra's Second Hardest Route?
Interestingly, Ondra called it the "second hardest route of his life" after "Silence" 9c, which he sent back in 2017 to make it the hardest sport climb in the world at the time. Since then, two more 9c's have been proposed.
"Bibliographie" by Alex Megos was given the grade by Megos but has since been downgraded by another couple of climbers. "DNA" is a new 9c proposed by Seb Bouin early this year that has seen some interest but no repeats yet. "Silence" 9c has never been repeated.
This crag is the ultimate sandbag area, with a tonne of routes being much harder than advertised. Ondra is generally very conservative in his grades, but has actually reconsidered some routes.
"Perla Východu" he gave an 8c+ back when he first climbed it, explaining that the only other hard route in the area was 8c, and he didn't want to skip two grades. He now says that route is probably a 9a, and Will Bosi agrees.
The same goes for "Perlorodka" which he gave a 9a+ but now thinks it a 9b. So it's hard to see this getting a downgrade. He specifically said the grade was a "9b+ (hard)". Time will tell, but it could be on par with Seb Bouin's "DNA".
Interestingly, this makes Adam's fourth 9b+ (5.15c). "Change", "La Dura Dura", and "Vasil Vasil" (also in Czechia and unrepeated) were all Adam Ondra first ascents.
He was last seen working the route in April of 2022 with Will Bosi in the video below. You can take a look at the pair climbing at the Moravian Karst crag back then, with Will making the first repeat of the 9a "Perla Východu", which became "Perlorodka" 9a+/9b, which has just become "Zvěřinec" 9b+.
Adam has brought a few people to the area, including Magnus Midtbo. You can see Magnus struggling on a 5c while Ondra gives a masterclass in belaying here. Adam also gets on a hard project which may be the one he's just sent.
Photos courtesy of Petr Chodura – @pet.phot