Long road trip planned for the weekend? Cleaning out your gear closet? Pretending to pay attention in Zoom meetings? Climbing podcasts are here for you – read our personal favorites.
There are a surprising amount of climbing podcasts available now, with more popping up every year. We've sorted through the choss to give you only bomber picks. From climbing training podcasts to stories and campfire talks, through to serious interviews and the stuff we don't want to talk about – it's all here.
The Enormocast – Continuing with style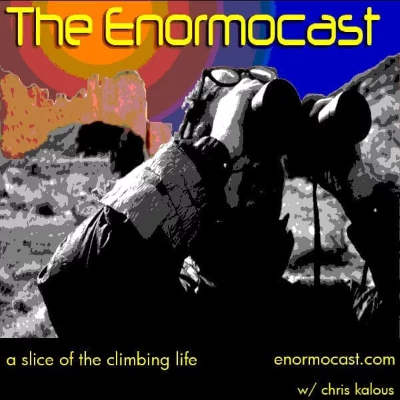 | | | |
| --- | --- | --- |
| Episodes: Over 200 | Episode Length: Around 1hr 30 | Content: Interviews, Chats |
Website – Listen on Spotify, Apple Podcasts, Google Podcasts, Stitcher
Hands down the best climbing podcast out there. Each episode features an interview with a climber and a deep dive into their climbing history and what they've psyched on at the moment, as well as trying to find what climbing is for them.
Until very recently every interview was done in person which gives it a brilliant personal feel. The host Chris Kalous is just laid back enough and his passion for climbing always shines through. Most of the interviews have a relaxed atmosphere that allows climbers to open up a little and talk about things that might never come out in magazine pieces.
Probably the biggest contributions to climbing from the Enormocast have been the episodes featuring prominent climbers from the 60s to 80s. Some of the featured guests have tales to tell of less-known feats and near misses from an era where climbing was absolutely not mainstream.
Too many good interviews to list them all but here are some personal favorites on interesting topics.
Climbing Podcasts like this: Jam Crack Podcast, The Run Out, Bad Beta Podcast
Training Beta Podcast – Get strong, climb hard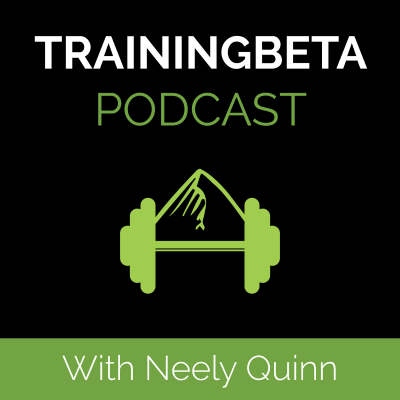 | | | |
| --- | --- | --- |
| Episodes So Far: Over 150 | Episode Length: 1hr to 1hr 30 | Content: Training plans, Q&A's |
Website – Listen on Spotify, Apple Podcasts, Google Podcasts, Stitcher
Neely Quinn is all about training for climbing, and this podcast does exactly what it says on the tin. As far as climbing podcasts for training this is the one.
Climbing Podcasts like this: Power Company Podcast, Eric Horst's Training For Climbing Podcast
More Climbing Inspiration
– Best Climbing Documentaries
– Hardest Climbs in the World
– Can You Rock Climb Alone?
Curious Climber Podcast – What makes a climber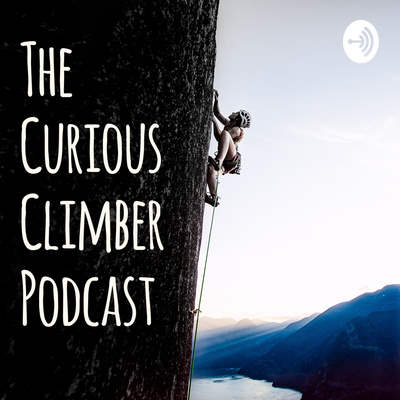 | | | |
| --- | --- | --- |
| Episodes So Far: 22 | Episode Length: 1-2 hours | Content: Personal stories |
Website – Listen on Spotify, Apple Podcasts, Google Podcasts
Hosted by pro climbers Hazel Findlay and Mina Leslie-Wujastyk. More than just climbing stories it's about the climbers themselves, their lives, and the things they've gone through to be who they are today.
It's genuinely brilliant in its range of topics and has some real stand-out episodes.
Beth Rodden talks about big changes in her life as a climber and person. Covering body image, success and failure, and the expectations of a professional climber.
Hazel talks to Trevor Masiah about 35 years of climbing and racism, and how both have changed over the years.
Anoushé Husain talks about being a paraclimber and her experience in the climbing community as a Muslim woman.
Climbing podcasts like this: MasterBeta Ladies
For the Love of Climbing – There's more to life than climbing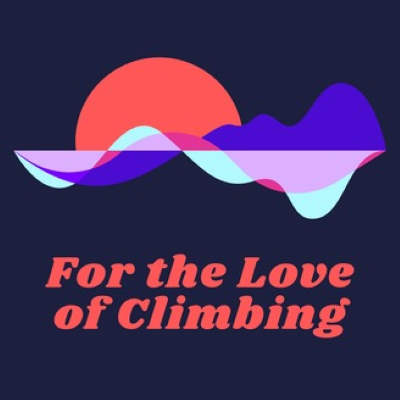 | | | |
| --- | --- | --- |
| Episodes So Far: 21 | Episode Length: 30-60 mins | Content: Personal stories and important topics |
Listen on Spotify, Apple Podcasts, Google Podcasts, Stitcher
The tagline promises "this is not a climbing podcast" and delivers. A brilliant podcast about the issues that affect people and the climbing community. It features some really honest and vulnerable stories that are worth listening to and acting on if we really want climbing to be inclusive and welcoming – like we often say we do.
Featuring episodes on death and loss, gender identity, racism, PTSD, and more. The common theme is that these things are prevalent in climbing yet rarely acknowledged. They all make for great episodes as the podcast is very well produced and thought out.
Connie and Kai Lightner talking about racism and diversity in climbing and how we can make positive changes for everyone
Death in climbing – Something that will affect almost every climber but still isn't talked about
More Great Climbing Podcasts
We've given our faves above but we've listened to a bunch of different stuff over the years. Here are some other great picks that are worth adding to your playlist: –
If you're looking for a short topical podcast we'd recommend The Run Out. Hosted by the Enormocast's Chris Kalous and Andrew Bisharat of Evening Sends, each week they cover a topic that's come up recently and invite guests on to find out what the deal is.
Niall Grimes is hands down the most eccentric climber in the UK. You might remember him as the history dude from Hard Grim or from basically any video in a climbing gym in Sheffield. Niall interviews and confuses many strong and up-and-coming climbers from the UK in his own Jam Crack Podcast.
If you love watching Weekend Whippers and commenting about the specific belay stance and amount of slack you'll love The Sharp End. It's safety-focused and talks to climbers who've been involved in accidents. Find out what they could have done to avoid it, what they did after the accident, and how best to handle it when things do go wrong.
The Dirtbag Diaries podcast is about stories. It's a really interesting way to approach podcasting that's more a poetry reading that an interview. Great as inspiration when planning your next epic.