Today we'll be reviewing the high performance Petzl Aquila. This is a light weight climbing harness that does well in many types of climbing. As one of Petzl's most expensive pieces of gear you'll want to know everything about it before you buy. Our review is based off of long term use and extensive testing so you can get the low down on whether the Petzl Aquila is right for you.
On release, the Aquila had a high price tag of around $135 but can now be found for as little as $70 (though currently around $90-$100) at some online retailers. It features a brilliant mix of being light weight while also offering adjustable leg buckles, a brilliant fit and comfort, as well as features that can satisfy most climbers. Could this be the perfect all-in-one harness you are looking for?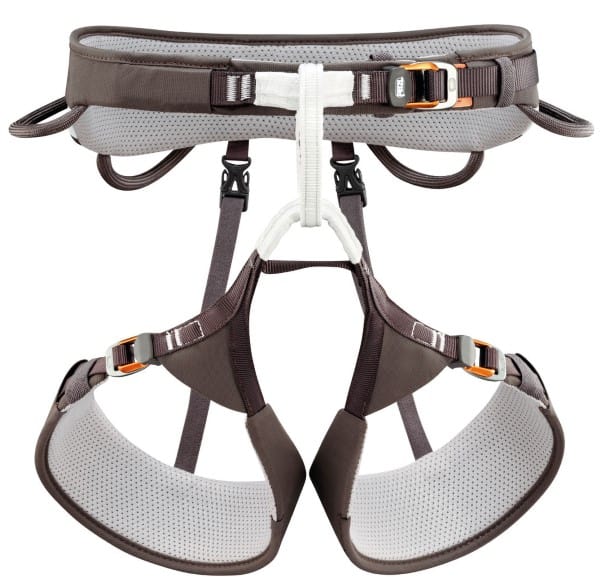 Performance and Features
Featuring a very thin profile and wide waist belt means that the harness is comfortable for both hard sport climbs in the sun, or over a thick jacket in alpine conditions. The medium weighs in at 345 grams / 12.1 ounces. Adjustable leg buckles are great for people like the reviewer who have larger thighs and don't like fixed leg loops. These also allow you to use the harness on bare legs or with thick winter trousers so you don't need two different harnesses.
The buckles are fast and easy to adjust and have multiple loops to tidy them up out of the way. It's worth mentioning some reviewers have said that their buckles can occasionally slip slightly and need tightening, but after over a year of constant use we have never had this issue. This is probably because on all harnesses users are meant to tuck loose ends away – but sometimes don't.
The two front gear loops are molded to push out away from your body for easy clipping, with two more gear loops further back. The gear loops at the front may be slightly too far back for some, but we find them perfect for easy access without quickdraws hanging to close in front and in the way of the climbing. The loops are medium size so can be suited to trad and multi-pitch routes. The rear loops aren't molded and fold flat for comfort while wearing a gear pack.
For alpine and mountaineering the Aquila features a rear tag line as well as two sturdy built in ice tool / caritool slots.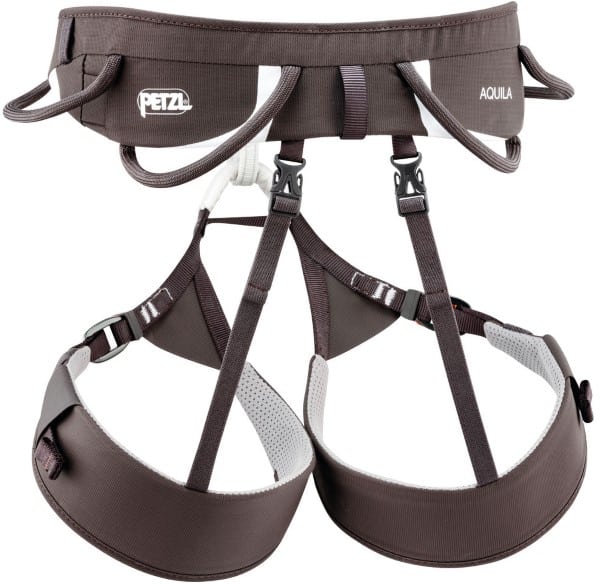 Durability – Long Term Use
Extra features like the reinforced, low-abrasion tie-in points mean a longer lasting harness and really do make a difference. Some may be put off by a belay loop that is slightly thinner than older harnesses – but long term use shows it holding up perfectly well while saving weight. The outer fabric is still in great condition even after over a year of a mix of indoor training, repeated hanging on routes, long multi-pitches, and climbing out in hot and sweaty conditions.
Comfort and Breathability
The main draw of this harness for us was the comfort. For a harness without a lot of padding and weight, the Aquila is incredibly comfortable when hanging on sports routes all day. The wide belts use Petzl's FUSEFRAME technology which is thermo-formed foam that molds around the split webbing. Essentially this means instead of needing a lot of padding for comfort, the pressure is divided over a larger area of your body.
Long term this harness has been much softer to wear compared to even the most padded harnesses we've used. The lightness also means on hot European crag days it stills retains good breathability and doesn't get ruined by sweat.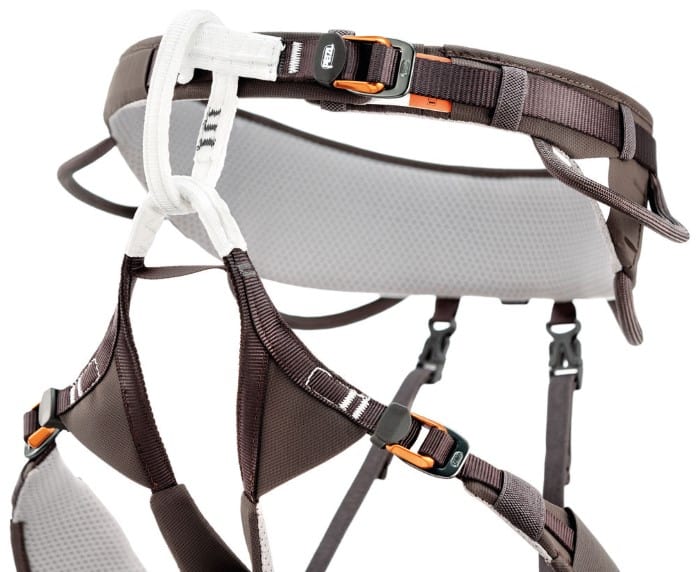 Summary – Is The Petzl Aquila Right For You?
If you are in the market for either a super comfy sport harness, or a great all rounder – we'd recommend the Petzl Aquila. If you can get it cheaper than the $134.95 recommended retails price then you are on to a bargain. This is top quality harness that will last you years of use in a variety of situations – definitely worth a try. The Petzl Aquila may be the best all around climbing harness.
As always – check local retailers to see if you can do a hang test before you buy as different body types fit to different harnesses. Read more long term climbing gear reviews or follow us on instagram and facebook for regular news and reviews.
Tech Specs
From Petzl's website
Maximum comfort for long suspensions and for larger body types:
– wide waist belt adapts to larger body types for better weight distribution
– FUSEFRAME technology offers a thin and supple waist belt for complete freedom of movement with minimal weight
– leg loops adjust with DOUBLEBACK HD buckles for quick adaptation to different body types and to seasonal clothing
– supple leg loop bridge for maximum comfort when climbing

Optimized transport of equipment:
– two rigid equipment loops in front for easy clipping and unclipping of quickdraws
– two rear equipment loops are flexible, for bringing gear to the front and for comfort when carrying a backpack
– two slots for CARITOOL tool holder
– one rear loop for trail line

Reinforced for durability:
– reinforced tie-in points in high-modulus polyethylene (HMPE) for improved resistance to wear from rope friction
– waist belt and leg loops equipped with DOUBLEBACK HD buckles in forged aluminum, offering good grip and fluid glide of the webbing for easy and quick adjustment
– durable, abrasion-resistant exterior fabric
Material(s): nylon, polyester, EVA, polyurethane, aluminum, high-modulus polyethylene
Certification(s): CE EN 12277 type C, UIAA
Harness comes in a protective carry bag
Guaranteed for 3 years