In the last few years clip sticks are seeing way more use out at crags. These clever tools make scary first clips a thing of the past and in some areas they're a lifesaver. Read more on the best clip sticks available and our guide to stick clipping.
What Is A Clip Stick?
A stick you can attach a quickdraw to with your rope pre-clipped. You can then clip the first bolt in as if you'd already climbed to it. You can also use them to clip a climbing rope into an already attached quickdraw OR to remove the quick and rope when you're done.
It's just a stick right? Our top picks
– Best Clip Stick – Beta Stick Evo
– Cheaper Alternative – Kailas Stick Clip
– Already have a painter's pole – Trango Squid
Why Use A Clip Stick?
Pre-Clipping
There are a bunch of different reasons for using them but the most helpful is when the first bolt or two are quite high off the ground. If a fall before the first or second bolt could mean a ground fall or a fall onto harsh terrain (or into the sea) then a pre-clipped quickdraw could literally be a life-saver. Or at least an ankle-preserver.
You can clip both the rope and quickdraw in or either at a time. This becomes handy on a day at the crag when someone has left draws in for you on a route and you just want to clip the first before climbing.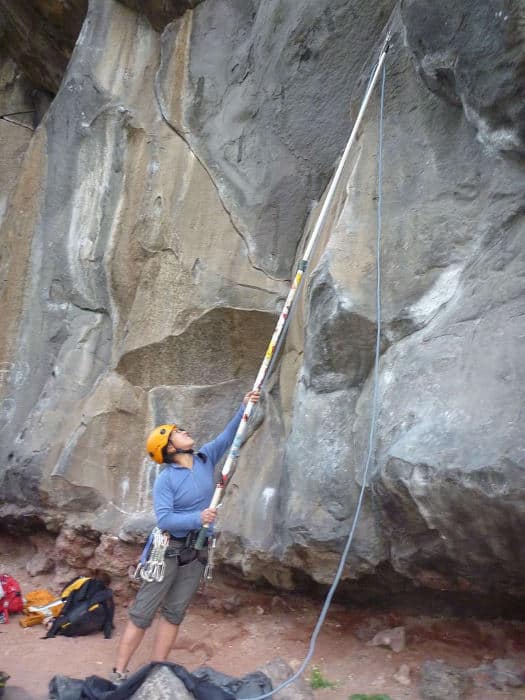 Bailing Safely
The second reason is coming down from a route you can't finish. Previously the options were to unclip and climb down each bolt, clip-drop each bolt, leave a bail biner or quickdraw, or get someone to climb it for you. Not the ideals solutions for safety/wallet/ego.
Having a clip stick means you can take a quickdraw out at a time. Just lower to the next bolt, clip yourself in to that quickdraw to take the weight off the rope (no need to untie). Use the clip stick to unclip the quickdraw above and bring it down. Repeat until you can touch the floor.
Doing this is less complicated than it sounds and saves time and money. You can also just clip upwards to the chain and lower from those if it's easier. Having these options mean you can push yourself on harder routes without worrying about losing a quickdraw.
Projecting
As you push the grades you'll start projecting routes. The key to working hard routes is not to try each time from the ground up. Ideally you'll find the crux moves or sequence and work these first. Once you've nailed these then you can start linking the route and go for a redpoint.
Usually you do this by rappelling in from above and working the route or jugging your way up a route by clipping a bolt and holding the dogbone of a quickdraw e.t.c. Having a clipstick makes this process way easier as you can clip the first few bolts, then take the stick up with you to clip the above bolts and thread the rope into them. Again this is easier than it sounds but makes a huge difference when redpointing at your limit.
How To Use A Clip Stick
All of the clip sticks featured are basically the same idea. You attach the top carabiner of the quickdraw to the top with the gate held open. The rope clips into the bottom carabiner. Clip the quickdraw to the bolt and pull down.
To unclip you thread a loop or bight of rope to the top – then "lasso" the carabiner around the gate and pull. Manouver the quickdraw out of the bolt and pull down. You can do the same to put rope into a pre-placed quickdraw or pull rope down.
Best Clip Sticks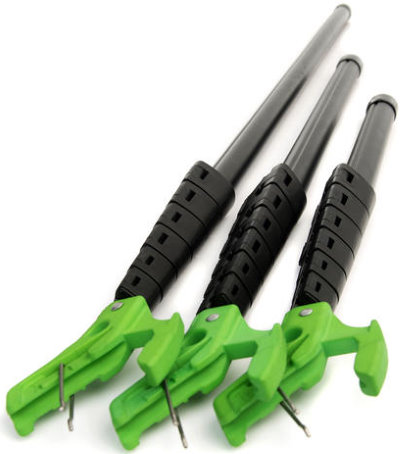 Beta Stick Evo
The Beta Stick Evo is our top pick for best clip stick hands down. It costs the most but does everything you need it to, packs away to a small size, and is the most thought out design.
The design of the head is innovative and allows you easily place a quickdraw of any size in. The little metal gate trap can be shifted about or squeezed to stick in place and hold the quickdraw gate fully open for easily clipping a quickdraw and rope to a bolt.
Unclipping is easy too by using the prongs again to hold a loop of rope in place – you can even do it with another quickdraw in the head. Unclipping a quickdraw uses the same prongs with the loop and pull method. There is also a hook at the bottom of the head for pulling rope down and a hole for clipping to a carabiner for keeping it on your harness.
The plastic head design allows the quickdraw to be held in place, and the metal gate trap can slide up and down a channel for the best fit. Once you've tried it a couple of times it's really helpful in making sure the carabiner is fully opened and won't budge or fall out.
The telescoping pole manages to be very sturdy while also compacting down to a small size. The fasteners are strong and easy to use. In long term testing we've had no problems with the steadiness or durability, with the Ultra Compact just about fitting into a backpack for travel.
The Beta Stick Evo comes in three different lengths: –
| | | | |
| --- | --- | --- | --- |
| | Compacts to: | Extends to reach: | Weight: |
| Ultra Compact | 55cm / 1ft 9in | 238cm / 7ft 9in | 470g / 1lb |
| Super Standard | 74cm / 2ft 5in | 374cm / 12ft 3in | 635g / 1.4lb |
| Ultra Long | 113cm / 3ft 8in | 648cm / 21ft 3in | 965g / 2.1lb |
If you travel a bit and mainly do sport routes – just wanting to clip the first draw or work routes – then the Ultra Compact will do fine. If you're worried about reach and don't mind the clip stick being a little larger when packed down then the Super Standard is perfect. The Ultra Long is for the dedicated project-climbers who spend time working hard-to-access routes or like big run-out classics without the mental gymnastics.
The Beta Stick Evo is definitely the best clip stick for the money and will last years of continued use.
More Awesome Climbing Gear Guides
– Best Climbing Rope
– Best Climbing Pants
– Massage Guns For Climbers
– Best Climbing Harness For Kids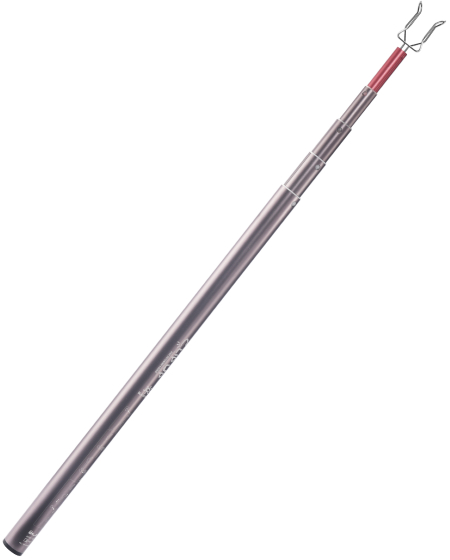 Kailas Stick Clip
The Kailas Stick Clip is a simpler and possibly more burly option that makes the best stick clip list. It comes in cheaper at around $60 RRP but with similar features and a simpler operation. It's tried and tested and some prefer this to the Beta.
This was one of the first stick clips on the marker and has been improved upon for the latest model. This latest version has a 28mm aluminum diameter pole that is a little more sturdy and sways less when fully extended.
It clips draws, ropes, and can hook ropes to pull them down. Using it is simple and easy to learn. The bottom has an unscrewable loop for clipping to a harness plus the screw hole matches the ones for cameras. So this can double as a pole for taking climbing photos.
| | | |
| --- | --- | --- |
| Compacts To: | Extends To: | Weight: |
| 57cm / 1ft 10in | 247cm / 8ft 1in | 453g / 0.7lb |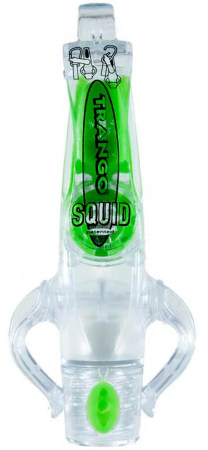 Trango Squid Clip Stick
This interesting looking device works by literally clipping onto a quickdraw to hold it open in place. The loops at the side are used for holding and clipping the rope. Also works for unclipping and is super light with an all plastic design.
This device doesn't come with a pole so you'll have to spring for one. There are durability concerns too. Overall we'd recommend the Beta Stick Evo instead as it solves the issues with this clip stick.
Best Extension Pole For Stick Clip
Any standard painter's pole will fit the Trango Squid but a popular choice is a Mr Longarm extending pole or similar. You can always jam a stick from the crag into the end and hope for the best if all else fails.
DIY Clip Stick
If you just want to clip the first draw and don't need the rest you can always Macgyver your own clip stick. Scavenge for the perfect fallen branch and use a bit of climbing tape to attach a quickdraw to the end. Having the right amount of tape to just keep the gate open enough and let it shut when you pull away is the trick.
Pro tip: Wedge a twig into the quickdraw gate to jam it open instead of taping it. It should fall out and close if you yank it just right. Field tested.
How long should a stick clip pole be?
A stick clip pole of 6-8 foot along with your reach will get most first clips. We'd recommend the standard 12ft Beta Stick Evo if you'll regularly use it as it might help with really high first clips or for second clips too.
Is using a clip stick cheating?
Yes but who cares?
Clipping the first or second bolt where a fall is dangerous for both the climber and belayer. It's totally accepted in most circles and even with pros as long as it isn't done to avoid getting pumped while clipping.
Pre-hung draws for redpoints are the norm now even though technically that's a pinkpoint.
Is it OK to clip stick the first two or three bolts?
It's completely up to you. If you climb to have fun and don't care about clean ascents and strict ethics then go for it. Some climbs are sketchy and runout and some were bolted without regard for easy clipping position.
Are clip sticks worth it?
If you get 5 years of use out of a clip stick but save yourself one quickdraw a year from having to bail – then yes. If you take a weird fall while clipping an awkward and high first bolt you could twist an ankle or worse.
You'll also gain favor and friends at the crag when you lend it out!
Header photo courtest of Steve Hanna – justonlysteve on flickr