No climbing session is complete without a gnarly flapper or a shaved off fingerprint. For big wall lifers and pebble wrestlers alike – climbing skin care is essential. We've rounded up the best climbing skin balms plus a full guide to keeping your skin keen.
Climbing Skin Care Top Picks
These are our favorite products for keeping your skin in top condition for climbing and bouldering
– ClimbSkin Finger File
– Rhino Skin Repair
– Rhino Skin Performance
– ClimbSkin Hand Cream
Climbing Skin Problems
Friction is what keeps us stuck to the wall – but also what destroys our skin. Textured holds on indoors climbing walls, porous rock surfaces, and a sharp crimps can all rough up and tear skin. Climbers constantly battle with skin being either too thin or too thick. Past actually climbing our second hobby tends to be staring at our gnarled fingertips.
Skin wears down at the tips of the fingers especially and needs time to repair. Rest days are important but there are specialist balms and creams that nourish the skin and allow it to repair faster. When skin gets too thick and forms callouses – often at the joints of the fingers and top of the palms – it can then rip a whole chunk off. This is known as the dreaded flapper and leaves an exposed and tender pad of skin underneath.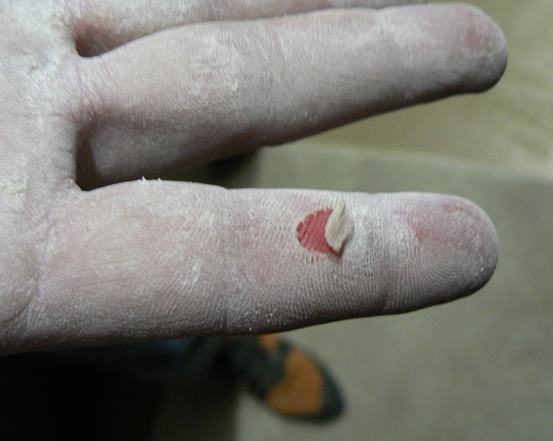 Skin can also become so hard and dry along the tips that a split can develop. This becomes very hard to heal as any further use can open the split again – much like a split at the corner of your mouth in cold weather.
Climbing Skin Care Tips
For the best performance, you'll want to make sure your skin is the perfect level of durable. The first thing you need to do is thoroughly wash your hands with soap and water after climbing. This removes dirt and chalk and allows your pores to breathe. You should also try to avoid things like washing up or activities where your hands are wet for a long time. Wear gloves instead, this isn't an excuse to skip chores…
Commonly people will use moisturizer to keep skin soft after doing hard work. For climbers, having skin that's too soft will be more painful and injurious. Instead of using a traditional moisturizer that's supposed to increase moisture to keep skin looking young – you want a specialized climbing balm or cream.
There are some great climbing balms on the market right now nourish the skin and allow it to become slightly leathery while still being healthy. This is perfect for climbing and allows us to have hard wearing skin that isn't dry and cracked. Use the balm on the edges, tops, and joints of your fingers too. Apply after washing your hands post-climb, and on rest days.
Flappers when climbing occur because skin has become too thick and pulls off as a chunk. The trick is to file down callouses on your hands and finger joints before they become thick enough to rip off. You can use a nail file, emery board, or a high grit sandpaper block.
Also try to keep your nails trimmed and neat. If you leave your nails to grow too long and then cut them close, your fingertips can feel very sensitive and bruise easily. Attentive climbing skin care is essential to long term performance.
Keep the skin around the edges of your fingertips neat too. Again you can use a file for this or small scissors. The aim is to stop tiny pieces of skin being caught or ripping. Climb Skin have a great climber-specific file with replaceable files.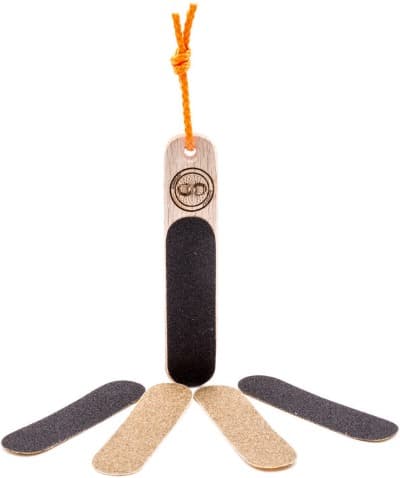 Make A Climbing Skin Care Kit
Having a little kit ready to go is really helpful when you need to perform with interruption. Pros like Adam Ondra and Magnus Midtbo have kits at hand wherever they go. Totally indispensable for climbing holidays without time for rest days. This is what we recommend: –
Nail Clippers – for keeping nails and loose skin neat
Skin file, emery board or sandpaper for sanding down thick skin and stopping flappers
A good climbing specific skin balm or cream
Disinfectant for immediately putting on cuts
What Balm Should I Use?
Most climbing skin care balms and creams are a soft wax or oil based – in contrast to traditional skin care creams. If you have quite dry skin try to get something that moisturizes with natural oils that will be absorbed by your skin but not leave it to soft. If you have oily or sweaty skin, try and get something with a natural, mild drying agent.
The aim here is not to leave your hands wet but to get the right nutrients so the skin repairs itself and becomes stronger.
Best Climbing Skin Care Balms + Creams
ClimbSkin Hand Cream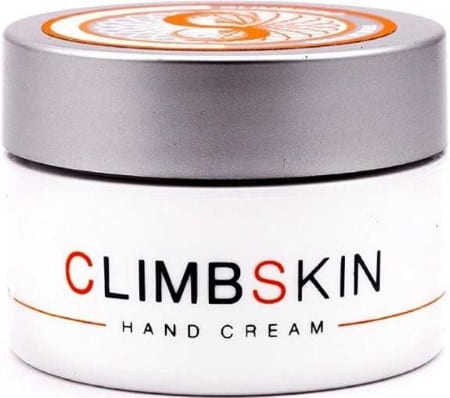 Climb On Lotion Bar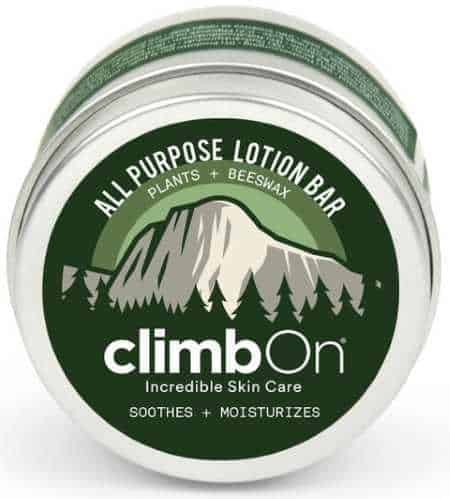 Metolius Hand Repair Balm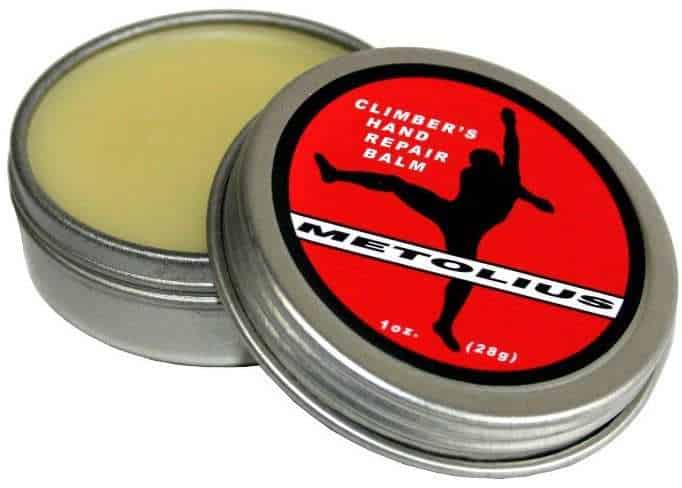 Our Top Climbing Skin Care Tips
Thoroughly wash your hands in hot soapy water after every climbing session, then rinse properly in cold water
Wear gloves when washing dishes
Apply a climbing balm after washing your hands, and daily even when not climbing
Keep an file on hand to stop thick callouses and keep skin leveled out around fingertips
Don't use skin drying products containing Methenamine unless you've tried everything else
Get a high quality climbing chalk or liquid chalk that works for you
Antihydral, Methenamine + Drying Creams For Very Wet Skin
Some climbers that have very wet skin when climbing will use a drying agent. We don't recommend this for the vast majority of people. If you take care of your hands properly with a good routine they should actually be less wet as they won't be constantly trying to repair themselves. Combined with a good chalk this could solve a problem with wet hands without further action.
Antihydral is a cream that contains the active ingredient Methenamine. It works by blocking the production of sweat in a similar way to most antiperspirants. It's an extreme solution but there are some new products containing it in lower amounts. Rhino Skin have three sprays that contain this in a lower concentration – "Dry", "Performance", and "Rhino Spit".
We personally recommend using the lowest concentration "Performance" cream at most a couple of times a week before bed. Only use when you are climbing more days than not, and sparingly otherwise. Their "Repair" cream is an excellent post-climb pairing that is non-greasy and should be used after climbing and on rest days.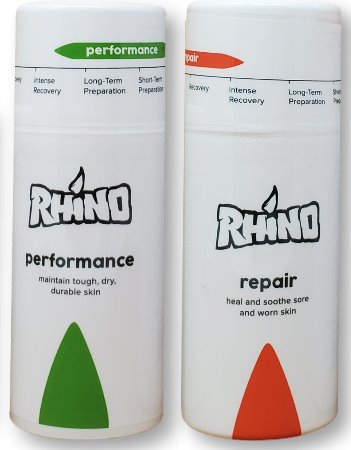 Rhino Skin Performance
Rhino Skin Repair
Methenamine produces formaldehyde on reaction with water in the skin. If you are allergic to formaldehyde don't use it. As ever consult a doctor for professional opinions and don't use the internet for health advice.
Urgent Care – Repair Split Finger Tips, Flappers, Cuts
If you split a finger tip or get a decent cut, stop climbing and wash the wound thoroughly. Apply some neosporin or a similar antiseptic and antibacterial cream as soon as possible. You should then cover the area with a breathable plaster or band aid and let it heal, reapplying the antiseptic every few hours to help. The same applies to flappers but they can take longer to heal because of the large area of new skin being exposed to air.
There are products like New-Skin Liquid Bandage that work as a disinfectant and a glue in one product, though they don't work as well as each one used desperately. You can also cover any cuts with climbing tape to keep them closed and create an artificial grip that works nearly as well as your finger. If a nail breaks you can get nail repair kits and glue that work well.
More Great Climbing Guides
– Best Climbing Harness For Kids + Best Climbing Shoes For Kids
– Best Liquid Climbing Chalk
– Best Beginner Climbing Rope
– Face Masks For Climbing
We hope you've enjoyed our complete guide to climbing skin care. Follow us on social media – twitter, facebook, instagram for more climbing news and gear guides. Header photo courtesy of Erik De Leon.