Emma Twyford has just sent her long term project "The Big Bang" 9a in Lower Pen Trwyn, Wales. She becomes the first British woman to climb a 9a The route was originally found by Neil Carson and was the first 9a route in the UK. Her sponsor DMM posted on their insta about it and have posted a good write up with an interview on the climb.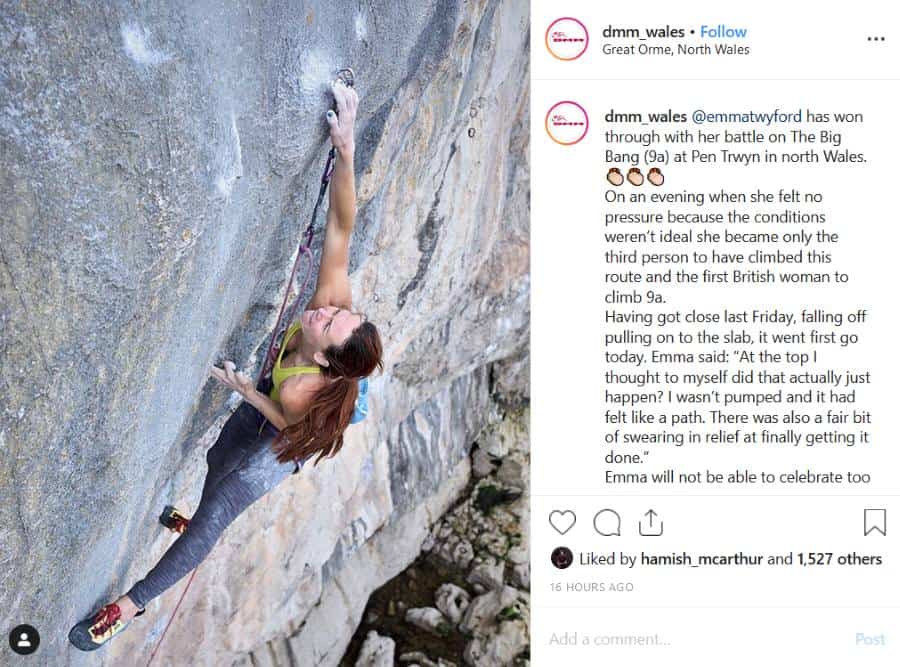 Emma battled conditions and illness over her last couple of years of attempts though she says the conditions weren't ideal when she sent. Having first attempted the route back in 2016 this is a massive achievement and we're really happy for Emma pushing forward the boundaries for UK climbers and her gender.
A sweary close call attempt is up on Emma's instagram from a few days before that shows how close she was to a full top. Even further back she posted nearly three months ago of the progress on the route. UK legend Niall Grimes sat down with Emma for a two part interview on the Jam Crack podcast that is definitely worth a listen to as well.
Born in Exeter Emma currently works as a route setter and was the British Junior Bouldering Champion in her youth. Now living in North Wales there is a huge concentration of great trad climbing. She has a ticklist of hard trad ascents as well as being a strong sport climber. In 2011 she flashed "Statement of Youth" 8a, an absolute classic route – used as the name of a great UK climbing documentary. She actually skipped a grade as her previous hardest sport climb was 8c with "Mind Control" in Oliana, another sport classic.
The second ascent of "The Big Bang" 9a was by James McHaffie in 2011 and there is a good video of him working on it and sending here (he actually did it twice!). Climbing Daily on Epic TV did a great profile on Emma Twyford and a lot of her recent achievements – embedded below.