Alex Totkova has sent her first 9a at only 15 years old! The route was "Victimes del Futur" in Margalef. The young Bulgarian has been climbing progressively harder sports routes outside but this is a jump from 8c straight to 9a. Most recently Alex sent the 8c "Los ultimos vampiros hippies" also in Margalef, and "Goofy" 8c in Leonidio, Greece.
From instagram she said "The route is really steep with small pockets that suits me. There is a rest before the crux. At the beginning I was taking the crux pocket with my right hand but one day before going home I tried the original (left hand) beta and did it too. On the last day of our trip I didn't know which beta was better. The try before I sent it I was so close with the original (left hand) but my foot slipped. I was nervous because I knew that I only had one more go……. booom ?"
The 9a route "Victimes del Futur" in the Racó de la Finestra crag in Margalef was originally graded an 8c+ by First Ascentionist Ramon Julian Puigblanque in 2015. After two holds broke on the crux of the route other climbers have graded it 9a.
Alex Totkova also just sent "Jackpot" 8b on her second go. This was the first 8b in Bulgaria and a bit of history. She's also been training Speed Climbing and said on herstory – "One of my goals is to climb 9a, 9b. And I have also been thinking of the Olympics, why not". She also sent her first 8a at 11 years old! It seems like Alex is keen for the Paris 2024 Olympics.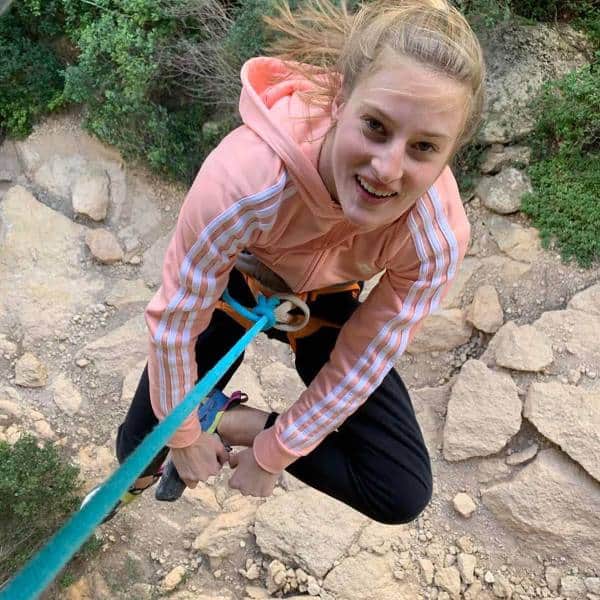 "Victimes del Futur" was actually Alberto Ginés López's first 9a, which he did back when he was 15. Jakob Schubert also flashed the problem last year shortly after sending Perfecto Mundo 9b+. He did get very detailed beta from Anghelo Bernal who had been working the route – but it's still impressive. Both Alberto and Jakob are qualified for Climbing in Tokyo 2020.
We've seen some incredible sends of really hard problems by young climbers recently. Giorgio Tomatis climbed 9a at 16 years old in February. Mishka Ishi became the youngest person to climb V15 at only 13 years old last year. Colin Duffy then became one of the youngest climbers to compete at the Olympics at only 16 years old.
Definitely looking forward to more sends from Alex Totkova in the future. For her age she is showing huge skill and most importantly the perseverance needed for redpointing harder routes and competing on an international level. Congratulations!