Tomoa Narasaki has won the 2019 Bouldering IFSC World Championships Finals in Hachioji, Japan. The final four boulders were set very hard with none of the competitors other than Narasaki topping out. He actually managed two tops and four bonus zones.
Taking second place is Jakob Schubert of Austria who managed three zones. In third place comes Yannick Flohé of Germany with three zones – though with more attempts. With three finalists (mirroring the Women's Bouldering Finals) Team Japan is showing very strong in this hometown competition. Team USA unfortunately saw no finalists – Rudolph Ruana being the closest in Semis.
Adam Ondra had an unexpected final – coming sixth and not getting to one zone. His performance was a strange one and seemed to be more about the setting. In both the qualifiers and the semis he topped the most problems of all the climbers – which made his placing even more puzzling. Ondra has been struggling with a wrist injury lately and it's yet to be seen if the long day has caused it to flare up.
M1 featured beautiful dual texture wooden/plastic holds. The boulder style start with a left hand grab combined with a right toe hook led on to another jumping move, finishing with an upwards press for the finish. Jakob Schubert managed to get both hands to the top before falling without time to repeat. M3 saw Tomoa's second top with a tricky overhang leading to a slab. Similarly M4 had a which no-one topped.
The boulders set were incredibly hard, which is always a difficult thing for setters and competition organizers. On one hand with more people hitting zones and topping out it can be more interesting for the crowd and get more hype for the competition. On the other hand making problems too easy can cause scoring issues if nearly everyone tops every problem – bringing in attempts and then timings can be a boring way to end a competition where it should really be about who gets to the top.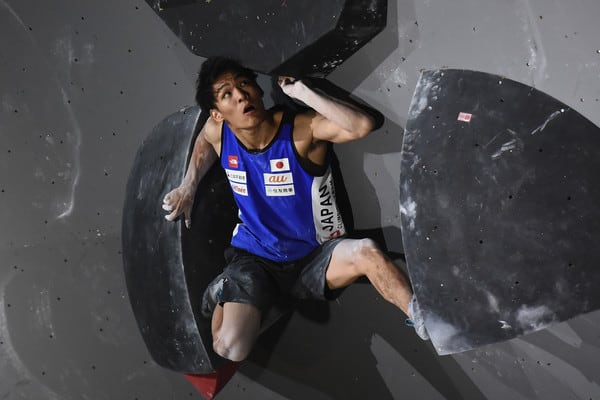 It has been said that the Olympic organizers for 2020 are looking at the crowds reactions to judge closely which of the three disciplines (Speed, Lead, Bouldering) get the most attention. After all, the Olympics is in the business of drawing the eye of the world. Climbing as a new sport is under scrutiny, and if it is seen as too niche it may lose out in the next few years to other new Olympic sports with a wide appeal like Karate.
Lead Qualifications
Today the 14th saw the lead qualifications for both gender categories. Semis and Finals will be held on the 15th in the same day like with Bouldering. This means an intense day for anyone through to finals and a real test of endurance.
The top three in Male qualifications tied: Tomoa Narasaki, Jakob Schubert, and Sascha Lehmann of Switzerland.
Both Rudolph Ruana and Sean Bailey of Team USA made semis. William Bosi of Great Britain made it through, wunderkind Alex Megos for Germany is in, as well as Sean McColl for Canada. Adam Ondra qualified in 10th for the Czech Republic. As the reigning strongest outside rock climber in the world with the hardest redpoint and hardest onsight, as well as the biggest back catalogue of hard climbs – it will be interesting to see if Ondra can make a comeback or if Narasaki can made it two Golds in one Championships.
In the Women's category Janja Garnbret once again shone through as the only competitor with two tops. Ai Mori of Japan came incredibly close with one top and a hold away from two. Anak Verhoeven of Belgium came in third, with Kim Jain and young hopeful Chaehyun Seo – both of Korea – coming in fourth and fifth respectively.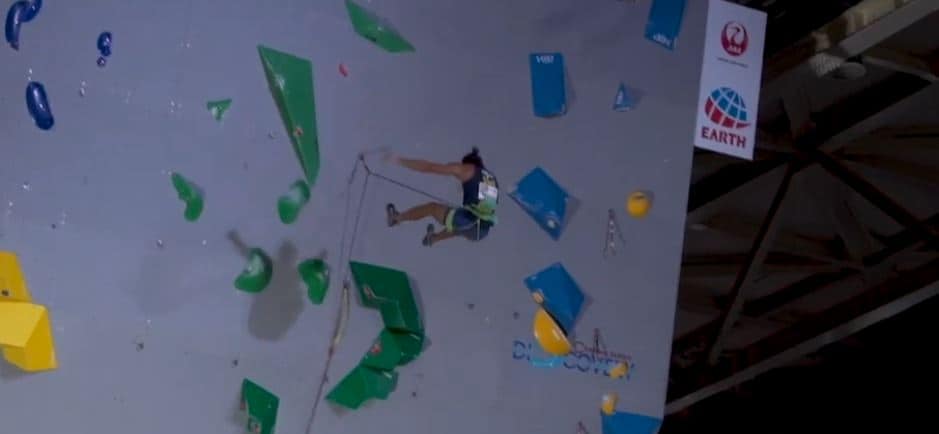 Both Miho Nonaka and Akiyo Noguchi, as well as Mei Kotake, Futaba Ito and Ai Mori qualified for Japan's strong showing. Great Britain has two contenders as general legend Shauna Coxsey and new face Molly Thompson-Smith are through. For team USA Brooke Rabatou came in 14th, though Ashima Shiraishi came in at 28th – just outside the 26 places available.
The competition is strong and the stakes have never been higher ahead of the 2020 Olympics Climbing debut! You can watch the live streams of the finals on youtube or on the IFSC homepage here. Please do join us on our social media or bookmark to come back and read more about the Lead results as well as our ongoing competition coverage ahead of the 2020 Olympics.