This week's friday feature is the best of this year's Climbing April Fools' Day 2019 products and news. Featuring a new addition to the Honnold Signature series, innovative sucker pads for route setters, gear for extreme weddings, and way more. This years Climbing April Fools has gone above and beyond what is reasonable.
Black Diamond Alex Honnold Signature Series expands
For the last few years BD has come up with a range of exciting new products to add to the Honnold signature series. Last year we had the – actually very popular – Hot Forge heated chalk bag and in 2017 the HonnSolo airbag pack. We know what climbing shoes Alex Honnold wears, but what cookware does he prefer?
Outdoors Experiences for your Pets
REI may actually be on to a winner here. No longer will crag dogs be relegated to passive observer status.
New Suction Aid for Routesetting

Inspired by this intrepid Trump supporter 360 holds have a new piece of aid for the pro routesetter.
Trad Glasses for Perfect Placements
Love the idea of trad climbing but hate thinking about placements? Furnace Industries have the product for you. Think Google Glasses but actually useful
New Elevator on Aigulle du Dru
Local tourist company Montenvers announced a helpful new elevator for tourists to reach the top of the Aiguille du Dru peak. The new feature in Mont Blanc in the French Alps should help tourists who prefer a more gentle approach and will feature "a cafeteria and a souvenir shop". Nice.
Ondra's Olympics Secret Revealed
Strength, power, endurance, vocal range – Ondra has all the hard sport necessities down. Apart from one. See how the Czech demon hones his agility and grace in this new video.
Gold bolt Hangars from Metolius
Just in time for climbing's first Oscar come these gold plated bolt hangars from Metolius. Only available for three star routes.
Hans Florine Beats El Cap Speed Record
Poet in residence Hans Florine has enshrined his latest speed ascent in true iambic style.
New Carabiner Ideas from Leading Brands
Both Edelrid and Beal are breaking new ground with these carabiners, coming to your local outdoor retailer Summer 3019.
El Cap Oscar Display
UKC report exclusively on the Free Solo team installing a new piece of gear on El Cap.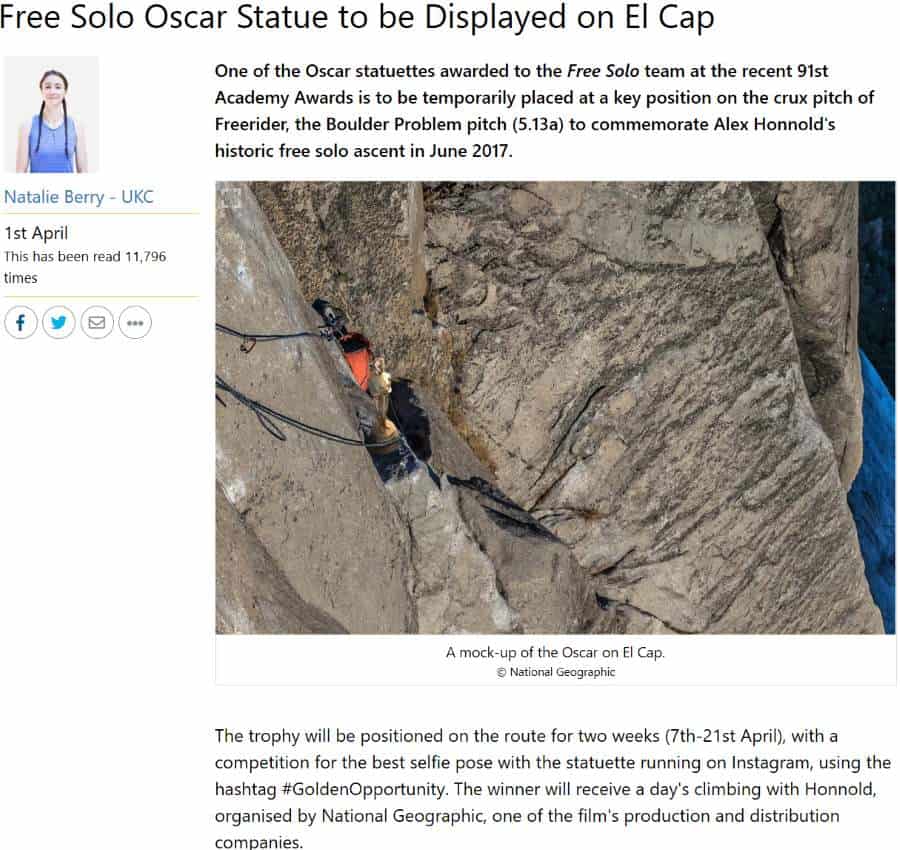 Moab's Castle Tower Destroyed in Devastating Quake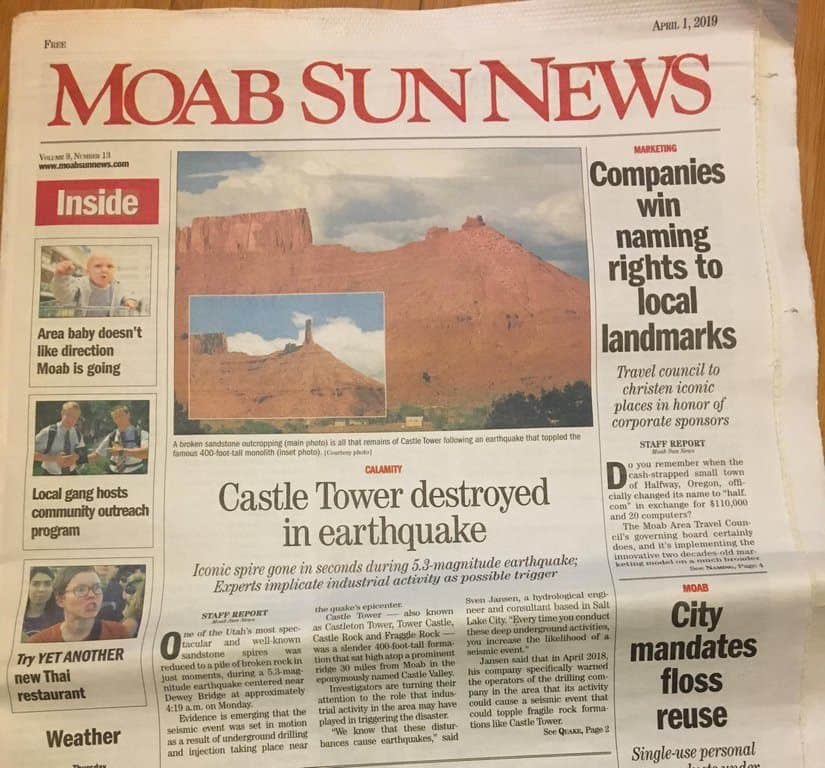 New Beginner Route Painting
We all know how hard it is for climbing newbies to transition from indoor gyms to real rock. A plucky local of Auckland crag Maungarei Springs has come up with a great new idea to help! Locals are banding together for a new route painting initiative on thecrag.com.
GoreTex Wedding Wear
Say goodbye to sweaty pre-nuptial nerves. Extreme outdoors weddings have never been as breathable as Kathmandu introduce their new wedding wear.
Tighty Bighties
Bight's new patented "betty swollocks" technology comes in to play with the "Sweatbox" 950 down undies.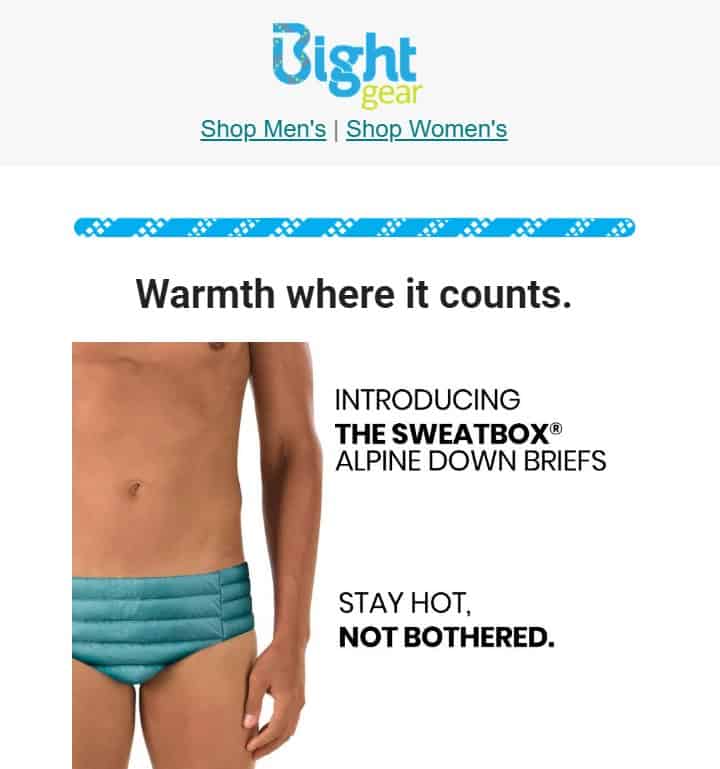 New Rope forGuaranteed Instagram Success
Want to get in the Free Solo hype, but don't want to risk anything? We have the perfect product for you. Comes in new ultra skinny 0.0 width.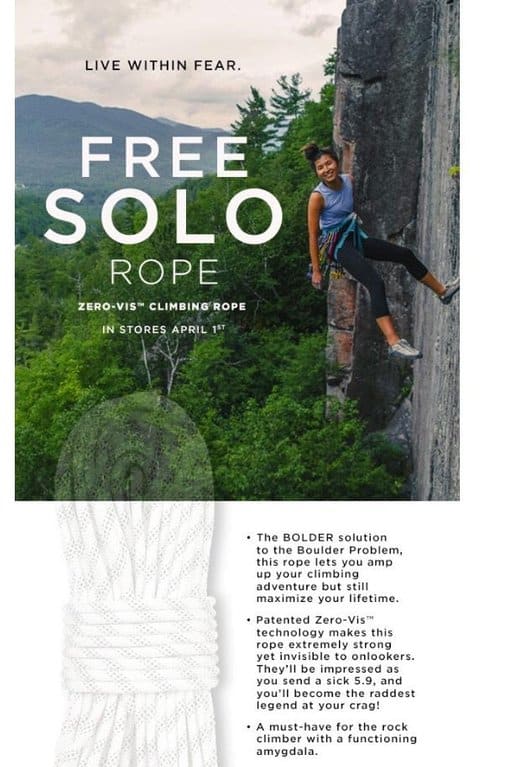 Boot Flake Falls Off… Again
In a tragically recurring event, the boot flake has fallen off of El Cap. We hope like the previous years occurrences that the flake will have been bolted back in time for the climbing season to kick off again.