Scarpa's Instinct range is probably the most popular range of modern climbing shoes. So popular in fact that it comes with a confusing host of names including the VS, VSR, Lace. This Scarpa Instinct SR Review goes in depth after long-term use.
The SR is a shoe wholly aimed at the indoor boulderer. It's sensitive and flexible with a moderate downturn that leads into a hooked toe. The toe and the heel have a massive amount of rubber that are wrapped around and integrated into the build.
The two areas shoe performs brilliantly on are overhanging bouldering walls and on volumes used in dynamic, parkour style problems. If you use one of the other Instinct's and want to try something even more suited to indoors – the Scarpa Instinct SR could be made for you.
| | |
| --- | --- |
| Rubber: 3.5mm Vibram XS Grip 2 Sole – M50 toe and heel | Downturn: Moderate downturn |
| Shape: Medium asymmetry | Closure: Slipper |
| Stiffness: Soft | Sizing: Around one full size down – see fit info |
More Climbing Shoe Articles
– Best Moderate Climbing Shoes
– Most Comfortable Climbing Shoes
Scarpa Instinct SR Build
The SR is based on the last of the standard Instincts but has a few small changes. It's a rebuild of the Instinct S – which was the first slipper-type Instinct. The inner construction is similar to the others in the range, with separate upper pieces for the big toe and the other toes. This combined with the thoughtful stitching mean no hot-spots at the front of the toes and a better break in.
Because this shoe doesn't have lacing or a strap to keep it's shape, it has a few design tweaks for fit and stretch. There is slightly less volume in the forefoot and in the heel – meaning initially a snugger fit.
The rubber on the toe and the heel are the most radial changes in this model. The perforated M50 super-sticky rubber over the toe almost completely covers the top and is integrated into the sole. The heel is completely covered in M50 and uses a strip running from the back to the mid foot.
The elastic closure has been bolstered with rubber strips which allow you to get the shoe on – but keep the shoe from stretching on top. I doubted how much this would help at first but it really has done it's job.
Featuring Scarpa's Bi-Tension rand and tensioned heel strap for keeping the down turned shape and overall fit long-term.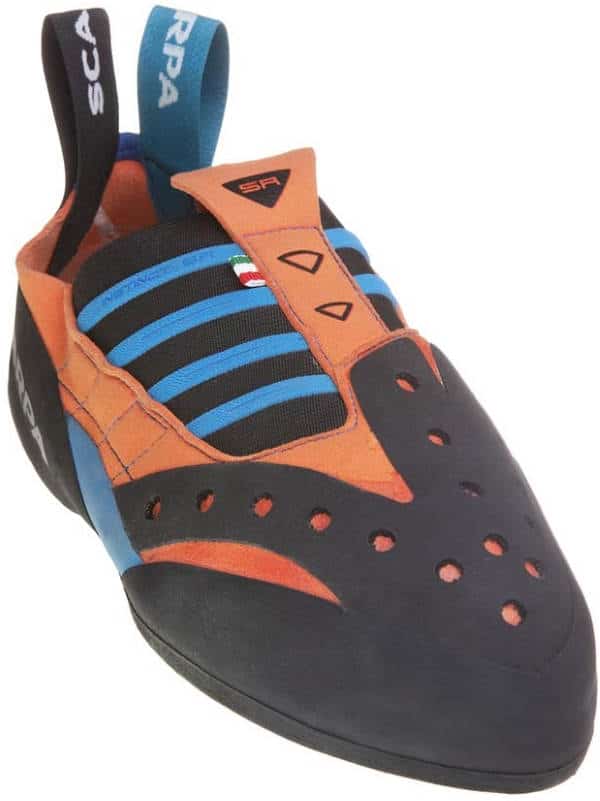 Scarpa Instinct SR Performance
Because of the added softness of a slip-on shoe compared to having a strap or laces, the design of the SR has used a longer sole. The VS and VS-R have split soles with the 3mm Vibram piece at the front covering about half of the sole. The SR's split front is nearly two-thirds of the sole and slightly thicker 3.5mm rubber. This gives it a little extra stiffness compared to the others.
Using Vibram's softest rubber – 3.5mm of XS Grip 2 – was definitively expected for an indoors performance shoe. It's the perfect rubber for this shoe when going for those tiny footholds and smears on an overhanging training board.
These are definitely a soft shoe but because of the longer sole are slightly stiffer than the VSR. The middle of the foot still feels very flexible but the front is slightly more springy and supportive. This works well on dynamic moves and overhanging boulders and short, steep routes.
Toe hooks are great because of the rubber coverage and integration into the sole. They always feel solid. Heel hooks can feel a little sketchier because of the slipper closure. For me I think my heel is a little narrow for the heel to fit well enough to feel totally secure. However it's surprisingly good at staying on, and the rubber is excellent at sticking fast.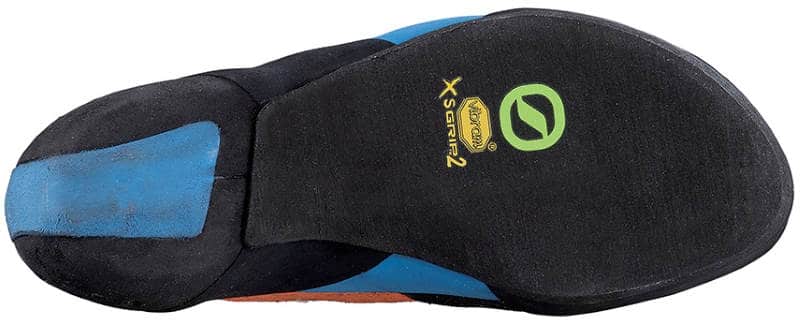 Scarpa Instinct SR Fit + Sizing
Scarpa shoes generally fit wider feet and larger heels better so take this into account if you're used to a certain fit. This shoe is a bit slimmer than their norm. Personally I have a slimmer foot and small heel so this was great for me but it's definitely worth trying on first.
The toe box is definitively different from other Instincts. The other's have a full piece rubber over the toe box that tends to stay in a particular boxed shape. With the SR your forefoot "folds in" more because it's stretches upwards better. This leads to it fitting different forefoot shapes a little better. Some will prefer one style over the other.
I've been pleasantly surprised with how well the shoe has kept it's shape. Having a split sole, soft rubber, and a slip-on design you might expect it to lose shape fairly fast. In my experience it's stretched maybe half a size in total and conformed to my foot shape really well. This is exactly what I'd expect of a performance shoe and it's in the "perfect fit" stage after about 5 months of regular use.
The Scarpa Instinct SR sizing is very similar to other Instincts. If you've got a favorite fit in those – try the same the in the SR. In general we'd say to go down one full Euro size in these for a decently comfortable fit. Possibly 1.5 or even 2 for very high performance at the cost of comfort.
I'm around EU 45 in a street shoe and wear 43.5 in these for a tight fit that has worn in well without getting baggy. The first few sessions of break in were painful and still on long days these get uncomfortable. However, that's the point of getting a slip-on and partly why these are so suited to indoor climbing. Sit down, slip them off, plan the route.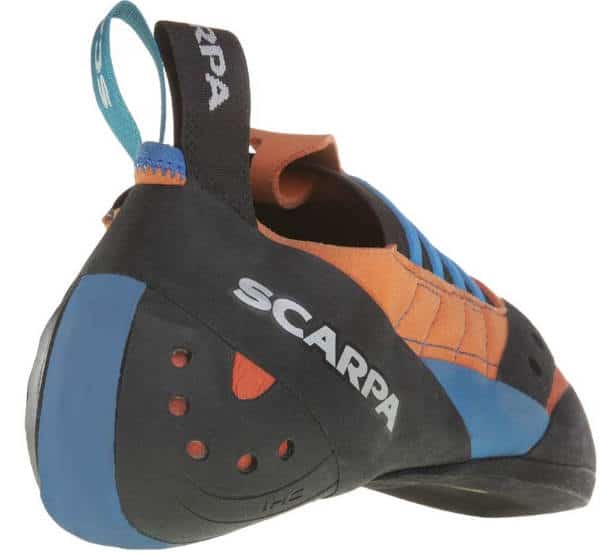 Scarpa Instinct SR Review Summary
Compared to other indoor-focused shoes like the evolv Kronos and the Scarpa Veloce this holds up very well. They are performance oriented and live up to Scarpa's marketing – "a soft, specialized slipper for training and bouldering". Expect to see this at indoor comps over the next few years because of it's focus and performance in this area.
Soft and sensitive, with a powerful and responsive toe. Covered in rubber and made for hard indoor problems
If you do a lot of indoor bouldering on modern problems, hard overhangs, and training boards like the Moon, Tension, or Kilter – this shoe will perform well.
More Climbing Shoe Reviews + Articles
– Daniel Wood's pro shoe – evolv Phantom Preview
– Our complete round up of the best climbing shoe of 2020
– Complete guide to resoling climbing shoes