The new Theory is La Sportiva's first shoe designed from the ground up for modern style, top level bouldering. Will we see the Theory at the Olympics?
Today we'll be taking a look at the specs and design before we're able to do a full La Sportiva Theory review. It's a high level, high priced shoe at $190 RRP but promises a lot to the current gym generation. It also incorporates the next level of the No Edge tech of recent years.
This seems to be aimed at world class competitors and the Olympic Climbers, probably to be seen as the "pro shoe" that comp kids will want. Given the current situation is still has a niche with those lucky or dedicated enough to have a home wall. For steep overhanging training boards with marginal foot holds this will also do incredibly well.
| | |
| --- | --- |
| Rubber: 1.9mm-4mm Vibram XS Edge | Downturn: Extreme |
| Shape: Slightly asymmetric | Closure: Laces |
| Stiffness: Very Soft | Sizing: Around two EU sizes down or more |
La Sportiva Theory – Build
The most striking thing about the shoe is the rubber at the front and over the top. There is tonnes of it and in weird new configurations. This shoe uses a variation of La Sportiva's No-Edge they're calling No-Edge Dynamic Techology (D-Tech).
Essentially instead of having no edge at the front, it's at the sides of the shoe the rubber pulls up and over for no edges. There is still a defined and pointed edge at the front. This allows for micro edging on tiny foot chips but better continuous contact with modern, strangely shaped volumes.
The rubber is 4mm of Vibram XS Grip 2 at the front but tapers to 1.9mm where the sole ends at the mid of the foot. It's a split sole so the back of the shoe is very flexible.
The toe is entirely covered in a patterned, sticky rubber. That design is brilliant for big toe hooks overhead without knowing what's above you. The heel is a similar story with thin rubber around the sides and a strip of XS Grip 2 from back to mid.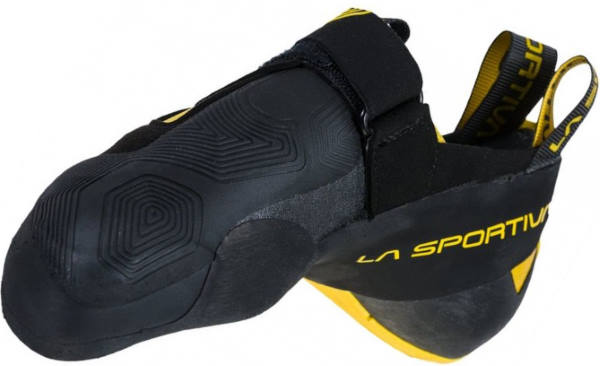 La Sportiva Theory – Performance
The P85 last used in the Theory is La Sportiva's most aggressive shoe shape. It's very down turned and very asymmetrical for those tiny holds where you need to "hook" on to have any chance. It also has a scooped sole for a hoof-like profile and grab.
The La Sportiva Theory is a very soft shoe – this is where is gets it's sensitivity from. It's well suited to delicate moves where you have to stick whatever part of your foot you can against a volume. This is also helpful for dynamic parkour moves on volumes. Stiff, thick shoes here won't give the "sneaker" like feel and movement you need.
The P3 power platform gives it some strength and will help to retain the shape. The rubber around the shoe is thin and soft for reduced weight and more feel. This shoe may work for hard boulders and sports climbs outside but won't be great for trad at all. It does indoor comp-style climbs and practice boards – but little else.
They have a two point Velcro strap closure for quick adjustment and stretchy breathable fabric to help taking on and off. These aren't shoes you'll be wearing more than a couple of minutes at a time.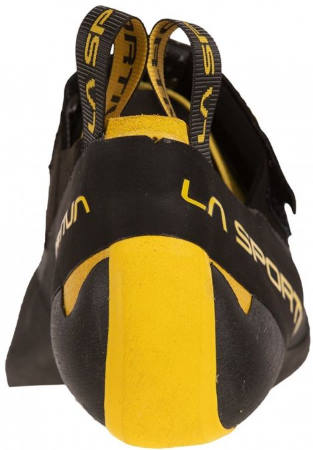 La Sportiva Theory Sizing + Fit
Being such a soft shoe it's likely to deform over time. It also has a suede upper (so not vegan) that again will likely stretch. La Sportiva are advising to downsize quite a lot and others have concurred. The right La Sportiva Theory sizing will be around 1.5-2 EU sizes down from your street shoe – possibly more.
There is a Women's or Low Volume (LV) version of this. It comes in a pastel orange instead of the standard yellow and is slightly slimmer with adjusted rand tension for expected lower weight.
The shoe will be resole-able as La Sportiva will be selling the original sole part to resolers in a similar way to the other No-Edge shoes.
La Sportiva Theory Preview Summary
The shoe really does look like it will be amazing at what it's meant to do. Early reviews praise it on overhanging training walls though we've yet to test them in their natural habitat – plywood and plastic. Recommended if you are really into indoor competition, love the Moon board, or can't get enough of modern dynamic bouldering.
La Sportiva Theory Women's
More Climbing Shoe Reviews + Articles
– Another gym focused shoe – Scarpa Instinct SR Review
– Complete run down on the best climbing shoes of 2020
– Daniel Wood's new shoe – Evolv Phantom preview