Your favorite pair could last you a lifetime, or less than a season. Knowing when to resole climbing shoes is really important for saving money and shoes. Avoid frustration with our easy guide.
A quality pair of climbing shoes can cost up to $200 but a resole is commonly around $40-50. If you get a resole done before it's too late you can add another 3 to 9 months of solid use! It's also possible to resole multiple times – though how much you use them and how will affect how long climbing shoes last.
What Is Resoling?
Its literally getting a completely new sole on the shoe. The old rubber is either pulled off the sole with tongs or ground off with a machine. Then new rubber is cut to shape, glued on, pressed, and cleaned up.
It's needed when the rubber on your climbing shoe wears down enough that it's getting very thin or has a tiny hole. Getting a climbing shoe resoled is similar to getting a normal work shoe or boot resoled but should only be done by climbing specialists.
Because we climb mostly with our big toe (or at least should) this is where the rubber tends to rub off the most. Climbing shoe rubber is sticky but soft so it wears down with repeated contact on rock and textured surfaces. The rubber on the sole at the front tends to go first followed by the rubber on the rand.
What Is A Climbing Shoe Rand?
The rand is a thinner layer of rubber that goes around the front of the toe box and often over the whole top of the toe. It's not mean to take most of the weight when climbing so it mostly starts to wear through when the front part of the sole is worn through. It also wears down more when climbers drag their toe up the wall to keep balance.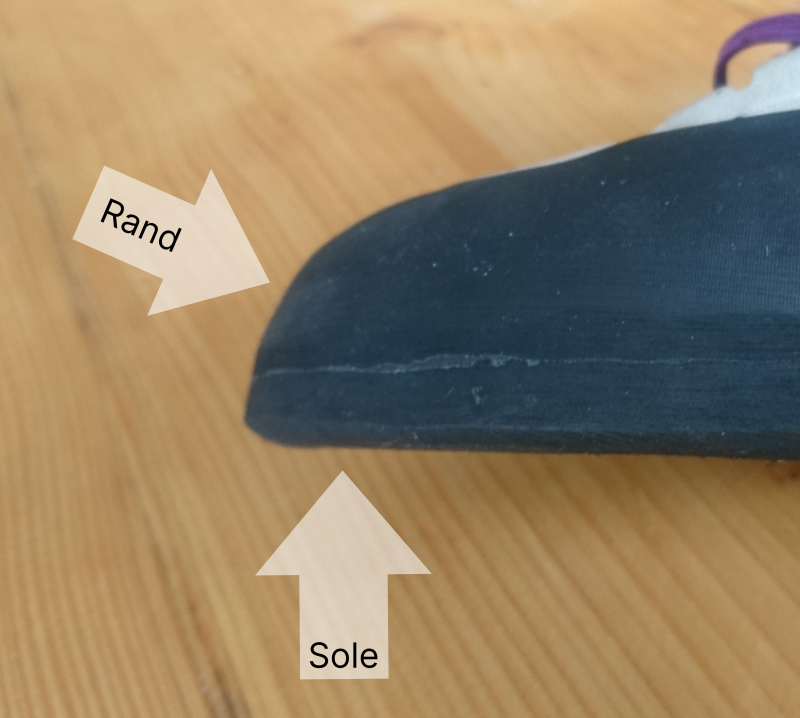 In the picture below you can see the most common wear pattern in a climbing shoe. The sole has worn away completely from around the big toe and the rand underneath has started to wear through as well. It's hard to see on the rand but it's definitely wearing.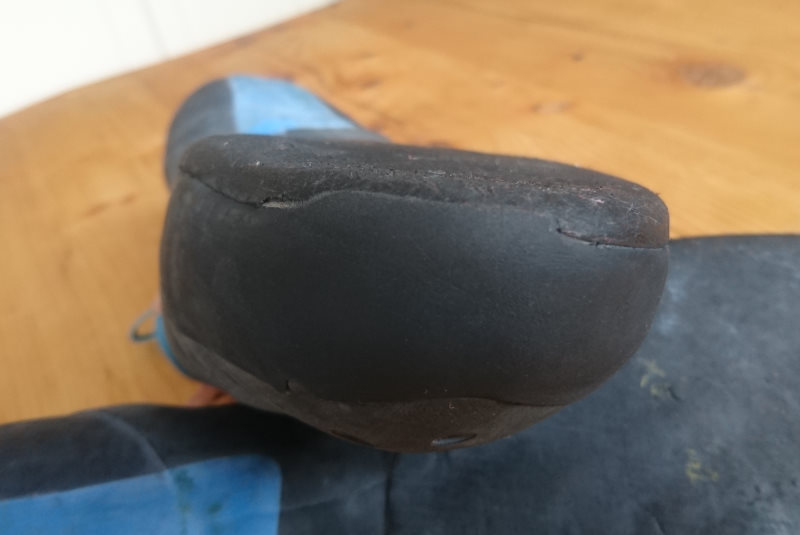 If this shoe is used much more then the inner leather at the front will be exposed. This will mean no grip and may possibly destroy the shape and fit of the shoe. Definitely ready for a resole and probably rand repair.
When To Resole Climbing Shoes
There is no hard and fast rule on how long it takes before you should resole a pair of climbing shoes but the visual guide below should help. Assuming you climb once or twice a week, most shoes will last around 3-9 months before needing a resole. The important thing is to know the signs that you need a resole.
When the rubber on the sole is worn enough that you'll start to wear through the rand if you carry on climbing – you should get them repaired. At this point you should only need a resole. If you have worn the rand rubber much, then you'll probably need that repaired at additional cost (some places it's included in the cost). Knowing when to resole climbing shoes before the rand needs repair or is destroyed completely can save a lot of time and ruined shoes
Rand Repair / Re-rand / Toe Cap
These all mean the same thing. The rand is generally a thinner rubber of about 2mm compared to 4-5mm on the sole. When it wears out – usually at the front by the big toe – it can be replaced. This costs a little extra on top of a re-sole at around $10 per shoe.
You can't get a rand repair without a resole because the rand actually runs underneath the sole. To remove the rand you must remove the sole. It's generally not the whole top rand that gets replaced – just the front wedge. This wedge and the rubber underneath the sole is ground off, then a new piece is stretched and fitted around the toe.
You can see the wedge shape where the rand was replaced on the well loved pair below. They've once again been worn through to the inner and need another re-rand or to be retired. They've also had the rand re-glued where it meets the leather.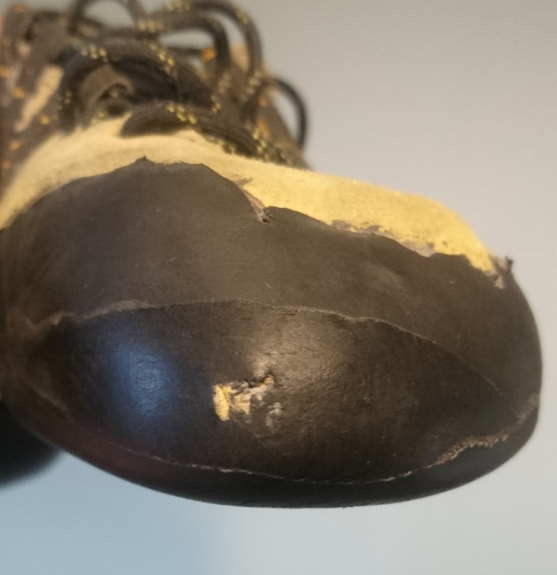 The new sole is glued on over the top of the rand and it's this tension that helps keep the shape of shoes – especially down turned ones. This is partly why climbing shoe resoling is such a particular skill. Without understanding exactly how climbing shoe functions it's impossible to do a repair and keep the shoe climbable.
Types Of Climbing Shoe Resoles – 1/3rd, Half, Full?
The wear on climbing shoes tends to be just at the toes and in the first few inches of the foot. Because of that it's normally only necessary to replace that front part. When replacing just that part of the shoe it's called a 1/3rd or a half resole (generally half but refers to the same thing). This is by far the most common type of resole. A full resole is when the entire sole is pulled off and completely replaced.
Some climbing shoe resolers have access to the original manufacturers rubber parts. These are perfectly sized, shaped, and pre-trimmed rubber parts in the exact shape of the model and in the right size. With access to these it's easier to just take the sole off and replace with an exact match.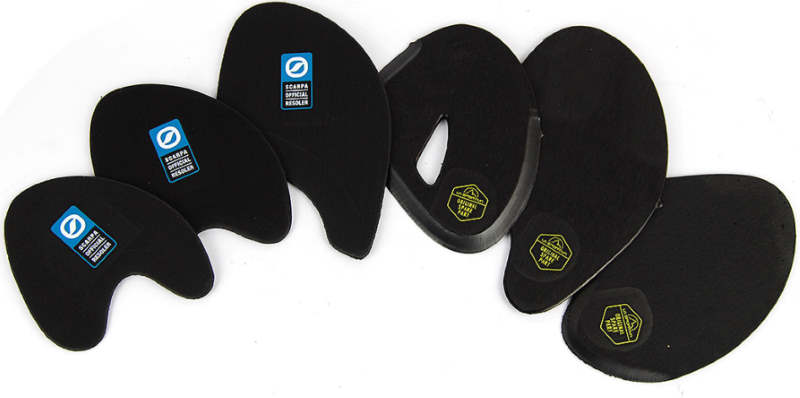 Most resolers use sheets of rubber which they cut to the size of the sole by making a tracing of the original. For just a half sole they'll grind off the first few inches of the shoe with a specialized machine. Then the sole is cleaned up, the new piece is glued and pressed on with a machine, then the edge are trimmed and brushed to an edge.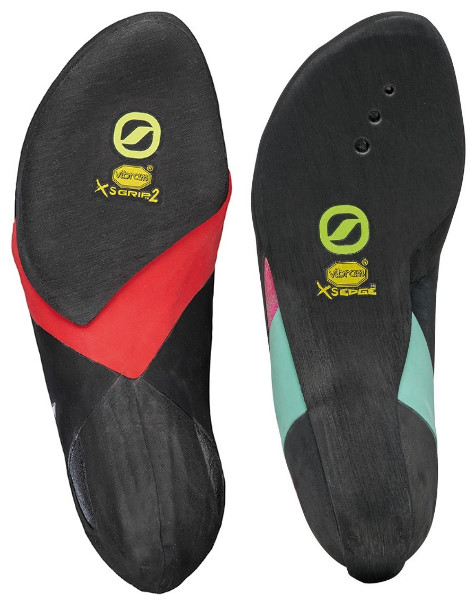 Shoe can have split soles or full soles – see above. Split sole really just means there is only a sole at the front. With a split sole the front part can just be removed and replaced with an identical part or a new piece shape.
With the full sole you can also replace the entire sole with full replacement piece, but it's more likely to have a 1/3rd or half sole done. You can ask for a full resole but it might cost more. All of this advice and costing varies depending on the person/store doing it.
What Happens If I Don't Resole?
Wearing the rubber on the sole or rand through to the inner material starts to ruin the integrity of the shoe's shape. You buy shoes because of the support they give you – specifically for your foot shape. In the first few months of breaking in the shoes they subtly change shape to fit your foot better. Once the shape and fit change then it feels like wearing different shoes.
It definitely is possible to get shoes with major damage repaired but it takes longer, costs more, and is much more likely to change the shape of the shoe. Some resolers won't take on jobs where there is more than a small hole in the rand. Take a look below at the incredible work done on this complete rebuild of a pair of battered Miuras.
How Much Does A Climbing Shoe Resole Cost?
It depends on the country and the resoler but generally around $40-50 for a standard resole per pair. Rand repair costs around $5-10 extra per shoe. This varies massively around the world and if you like in some high cost European countries like the UK, sending them off to other European countries can cost less than a local repair – even with shipping.
– Find out where to get climbing shoes resoled UK
Other extras apart from rand repair include: re-glueing where the rubber is coming away from the outer material, stitching holes in the toe rand, repairing pull straps, repairing closures(common on La Sportiva Solutions), and. Postage then comes on top if you send them off. Sometimes you can pay a fair chunk extra to get a rush job and a 1-3 day turnaround.
Shoe repair for a battered pair that you've left late and absolutely need for next week's trip to Spain can cost a bomb. Plan ahead and know the signs that you should stop climbing on them.
Is It Worth Resoling Climbing Shoes?
For the first re-sole it's generally always a yes. A decent new pair of shoes costs $120-180, and a resole with extras might cost you $50-80. If you get it done at the right time with a good resoler then you'll probably get a great resole and the same performance, meaning you've saved a lot versus a new pair.
Wait Times – Plan Ahead
It's easy to get caught short without a pair of decent shoes. Turnaround times really vary with some taking a few days and most taking weeks to months. Around spring and just before sending season (depending on the country but when cool, dry times are coming) tend to be rammed.
The perfect timing for when to resole climbing shoes is when you think you won't use them again for a while. Get them done before you need to have them done. Then you don't have a choice between waiting or destroying a pair completely.
Some repair shops might have a three month turnaround where you won't have your shoes. Some won't even accept new shoes or respond to messages. Plan ahead, especially if you have a climbing holiday coming soon. We suggest having a rotating cast of shoes for different situations and rock. At the minimum it's good to get a resole on an old comfy pair that fit and keep them around for emergencies.
What Rubber Should I Get?
Shoe are designed with the rubber in mind, so if you liked your shoes stiffness then get the same rubber. You can absolutely change to any brand of rubber on any shoe if you want. It's generally accepted that stiffer rubber is better for thin edges with softer rubber better at smearing and frictiony footholds.
Softer rubbers include Vibram XS Grip 2, Five Ten Stealth Mi6 and So Ill Dark Matter, stiffer rubber's include Vibram XS Edge and Trax XE. Softer rubbers wear faster, and textured indoors walls also wear down rubber pretty fast.
– Find out more about how long climbing shoes last
– Read about the best climbing shoe rubbers
Can No-Edge Climbing Shoes Be Resoled?
Yes, it's entirely possibly to re-sole No-Edge shoes. However, there are a few different methods and some resolers won't work on them.
No-Edge shoes are a recent innovation from La Sportiva where one specially cut piece of rubber connects all the way from the sole, up and around over onto the top of the toes. This means there is no hard edge or seam in front of the toes. One advantage of this is that your toes are physically closer to the rock.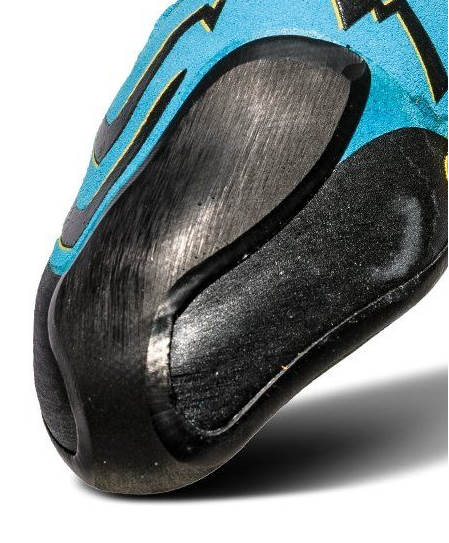 No-Edge can be resoled in one of three ways: –
Best – The entire original sole is taken off, and an original matching replacement sole from the manufacturer is used.
OK – Using a sheet, the resolers can create a new piece that wraps over the top – possibly in two parts. Trying to keep the original No-Edge feel.
No-Edge – Resoling the shoe with an edge, like a standard resole.
How Many Times Can You Resole Climbing Shoes?
If you resole well ahead of any holes that go through to the inner fabric – possibly limitless. Even if you resole regularly and don't let the inner get worn, the shoes will lose some of their shape. Leather, synthetic materials, and the other rubber of the shoe gets worn down with age, sweat, and heat.
In general we find that shoes can take one or two resoles and about one rand repair before they loose too much shape. It does depend on the shoe and the person repairing. Sometimes it's just not possible to keep the shape of the shoe in the way you wanted – despite the skill of the repair.
We still recommended keeping shoes that still fit but don't have the performance you need for the project. With proper care you could still have a pair of beater shoes for the gym, a comfy pair for all-day 5.fun multipitches, or a pair to lend out to a friend.
Bear in mind that resoles won't fix the smell. That just gets worse. We've got a pretty awesome guide on how to stop climbing shoes smelling so bad that could help.
A new pair of climbing shoes might last 3-9 months before needing a resole. If you resole them regularly and at the right time they could last years. Read our full article on how long climbing shoes last.