Moderate climbing shoes are the perfect in-between shoe for most climbers. A slight downturn and moderate symmetry mean you can put more power in to your toes without wanting to take them off every minute.
What Are Moderate Climbing Shoes?
A moderate climbing shoe refer to the moderate downturn and small curve inwards of the design. A typical beginner of flat shoe has no downturn and the toes also point directly forwards. In an advanced or aggressive climbing shoes the foot is sharply downturned and also curves inwards from the heel to big toe.
No Time? Our 3 Best Moderate Climbing Shoes
– Velcro All-Rounder – Scarpa Vapor V
– Laced All-Rounder – La Sportiva Katana
– Indoor Bouldering – Scarpa Veloce
Should I Buy Moderate Climbing Shoes?
If you are looking to step up from your first pair of beginner shoes and are used to the tighter fit then yes – go moderate. If you've already gone for a more aggressive pair of shoes and feel like they're too much then a moderate pair will probably also fit your bill.
Very downturned and curved inwards shoes are suited to very overhung walls. We're talking 15 degrees or more like on training boards. This is because on hard overhangs with small footholds you need to drive all of your power into your big toe to push yourself up.
If you are aren't climbing the hardest overhangs on bouldering walls or lead climbs then you won't get a real advantage from aggressive shoes. Moderate shoes give you enough power to push onto small holds while also smearing well and feeling easier to wear all day.
Moderate Climbing Shoes For Flat Feet
Moderate climbing shoes are also better if you have a flat foot than aggressive shoes will be. For people with very high arches they'll be able to take harsher downturns but for some it's just not an option. If you can deal with a little downturn you'll still get good performance. If not, stick to flat shoes with a good toe box.
Are Your Shoes Fitted Right?
The truth behind climbing shoes is that they're supposed to fit snugly, your toes should be curled, but also that not every climbing shoe fits every foot. Though climbing shoes will adjust their shape over time and fit better after a couple of months it doesn't mean you have to suffer from day one.
Make sure you buy the right fit your you. The biggest things outside of performance are how wide your foot is and the shape of your toes. While you can buy all of these shoes online we really recommend trying a good few pairs on at a local shop if you can.
Aim for even coverage without any baggy spots
Toes shoes be curled up but not crammed in – especially from the sides
The heel should be snug and not slippy
You should be able to put all of your weight onto your toes without pain
Best Moderate Climbing Shoes
We've covered our favorites for the best moderate climbing shoes below but please bear in mind there is no perfect shoe for every person. It really depends on what you need them for as well as your foot shape.
If you are looking for performance and can deal with a slight downturn – read on for what we've found to be the best. If you're brand new we highly recommend looking at the Best Beginner Climbing Shoes as they'll work better. If you just can't deal with downturn or are looking for pure comfort look at the Most Comfortable Climbing Shoes.
Best Moderate Climbing Shoes For Most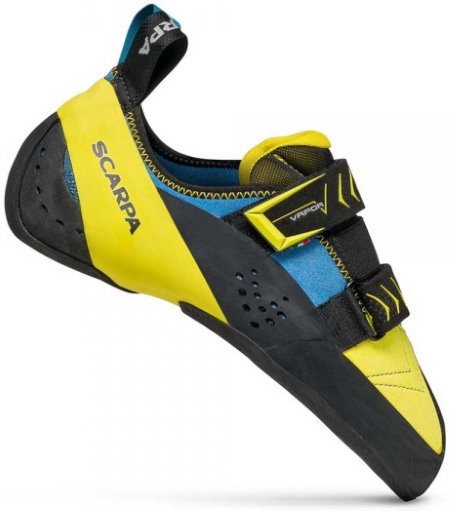 Scarpa Vapor V
The Scarpa Vapor will probably the best moderate climbing shoe for a lot of people. We often recommend them because of their brilliant all-rounder status. They really can be used anywhere from the gym to the crag with decent performance to comfort ratio.
The rubber is Vibram XS Edge which performs best on small footholds – especially outdoors. The slight downturn of the shoe shouldn't present an issue for most and lends more power to your toes that a flat shoe. A double velcro closure means easy adjustments throughout a session or for quick breathers.
The heel is snug and has plenty of rubber for heel hooks. The toe has a small rubber wrap that aids in toe hooks indoors too. The build is mainly soft suede that will confirm to your foot shape over time. Also have a breathable tongue.
The front of the sole is separated from the back so the shoe can flex and bend but it offers a good level of medium stiffness. That allows it to work on small holds as well as larger volumes or for smearing. Overall a great shoe at a decent price that's definitely worth trying on.
Best Moderate Climbing Shoes – All-Rounder + Outdoors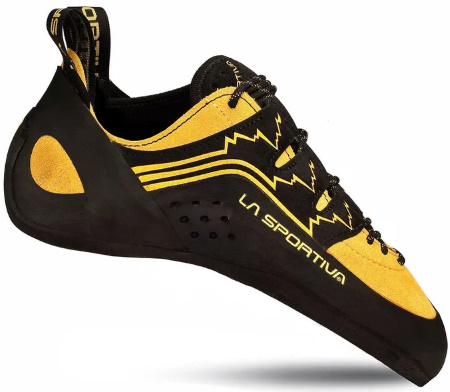 La Sportiva Katana Lace
We've talked about the Katana Lace before and are big fans. In out opinion it's the best moderate climbing shoes for long days on great routes outdoors. It also holds it's own as a great all-rounder.
The toe box is snug but not overly cramped and the downturn is slight but there. It's also a fairly stiff-soled shoe so it's supportive and will help if you feel pain in the middle of your foot on small holds or on long routes. This all means it really sticks on very small holds outdoors.
The rubber is the Vibram XS Edge which is a harder rubber that performs really well on edges. It's the same as the Vapor V above. It performs
It's a generally comfortable shoe because of the leather build which will soften over time and conform to your foot. It's also padded on the tongue and not completely covered in plastic at the toe box so you get a little wiggle room.
If you rope climb outdoors or in on slab, vertical, or slight overhangs then this shoe is gold. If you mix up bouldering and route climbing indoors it's also great. However if you do a lot of bouldering indoors and prefer a slip on or slightly better performance on overhangs then maybe look at the Scarpa Veloce below.
– Read the full La Sportiva Katana Lace Review
Best Moderate Climbing Shoes For Indoor Bouldering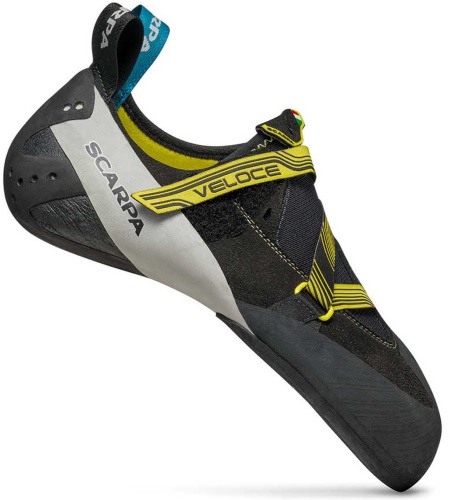 Scarpa Veloce
The Scarpa Veloce is an excellent new moderate climbing shoe that's targeted specifically at indoor boulderers. It's aimed at the "improver" market so perfect as a step up from a first pair.
As a moderate climbing shoe they have a slight downturn and a slight turn inwards – known as being asymetrical. The toe box is nice and not too tight. Overall it's a nice all-round shoe but more suited to Bouldering.
The reason it's better for Bouldering vs the Katana is that it's much softer. That means it can deform to get more surface area on to large modern climbing holds and volumes. It also does great at smearing or pushing out in cave type problems.
The rubber is Scarpa's own S-72 which in between soft and haard. It was designed to perform decently but not wear out as fast as something like an XS Grip rubber. Great for Bouldering and smearing feet as well as small edges. It can take a few days to break in but does well as an all-round rubber. Practice being more precise and read up on when to resole climbing shoes instead of buying a new pair later.
If you do a lot of Bouldering indoors then these are an excellent choice. This softness can feel less supportive on long routes because they're soft they'll fit more foot shapes better and feel more comfortable off the wall. Because of the simple velcro system you can take them off easy or adjust them depending on how hard you want to go.
The shoe is made of synthetic materials that are very light and breathe well too. They will absolutely work for outdoors routes and indoor top rope and leading but shine through for long sweaty days of bouldering. Just make sure you get the right size and don't go too big otherwise they'll slip around your foot.