This La Sportiva Katana Lace review is based on long term personal use so we can give you a great overview. The Katana Lace is a very popular shoe for a wide range of climbers and we'll run through why. Essentially this a moderately downturned shoe that offers a brilliant mix of comfort and performance. It's been called the "best all-rounder" and still gets a lot of praise. The Katana does come as a double velcro version but the Katana Lace is the one we're talking about today.
La Sportiva Katana Lace Review – Build
The Katana Lace is a fairly stiff shoe – which means it supports the foot better and works great on a longer climbs. The real innovation of this shoe is La Sportiva's "P3" system. The big rubber strap that comes from the back of the heel to under the middle of the foot is bonded to the internals of the shoe. This means that even though the shoe doesn't have a traditional liner, it still keeps the downturned shape and the strength throughout the shoe. The added benefit to not having a full liner is the shoe adapts well to your foot shape and breathes better on those long summer days.
The upper is suede leather and the tongue is made of a breathable fabric that does pretty well in mixing comfort and airflow. The stiff lower side rubber keeps the shoe's shape well and does have perforation on the side which helps a little with airflow too. If you get the right size then the heel is excellent. The toe does have some rubber for toe hooking though nothing like more bouldering focused shoes nowadays have.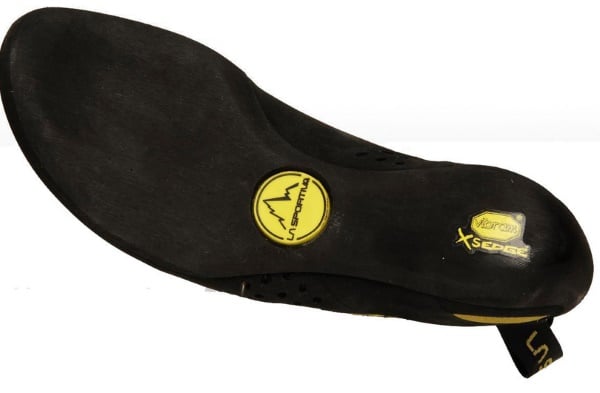 La Sportiva Katana Lace Review – Performance
The Vibram® XS Edge rubber comes in at 4mm. This rubber is on the harder side, and combined with the stiffer sole make this an absolutely incredible edging shoe. When you are looking to hook on to tiny granite edges or miniature plastic foot chips inside, these feel absolutely bomber. After a while of using these I felt like I knew exactly how much pressure I could put onto the smallest foot holds before slipping off.
Where this shoe works the best is on steep single or multi-pitches outside. It edges perfectly and supports the middle of the foot, while giving an unrivaled comfort for the level it performs at. The toe box is fairly narrow which also allows you to twist it into thinner cracks too.
As the shoe is downturned and fairly stiff you may not think it would be very good at smearing. While this isn't the best smearing shoe out there it does manage to have some flex under the ball of the foot and isn't too downturned. It will absolutely smear though if that's that type of climbing you do more often we'd suggest something more like the Mythos or TC Pro. It's also worth saying that if you only boulder than there are better suited shoes that give more performance and less comfort, but that use a slip on or velcro system to rest your feet in between attempts. You could try the velcro version of these too.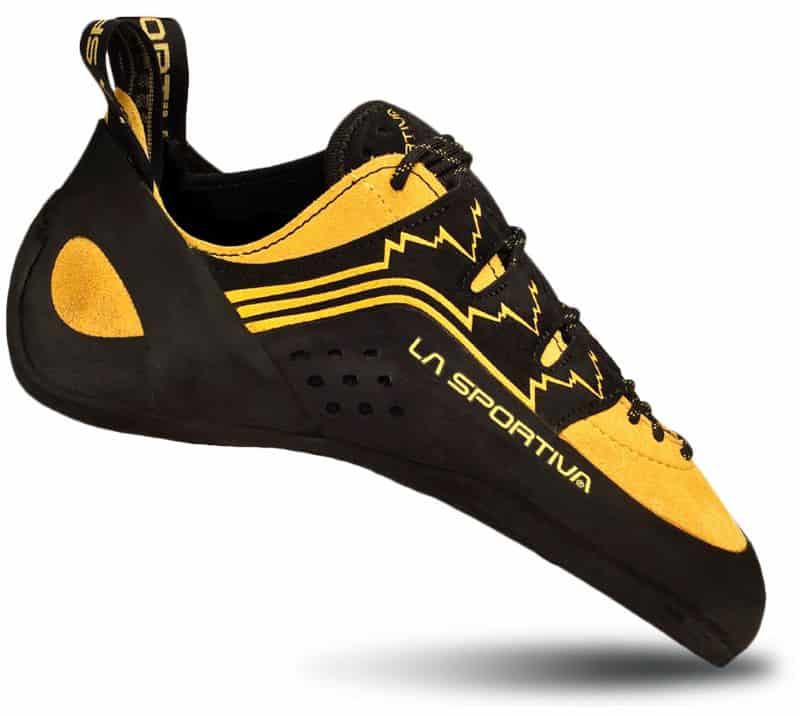 La Sportiva Katana Lace Fit
The fit of this shoe really shines. It's built for a medium foot but because of the laces it means this will probably fit a large range of foot shapes. The heel is slightly slimmer so sizing will depend on your foot shape. While the downturn of the shoe will retain it's shape, the Katana Lace does very well at adapting to the shape of your foot over the first few sessions and long term. The upside of this is that after a month or so these shoes will fit perfectly for most users who get them in the right size.
Being able to adjust the laces depending on what you are using the shoe for means you can slip them on undone for a few laps on the warm up, then cinch up tight for the project.
La Sportiva Katana Lace Sizing
It's really critical you get these in the right size. Because the shoe is a leather upper and not fully lined, you can expect it to stretch at least half a size – and based on long term personal experience it will stretch further after a while. We'd suggest sizing down from one to two full sizes from your street shoes. Two full sizes if you are absolutely mad on performance or just one if you like to be fairly comfortable.
The reviewer has a medium to slim foot shape with a slightly slimmer heel and went for a size and a half down for a perfect fit. If you have a large heel you might not want to down size as much. For instance I'm about a 45 EU (11 UK, 11.5 US) shoe size but wore these in 43.5 EU. So I went down a full size and a half EU and got a perfect fit long term.
As ever with buying climbing shoes our suggestion for the perfect sizing for performance is to try them on in a store. Test a bunch of different shoes for the general shape, then try a few different size of the shoes you like. Ideally you'll find a size that feels tight but not painful and then probably go down one final half size from there as the shoes will stretch. The first few sessions may be a little cramped and painful but then the sizing will be perfect for a while.
La Sportiva provide shoes down to European half sizes which means a really perfect fit. Check our their sizing guide for conversions.
More Climbing Shoes Articles
– Best Moderate Climbing Shoes
– Most Comfortable Climbing Shoes
La Sportiva Katana Lace Review Summary
A brilliant all round shoe that excels on small footholds. Very well suited to longer pitches because of the stiffness and good downturn as well as the comfort and breathability. We'd say these are an almost perfect intermediate shoe.
While these shoes are perfect for outdoor roped climbing they also do brilliantly indoors. Because you'll more likely find overhangs indoors than out on easier climbs, you'll find these really help to boost confidence on tiny foot chips and help to get that extra push with the sole's stiffness.
They aren't designed for bouldering but do pretty well – especially on technical boulders with small feet. These really are a great all rounder and if you aren't sure where you exactly stand in the climbing world the Katana Lace may be your best bet.
Tech Specs
Upper: A combination of suede leather and microfiber – tubular construction.
Lining: Front and back Pacific lining
Fit: Medium
Midsole: Laspoflex 1,1 mm combined to the P3 System
Sole: Vibram® XS Edge 4 mm
Sizes: European 33 – 46 (including half sizes)
Weight: 500 g (pair in European size 39)
We hope our long term La Sportiva Katana Lace review has been helpful. Let us know what you think of these shoes on our climbing instagram.