Jason Momoa and Chris Sharma will be starring in and producing a new TV Show called 'The Climb' for HBO Max. 'The Climb' will be a competition series starting with eight episodes.
It will feature complete amateurs who will train and compete for the title of the 'World's Best Amateur Rock Climber'. Jason Momoa will be presenting alongside guest stars and coaches. It's not confirmed whether challenges will include converting their family camper van, sneaking under the front desk at the gym, or scavenging from Whole Foods dumpsters but we're assuming so.
While it's tempting to be skeptical of a climbing TV show being needed when climbing and bouldering are so accessible nowadays, we think this could be really interesting to watch. It'll also be another boost after the one Climbing being in the Olympics is going to give to indoor climbing gyms. After many gyms being on the brink of ruin or having to close altogether – this could be a welcome bump.
You might be surprised to hear that Jason Momoa – star of 'Aquaman' and Khal Drogo in 'Game Of Thrones' – is an avid rock climber and boulderer. He's been climbing since he was a teen, starting off with a few bouldering trips to Red Rocks and Hueco Tanks. He even managed to get a bouldering wall built on the set of Aquaman to help with his physical training.
Jason has a range of different products he's released with So iLL called So iLL x On The Roam (Momoa's company) that include shoes, shirts, bags, and face masks. At his home he has a really good training wall set up with a tall bouldering section and a short climbing wall with an autobelay set up for his kids to use too.
If you're a climber reading this you'll probably already know of Chris Sharma. If you aren't – he is one of the most famous climbers in the world. His modern, powerful style led to him climbing not only the hardest routes in the world but establishing not one but two full grades harder than what had been done before.
Chris Sharma and Jason Momoa met as teenagers in Hueco Tanks as traveling dirtbag climbers. Their friendship has lasted through the years and they meet up to hang and climb when they can. Both have their own families to look after and Chris now runs two world class Sharma branded climbing gyms in Barcelona and Madrid.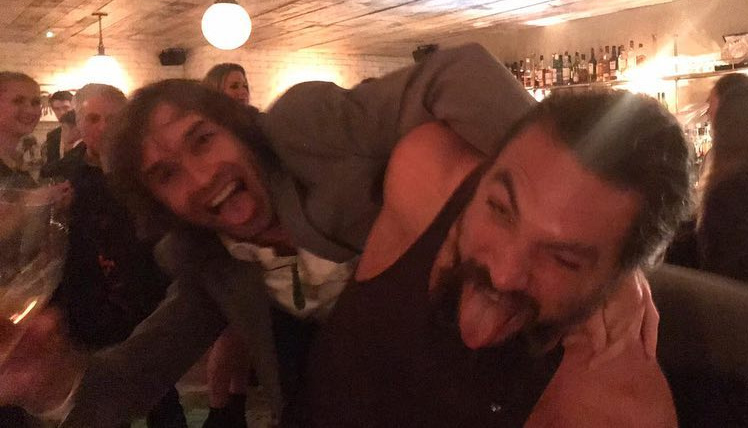 HBO has their own streaming service called HBO Max where they exclusively stream their own hit shows as well as Warner Media series. They've started to produce shows specifically for the service and this is one of the new generation of online-first shows. They've ordered eight episodes first and may go for further seasons.