This weekend the IFSC Climbing World Cup season continued in Kranj, Slovenia. Featuring a return to form from a crowd favorite and high expectations for a hometown hero. Read on for a full report and the Kranj IFSC 2019 results in full.
The World Championships that happened last month are normally held every two years. Because the Olympics are happening in 2020 an extra event was held this year to be used as Olympic qualifiers. This meant a rejigged season so that the Cup and Championships could both be held and the competitors would have time to rest.
Normally Kranj is the big last event but climbers have been given a few weeks off after the Championships in Hachioji. To finish this Cup season there are two more events – Xiamen, China for Lead and Speed, and Inzai, Japan for Lead. This means there is still time to jockey for first in Lead.
Kranj's lead wall is a steeply overhanging and classically hard wall that makes use of "natural" style features molded into it. The routes are generally old school with tiny crimps and lots of body tension required.
IFSC Lead Climbing Cup Favorites and Challengers
Everyone was expecting a big showing from Janja Garnbret who has been on fire this season – Slovenia is home turf and she has climbed a lot on this wall. The current leader for the Lead season in Chaehyun Seo of Seoul, Korea. At only 15 years old she is getting stronger every day and sent a 9a (5.14d) route "Bad Girls Club" at 14. This is also her first World Cup season ever. Ai Mori of Japan has been doing incredibly well recently in Lead and seems to have a superhuman endurance for these long routes.
Alex Megos was the previous leader overall in Lead but wasn't present at Kranj after he picked up a finger injury back in the Combined World Championships Combined Qualifiers. Tomoa Narasaki wasn't at this event as he is focused on training for the 2020 Olympics. Alberto Ginés López is looking very strong after some impressive outdoor sends and his burly style matched this weekend's setting for the Men's.
Adam Ondra seems to be a bit happier after the World Cup incident as he has been back outside and enjoying climbing the way he is used to. He is set on qualifying for the 2020 Olympics and his only hope now is finishing in the top 20 for this years overall season to be invited to the Toulouse qualifier. Of that event the top 6 will be invited to Japan in 2020. Some competitors who have already qualified are taking time to train, others like Adam will have a lot of hard work in qualifying all the way up until December.
Qualifiers – Kranj Lead World Cup
On Saturday for the Men's stage Adam Ondra, Stefano Ghisolfi, Alberto Ginés López, Kai Harada, Kokoro Fujii all managed to top both of the Lead qualification walls. All went on to semis in first place – a very strong showing for the day.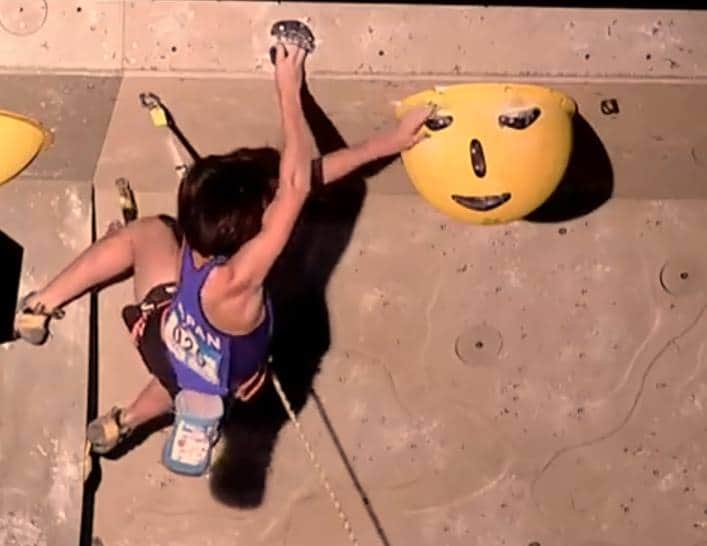 In Women's Ai Mori was the only climber to top the first route, going on the finish the second as well – going into first for semis. In her home country of Slovenia she was a very close second on the first wall only falling at the very top on the second – going into Semis at second.
Semi-Finals – IFSC Lead Kranj
On Sunday semis and finals definitely threw out some unexpected results and a very hard pair of routes. Adam Ondra did brilliantly and got very close to the top finishing first. Jakob Schubert came in second with Kai Harada third for a strong top three going into finals.
Ai Mori again came out in first for semis with Lucka Rakovec also joint first. Chaehyun Seo was one move behind for third place. Hometown hero Janja Garnbret fell low down on the wall and sadly didn't make finals. This is the second time in this Climbing World Cup season she hasn't made finals but this may not effect her ranking after a strong season.
Kranj IFSC 2019 Finals
The IFSC Lead Climbing World Cup Finals for Kranj featured some great looking problems. Big red and blue blocks and slopers for the Women's route and definite stopping points that included a downclimb in the top quarter. The Men's had cool looking black and white dual textured blocks with some smaller crimps and big dynamic moves, a cheeky hand jam, finishing with a hard traverse.
As has been the normal for this year, Japan have been showing up the most in leader boards. Two competitors in Men's Finals and three in Women's. Their team's training has been second to none in the run up to Tokyo in 2020. Expect a high medal count for Japan at the first Climbing Olympics.
The Women's final wall took out four climbers at move 20+ which was a big rightward jump from an unsteady block to a small crimp. The other four climbers all got to the same section around move 34. Lucka Rakovec and Anak Verhoeven both managed 34+ just after the down climb to take third and fourth respectively. Jessica Pilz made 34.5 just pushing up to second place.
Chaehyun Seo of Korea just edged past this and won with a 34.5+ to take her third win of four events in the Lead World Cup. She has done amazingly in her first World Cup and is first in the World Cup Lead overall, looking forward she has a bright future in competitive climbing.
In the Men's finals the results were more mixed with Jakob Shubert finishing unusually low to take 7th. Alberto Ginés López of Spain got to 31.5+ at the traverse section to take third. Kai Harada of Japan stuck the hold Alberto didn't then fell at 32 to take second.
Adam Ondra brought the hype for the finals taking time to wave to the crowd to cheer, powering through the different sections that had taken down others. Before the traverse Adam waved again and moved through the holds brilliantly with toe hooks and athletic movements. He pushed through to bring the only top of the finals and took first at Kranj 2019.