For this New Year's try something that will push your boundaries and keep you fit while also being super fun! Try a resolution you are way more likely to stick to than the latest fad diet or workout gimmick.
New Year's Resolutions tend to go wrong for two reasons – they aren't fun, or they aren't realistic. Resolutions tend to circle around one or more of these goals: self-improvement, fitness/health, losing weight, stopping an unhealthy habit, and trying something new.
We think trying out Bouldering is actually a great way of combining all of these without having an express "goal" other than having some fun.
What Is Bouldering?
Bouldering is climbing at a lower level – generally, walls go to a maximum of 4.5 meters (15 feet) in height. There are no ropes or harnesses. To get down you climb back down or fall onto soft matting.
Indoors the routes are set on a reinforced wooden wall with plastic holds. The matting is thick and covers the whole area where you might fall. Outdoors it's literally done on boulders (hence the name) and the mat is a moveable, smaller one called a crash pad.
Read What Is Bouldering?
How Do I Start Bouldering?
We recommend starting out indoors at a local bouldering or climbing gym. Take an introduction class alone or with a friend and see what bouldering is all about.
Here is why we think you should try Bouldering as a New Year's Resolution
1 – Cheap To Try
Bouldering (rather than rock climbing) is cheaper to try than you might think. We always recommend an intro class which is normally less than a couple of hours and shakes out at around $20.
Shoe hire is generally included free and you don't need any special clothes. Read our what to wear indoor climbing guide but basically, anything you can move around in is fine. Turn up early for shoe-fitting and you're good to go.
It doesn't take long to introduce the safety aspects of bouldering and how to fall. You'll also learn a few of the terms you might hear, get introduced to different areas, the types of holds, and some basic technique. After that, you'll be signed off and free to come back and boulder again.
Liked it? Great! Not so keen? Maybe try it again with a friend or alone. Not your jam? No problem!
Entry and shoe hire from then are anywhere from $15-20 a time but you can get memberships or block bookings (5 or 10 entries paid in advance) cheaper at many places.
Really all you need is a pair of hire shoes and some chalk. You can buy a cheap chalk ball (keep it in a plastic bag for now) or liquid chalk for less than $10 and buy a chalk bag when you need it.
Once you're hooked you can pick up a decent pair of beginner climbing shoes for $50 to 60 dollars. Apart from extras like a bit of tape or a bouldering brush you're all set for the indoors.
For the outdoors, getting a good beginner bouldering crash mat can be a bit pricier at around $120+ but gyms often rent them and people are pretty happy to lend theirs if you promise to take care of them
2 – It's Like Going To The Gym But Not
Go at your own pace. People boulder for a tonne of reasons. For some, it's a replacement for the bar social scene. For others, bouldering is just a training room for big adventures. However, it's a judgment-free zone (as long as you're being safe and kind).
If you're in the mood for a serious training session just pop your earphones in and go ham – no one will bother you. If you want to get away from working at home (…or living at work) just go for a tour of the easy problems for mileage.
The best thing about bouldering is that you can actually enjoy working out. You get better at bouldering just by bouldering. Try different stuff: work just the first moves on a harder route, make up your own problem, try climbing a route backward, see if you can up and down climb a route three times – it's your choice!
If you're looking for something physical as a gym drop-in, Bouldering and Climbing are great workouts without any extras. Using your upper body and really engaging your core will help in keeping your whole body supported. Never struggling to open a pickle jar again is just a bonus.
The mental health benefits of bouldering can't be understated. As well as the physical activity you are really engaging your brain. Routes are problems to be solved and worked on and require lateral thinking and perseverance.
3 – Super Social
Bouldering is about one-third pulling down on small holds in weird body positions, and two-thirds talking about exactly how hard to pull and in what way. Sitting on a mat and staring at plastic and plywood is surprisingly social.
Chatting about the 'beta' (the moves to complete a route, which can be specific to people/heights) to a boulder problem is a great way to strike up a conversation. Sometimes working as a group to send a specific route is more fun than the route itself. Just don't give advice unless you ask if it's wanted first.
Read more
– Is Rock Climbing A Good Workout?
– What Is Climbing Beta?
The Bouldering gym is now more than ever a social hub. Meeting other people with similar active/outdoor goals can lead to great friendships and bouldering has great group road trip potential. Most people are up for a natter and the more you go the more you'll get to know the local faces.
One Quick Thing – Sometimes people can feel a bit intimidated when there are really good climbers about, or shirtless guys can be seen as a "macho" thing. The reality is people just climb at the level they're at and are never purposely trying to put you off.
Groups of mixed abilities climb together all the time – don't ever be put off climbing because you aren't at the top level. No one has priority and people share areas and routes all the time. Just ask if you can jump in you'll normally get a smiling "yes".
4 – Inclusive + Open
Modern bouldering gyms and the indoor climbing community are both really welcoming. Gyms are often the social hubs for a climbing community and because of the trust and safety aspects of climbing, communities are often pretty close-knit.
Climbing has a strong tradition of welcoming and teaching beginners in a mentor and mentee style – but gyms, classes, and courses are a great onboarding in a more regulated way. Get chatting at the gym and you'll often find people willing to teach or just find a climbing bud.
Facebook (used sparingly otherwise) or other sites like Meetup are also great ways of meeting others. If you're worried you might not fit in, here are just a few examples and stories of diverse communities of climbers that prove and promote that climbing is for everyone.
EDS Climbers – Insta community for climbers with Ehlers-Danlos/HSD
Paradox Sports – Making climbing accessible for people with disabilities
The Rise of Adaptive Climbing – Article on adaptive climbing advances
Paraclimbing.org – Paraclimbing news
IFSC Paraclimbing – The International Federation of Sport Climbing events and information page for Paraclimbing
Project One Climbing – Supporting Black And Minority Ethnic people in UK climbing
Climbing for Change – Making rock climbing and the outdoor industry more inclusive
Melanin Base Camp – Collective that covers and promotes people of color in the outdoors
Brown Girls Climb – Leadership and community of Women of color climbing
Outdoors For All – REI article on plus-size climbers
Homoclimbtastic – Queer/Trans/LGBT/Gay Rock Climbing festival and community in North America
Climbings QTs – LGBTQ+ social climbing community and advocacy group
Transitions: The Many Lives of Jamie Logan – Article and interview with Jamie Logan, a transitioned climber
Gallant Few Climbing Program – A climbing group for military veterans
Mountains For The Mind – Advocacy group for the outdoors, trekking, and climbing as part of better Mental Health
5 – Learn To Enjoy Failing (And Falling)
Falling is an integral part of the bouldering and climbing experience. It's mostly safe when done properly and planned for but there is always an element of risk. Learning to manage that risk is probably the key skill to all areas of climbing.
One of the most valuable parts of bouldering is that you make your own choices and get treated as an adult. You weigh up what could go wrong, how you'd fall in an awkward spot, what you'd do to lessen the risk, then you make the decision for yourself.
As you build confidence and get the experience of different falls it becomes easier – but the fear or doubt is always there a little. That's the learning zone. Learning to be comfortable with your own acceptable level of risk is so helpful and can be applied in all walks of life.
6 – The Only Way Is Up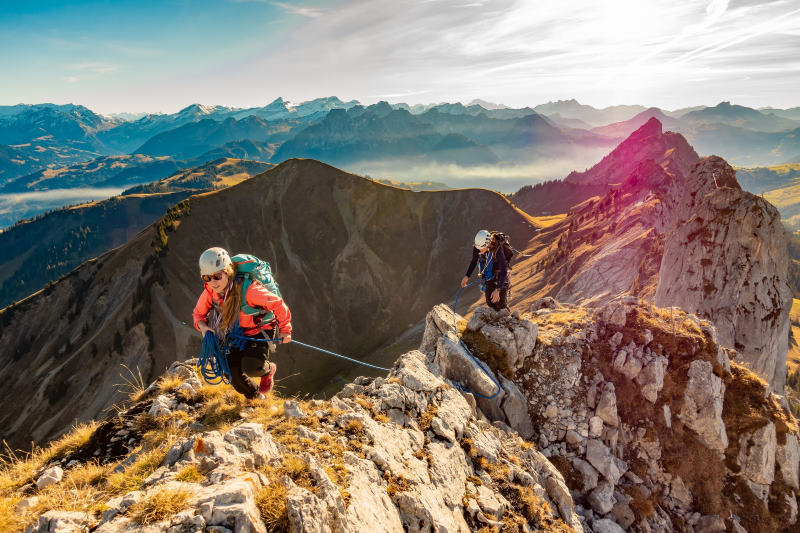 Getting into bouldering is really just the gateway sport to the rest of the climbing world. From here you could try top-roping, maybe get outside with a few new friends and see how real rock feels.
Liked that? The next step up could be learning to lead while sport climbing or placing your first few pieces of gear with trad climbing. With a bit of experience and good teachers, the world can be your oyster.
Choose your own adventure: Lazy bouldering and coffee with friends, or extreme unplanned over-nighter halfway up a frozen peak? There is something out there for everyone and at all levels.
7 – Great Excuse To Travel
There are climbs all around the world of every flavor. From the endless limestone sports climbs of Spain to the picturesque bouldering forest of Fontainebleau or the huge alpine peaks of Europe, all the way to undiscovered walls waiting to be touched.
Getting into climbing gives you a great excuse to travel and see more of a place than just the tourist highlight or the beaches. Meet locals, find hidden crags, and earn those rest days.
– Is Liquid Chalk Antibacterial?
– Guide To Face Masks For Climbing
– Best Liquid Chalk For Climbing
Happy New Years!
It's not been the best of years for most but we hope that we've convinced you to try bouldering as a New Year's Resolution for 2021. It really can lead anywhere or become the basis of a healthy and happy new lifestyle.
We also urge you to help your local climbing gym. They are almost all small, local businesses run by enthusiasts are in desperate need of support. Buy locally and support your community by going to a class, buying your shoes or equipment from them, or just popping in for a takeaway coffee :)