Looking at the massive range of crash pads for bouldering beginners starting outside can be a daunting task. We've covered everything you need to know in depth in our "Bouldering Pad Buyer's Guide", but today we'll show you the very best beginner bouldering pads to buy right now based on a simple set of rules.
Our simple checklist for a beginner pad:
Get good foam – You want soft catch that spreads impact well and will stay firm for years
Get a decent mid to large sized pad – Cover all your options
Not too big – Either for your car boot or for you to carry
Carries well – You don't need an amazing strap system, just one that keep it secure on scramble approaches
Around 4 inches thick at least – A good rule of thumb, dependent on quality
Get what you need – If you do a lot of high balls, invest in a thicker pad. You can get away without storage pockets, welcome mats, velcro systems, or perfect closure zips and buckles.
Most importantly – Make sure you feel safe. You have to trust your pad, don't get one that might hold you back from trying your best
We've included a range of popular and well tested basic pads below that fill these needs and come out at a great value. Start simply. If you end up getting into bouldering outside in a big way, you'll know what you want in your next pad and always have a decent one spare – even if it is a bit beaten up.
Read What Is Bouldering?
We would also strongly suggest going to a local store to try out sizing and depth first before committing to buy. If you find the pad you like in store often you can ask for a discount – a lot of stores will try to price match online and it supports your local scene. Suggestions below in no particular order.
Just want to get out there?
Our top picks at the cheapest place to buy online
– Mad Rock Mad Pad
– Metolius Session II
– Mad Rock Triple
Mad Rock Mad Pad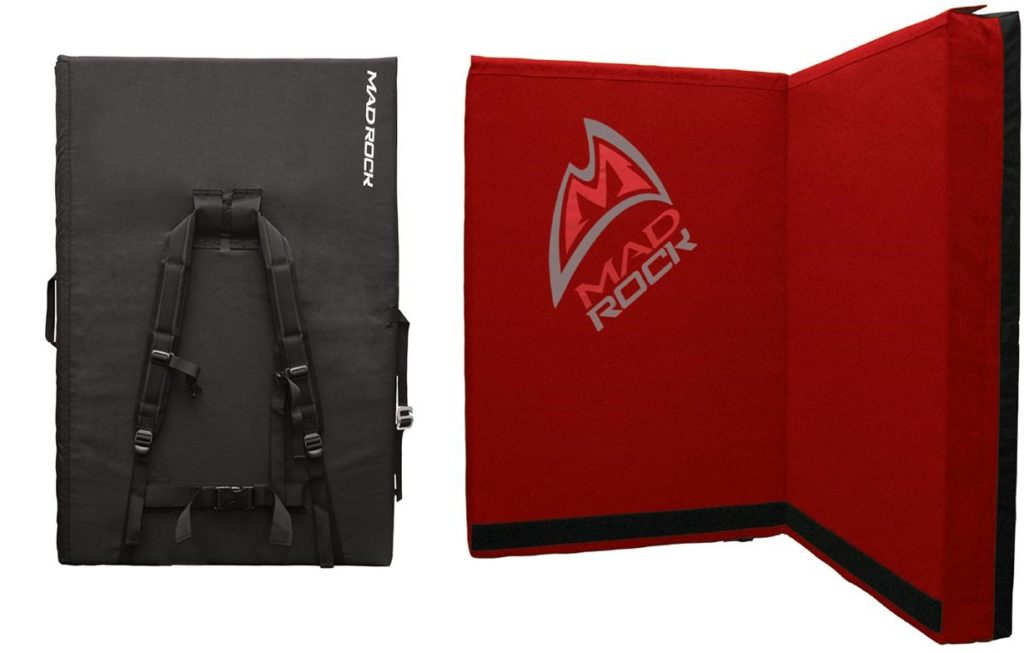 | | |
| --- | --- |
| Open Size: 48″ x 36″ – 122 cm x 92cm | Closed Size: 36″ x 24″ – 92cm x 61cm |
| Thickness: 5″ – 12.7cm | Weight: 14 lbs – 6.25 kg |
| Foam: Three layers | Hinge: Flat – Velcro inside hinge holds it flat |
| Carry style: Backpack shoulder straps, waist and chest straps | Fabric: Nylon |
| Extras: Side carry handle, aluminium buckles, velcro connect | |
The Mad Pad by Mad Rock is one of the most popular bouldering pads as it offers great value in a solid package. A good all rounder with decent foam and a simple carry system, you'll see these out at the crag often. While the foam and fabric won't last forever – this is a good option for a lower budget, if you don't boulder often, or to test the waters without breaking the bank.
It also comes in a few colours and has straps that can fold it into a couch and keep it flat, as well as velcro inside the hinge to stop a gutter. The velcro on the long edges of the mat allows you to connect other Mad Rock pads continuously either sides. Consider this pad as a starter, with the option to add the Duo Pad or Triple later as you can carry both together and have a bigger landing area.
Price: Around $175 at Amazon – $168 at Backcountry – £149 Amazon UK – $368 Amazon Canada
Metolius Session II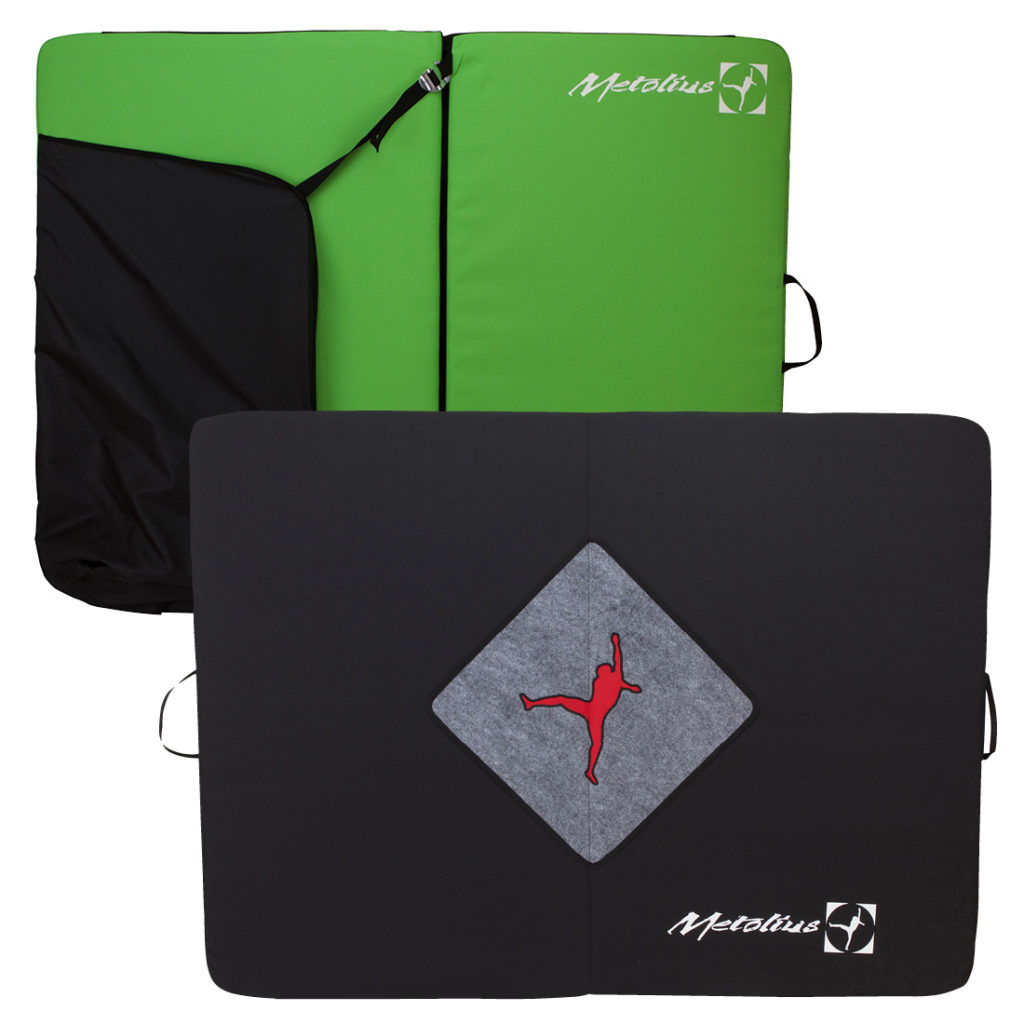 | | |
| --- | --- |
| Open Size: 48″ x 36″ – 122 cm x 92cm | Closed Size: 36″ x 26″ – 92cm x 66cm |
| Thickness: 4″ – 10.2 cm | Weight: 9 lbs – 4 kg |
| Foam: Three layers | Hinge: Angled hinge – Stops gutter |
| Carry style: Backpack shoulder straps and waist strap | Fabric: 900b poly |
| Extras: Middle of mat shoe cleaning pad, simple storage and closure system, carry handle | |
The Metolius Session II is an updated version of the original best seller. Another good all-rounder but with an angled hinge that velcros together to prevent a gutter. The Session II also has simple one buckle closure with a large flap. This makes it fast and easy to move walking between areas, and offers a a small amount of storage. The aluminium buckle is guaranteed for life so you know it's solid.
The logo pad in the middle serves as a handy "welcome mat" for cleaning shoes. As a medium pad with some good features, a low weight, and a competitive price the Metolius Session II is a solid choice.
Price: Under $150 at Amazon now – $149 at Backcountry – $149 at REI – £160 Amazon UK
Organic Simple Pad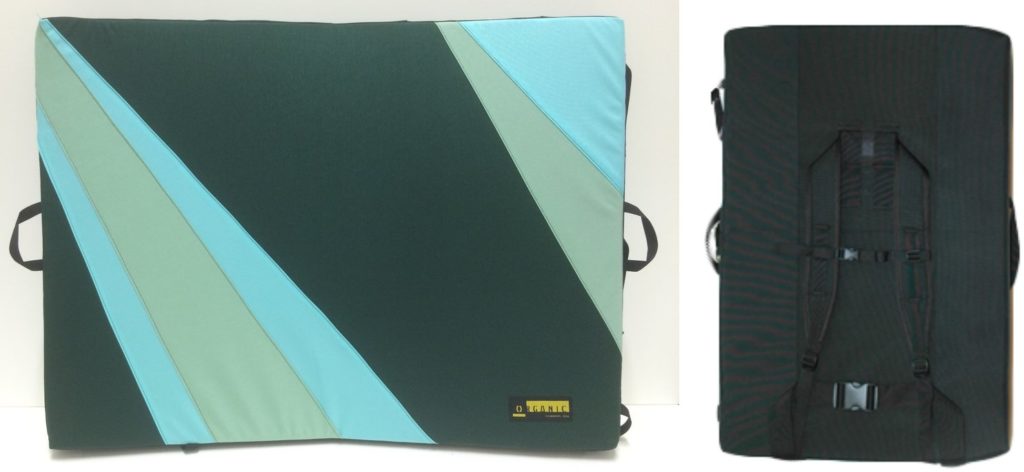 | | |
| --- | --- |
| Open Size: 48″ x 36″ – 122 cm x 92cm | Closed Size: 36″ x 24″ – 92cm x 61cm |
| Thickness: 4″ – 10.2 cm | Weight: 11 pounds – 5kg |
| Foam: Three layers | Hinge: Flat |
| Carry style: Adjustable shoulder straps with waist and chest strap | Fabric: 1050d ballistic nylon, 1000d cordura top |
| Extras: 4 buckles, 3 handles | |
The Simple Pad does what it says on the tin. Organic are a popular brand for dedicated boulderers as they make long lasting pads with quality foam and a tough exterior. This is a mid sized pad with very durable fabric in a choice of cool patterns, a decent carry system and buckles, with Organic's special three layers of foam – High density Soy based open cell lower, rubber middle layer, top layer memory foam.
The hinge line has a little extra padding to stop any gutter problems and there are no extra bells or whistles. The material and stitching are top notch and it's possible to order replacement foam direct from the company. No two pads are the same as colours and patterns vary. If you order from their site directly you can choose a design in up to three colours from a large range at no extra cost.
Optionally – for $10 more you can get the Full Pad. Exactly the same size and build but with a sewn on storage flap that allows you to store small items on the walk in, folds over to protect the backpack straps on muddy/snowy ground, can be used to stand on when starting, and can be used to attach another pad like the Organic Briefcase or Half pads for carrying both at the same time.
Price: $175 direct from Organic – $210 at REI with free pickup and $21 back
Moon Warrior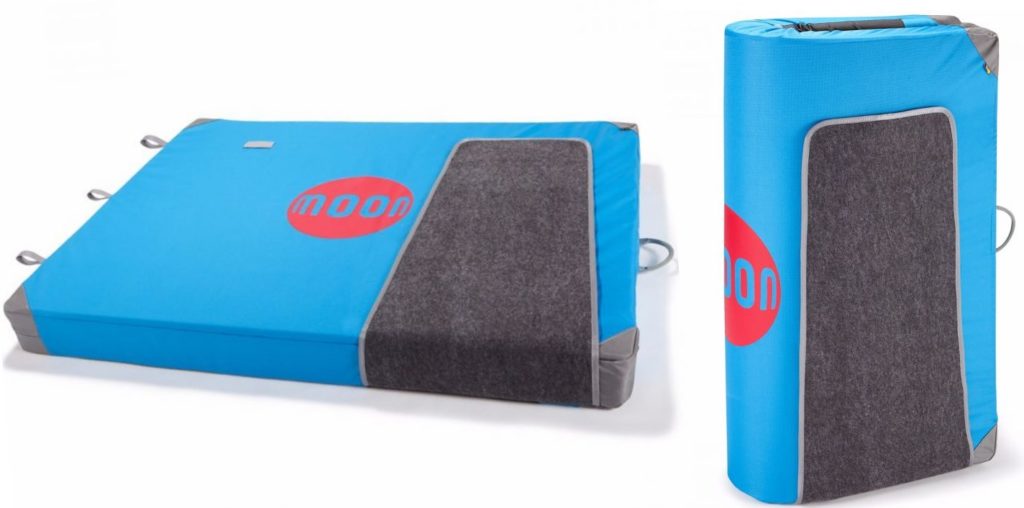 | | |
| --- | --- |
| Open Size: 52″ x 43″ – 130 cm x 110 cm | Closed Size: 43″ x 26″ – 110 x 65 cm |
| Thickness: 4.3″ – 11cm | Weight: 12lbs – 6kg |
| Foam: Two layers | Hinge: Taco style – Folds with bottom layer inside |
| Carry style: Concealed backpack shoulder straps with waist and chest strap | Fabric: Waterproof ripstop nylon |
| Extras: Ballistic nylon corners, anti slip pads on base, foot mat, top and side grab handles | |
This taco style pad features a single area of landing without a gutter as well as a few nifty additions that won't break the bank. Different to other pads, this one folds so the part that touches the ground folds inwards to keep your back and car clean. The built in mat folds around and over the carry straps, velcro'ing in to the top to be used to clean your shoes, and to hold in carried items when the pad is folded.
Moon was founded by Ben Moon, a notoriously strong sport climber and boulderer from the UK who established the first 9a / 5.14d climb. This pad is a great all rounder and is a good choice for a starter pad in a taco style with decent extras.
Price: £160-175 – Available in the UK/EU only at the moment
Black Diamond Drop Zone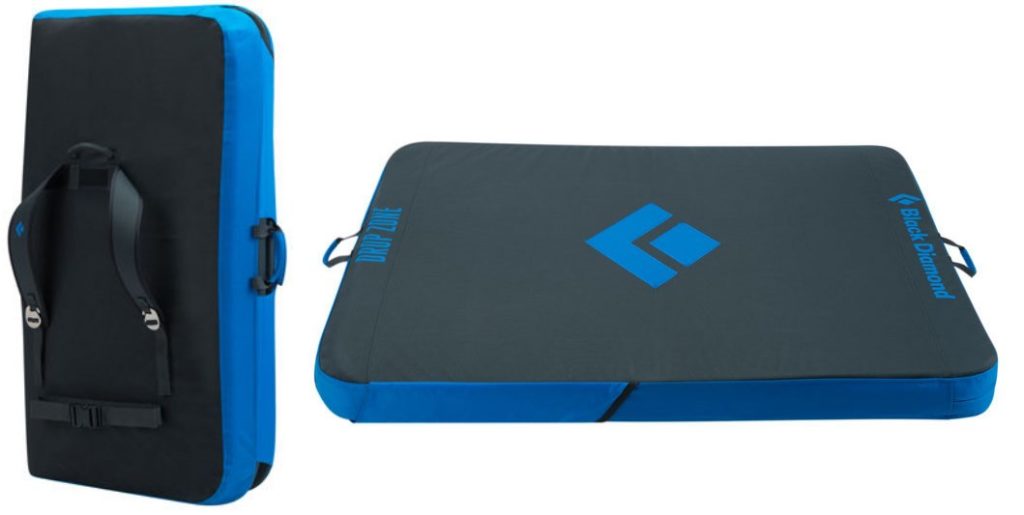 | | |
| --- | --- |
| Open Size: 47″ x 41″ – 120 x 105 cm | Closed Size: 41″ x 23″ – 105 x 65 cm |
| Thickness: 3.5″ – 9cm | Weight: 10 lbs – 4.5 kg |
| Foam: Two layers | Hinge: Taco style |
| Carry style: Backpack shoulder and waist straps | Fabric: Waterproof 1000d nylon |
| Extras: Rubber coated bottom, strong top carry handles, mesh flap | |
The Drop Zone isn't Black Diamond's cheapest or basic model – that would be the Impact. We've decided not to recommend the Impact as it's smaller and more expensive that the other beginner pads listed here and it seems like you are paying extra just for the name. The Drop Zone however is a great offering with a larger landing area, good features and build.
The 3.5″ foam is of a high quality but would suit lower problems better than thicker pads. The taco style of this pad again means there is no gutter in the middle. There is also an elastic mesh flap for storing gear and easy closure. The overall quality and low weight, as well as the rubber bottom, gives this pad good marks as a do-it-all pad at the upper end of the beginner price range.
Price: On Sale $199 at Backcountry – $199 at REI Outlet – £189 Amazon UK
Read our new guide to the best climbing shoes 2020
We hope you've been able to use this buying guide and we've offered a range for the best beginner boulder pads, but do check out our complete in-depth boulder pad buyer's guide or other bouldering pad articles for more. For more gear guides you can read about the best beginner climbing shoes, the best climbing shoes for kids, the best beginner climbing rope or the best beginner climbing harness. Drop us a line on facebook, twitter, or instagram to let us know which pad you prefer and why.