Coming up to the 2020 Summer Olympics we are profiling some of the top hopes for medals as well as outstanding climbers in each category. The 2020 Olympics features Sport Climbing for the first time. The medals are awarded not to each discipline, but to a winner of a Combined format. This includes results from Lead Climbing, Bouldering, and Speed Climbing.
Speed Climbing is often seen as a vastly different practice from Lead and Bouldering. The 15 meter route stays the same over the years so competitors can dial in sequences. The biggest name in Speed Climbing is Iranian Reza Alipour Shenazandifard – or Reza Alipour. Known variously as the "Asiatic Cheetah", "Iranian Spiderman", the "Usain Bolt of Speed Climbing", and the self-titled "Fastest Vertical Man in the World". Reza has been the Men's Speed Climbing World Record holder for two years now and even has a move named after him.
Previous Men's Speed Climbing World Record
Update: A new record of 5.258 seconds was set by Kiromal Katibin of Indonesia and then broken with 5.208 by his teammate Veddriq Leonardo! Read more on the current Men's speed climbing world record.
Reza Alipour set the last Men's Speed Climbing World record of 5.48 seconds on the 30th of April 2017 at the Nanjing event of the IFSC Climbing World Cup. An incredible feat achieved in the semi-final against Bassa Mawem of France.
Reza went on to the final where he won Gold in the event taking 5.54 seconds which also beat the previous World Record but not his new one. This competition marked Iran's first IFSC Gold medal.
The previous Men's Speed Climbing World Record was 5.60 seconds. Set by Danyil Boldyrev of Ukraine in September 2014 at the IFSC World Championships in Gijon, Spain. The Female Speed Climbing World Record was recently broken by Aries Susanti Rahayu. With 6.995 seconds she broke the previous record y over 1/10th of a second.
This record stood for four years until very recently until the advent of the Indonesia team. They managed to break the record twice in one event!
The "Reza" Move – A Speed Climbing Revolution
In Speed Climbing, the obvious goal is to get to the top as fast as possible. The start of the climb is a massive explosive jump with the legs. The longer you can carry that momentum upwards without stopping the better.
To keep this momentum going up it is best to move in a straight line – meaning that you try not to move your limbs outwards to the edges of holds or your body side to side. Reza worked out that by skipping the fourth hold – on the far left – and going straight up from the third to fifth that he could keep that momentum going and save precious milliseconds.
The move that is known as the "Reza" is now used by almost all world class speed climbers now. It takes time to be able to even get from third to fifth hold, but once climbers are able to do it and refine the move it becomes massively helpful.
Reza's Competition Results
Overall Reza Alipour has six Gold, two Silver, and six Bronze medals in IFSC World Cup events. For 2019 he is ranked 6th overall in the Speed category in the World Cup, as well as 6th overall for the world rankings. This is down from the 4th place he held in the same categories in 2018.
In IFSC World Championships he won Bronze in 2014 in Gijon, Silver in 2016 in Paris, then Gold in 2018 in Innsbruck. At the latest Asian Games in Palembang 2018 he took Gold. Reza Alipour also has two Silvers and one Gold in the Asian Championships.
Reza was award the IWGA (International World Games Awards) Athlete of the Year in 2017 by the public.
Reza Alipour Training – Diet – Nutrition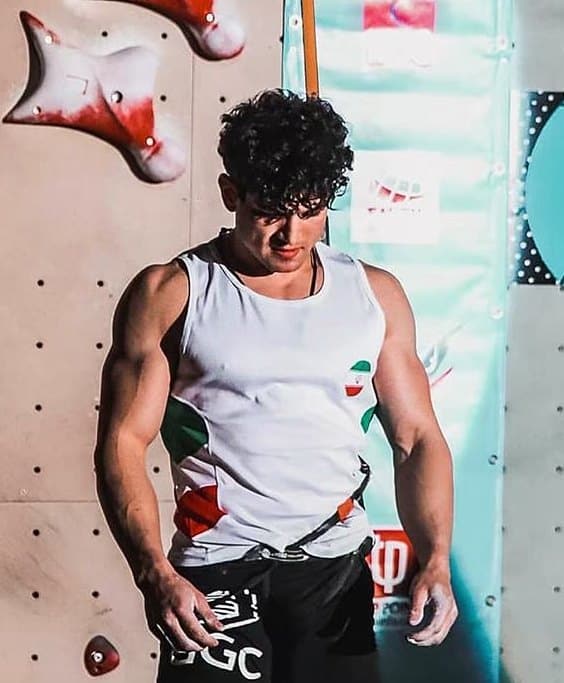 Reza Alipour Shenazandifard is 5 feet 7 inches tall (1.7 metres) and weights 76 kg (168 pounds). Reza's shorter height means he has less reach than the average competitor so relies more on the power in his legs to push up and move to the pulling strength in his upper body. Reza Alipour's ape index looks like it is around 0 or close to that, meaning that his wing span is the same as his height.
Iran's training facilities are not world class but Reza still makes the most out of what he has available. Despite being a world class athlete he does not have a dedicated coach, doctor, or fitness instructor. Much of the training and plans he works to are of his own design.
Reza has an intense training regime of up to ten hours a day. Alot of Reza's training involves free weight training i.e. using barbells for olympic lifts like the clean and jerk, clean and press, weighted pull ups, and dumbbells for explosive movements. Physical explosive power is very much targeted over endurance or long-term grip strength compared to other types of climbing.
Training often involves power and strength training. For example, using fingerboards for explosive jumping pull ups (rather than hanging for finger strength), and using campus boards for big, explosive movements upwards. Even short distance sprints work towards the fast-twitch muscle growth needed in the legs. He has an impressive physique which seems much more like a bodybuilders than a climbers and from various shots it looks like he keeps his body-fat at 8-10%.
Reza Alipour Climbing Shoes and Gear
He seems to use an ultralight climbing harness with the gear loops cut off completely to save weight. He may end up using the ultralight Black Diamond AirNet harness they are developing specifically for the Olympics with Adam Ondra.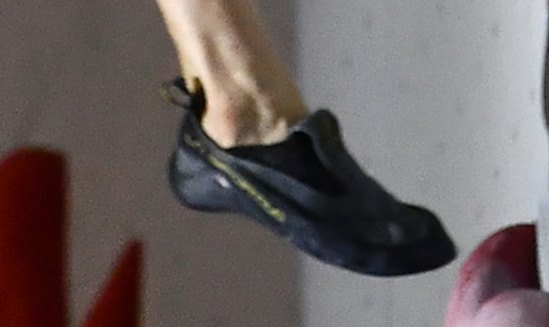 Reza Alipour's climbing shoes are the La Sportiva Cobra. A simple downturned aggressive shoe with very sticky rubber and a simple slip on design. Reza has worn these in the various different colors for years now. They are popular with many other speed climbers and do very well on indoor textured walls and plastic holds.
La Sportiva Cobra's – Reza Alipour climbing shoe of choice
Find out what rock climbing shoes professionals wear in our full article.
Upcoming Speed Climbing Events – 2020 and 2024 Olympics Speed Climbing
The IFSC World Cup and Championships have finished for this year so in terms of large scale events there is nothing to speak of apart from the IFSC Asian Championships 2019. This event will be held on the 7th-10th of November in Bogor, Indonesia but not much else is known online.
The 2020 Summer Olympics are a combined event. Unfortunately that means that even if the speed climbers could put in the performance of their lives, they are still unlikely to get into the medals unless they perform well in the other disciplines. Though some of climbers who are set to go are OK at all three, it's really the ones who do great in both lead and bouldering, and then OK at speed, will win.
Reza doesn't fancy his chances much at the the 2020 Olympics but in 2024 in France, the format will change to have Speed Climbing seperate and Lead and Bouldering together. This is a massive win and Reza is very excited for 2024 to be able to stake his claim in Olympics history. He is also training somewhat in the other categories to see what happens. Whether the Men's Speed Climbing World Record holder can do it is yet to be seen.