On the fourth day of the IFSC Youth World Championships at Innsbruck, the first final of the event turned out to be full of amazing flashes on some hard problems. This event was the Youth A Bouldering Final which saw the States' Ashima Shiraishi topping all four problems to take 1st place and Filip Schenk of Italy flashing all four for 1st place.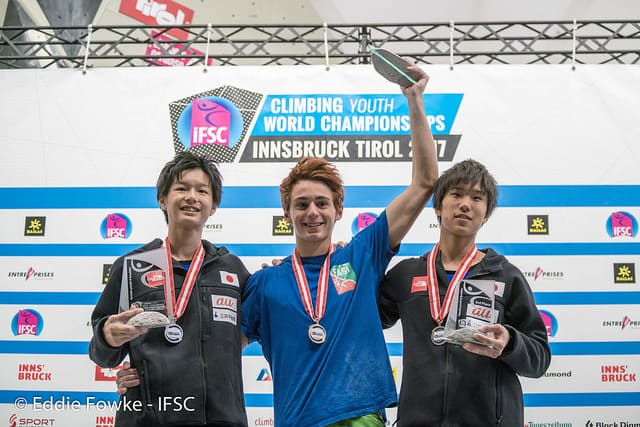 There are three events – Bouldering, Lead and Speed. The ages vary from 14 to 19 so age groups are divided as follows: Youth B is age 14-15 as the youngest, Youth A 16-17 , Juniors are the oldest at 18-19.
It's worth noting that since Ashima Shiraishi first competed in the IFSC, she has taken first in Bouldering and Lead in both 2015 and 2016 (previously in the younger group Youth B) and may well take the double again this year. Lead qualifications for Youth A are this Tuesday with the Semi's and Finals on Friday 8th.
Watch the Youth A Boulder highlights below to see how it panned out. Photos from Eddie Fowke for the IFSC. Full results and program for the events here.
IFSC Youth World Championships Innsbruck 2017 - Youth A Bouldering Finals Highlights
Junior Finals in Bouldering are currently playing live at ifsc-climbing.org and you can tune in now.