The iconic mountain that's been captured in so many films, documentaries and books is really something to behold. It is seem by many as the ultimate test and for this reason has claimed more lives than any other peak.
How Long Does It Take To Climb Mount Everest?
The average time for an expedition to the peak of Mount Everest is 6 to 10 weeks, with two months being the standard. This includes gathering supplies, trekking to base camp, adjusting to altitude, then climbing up to higher peaks and eventually going for the summit.
As Everest is on the border of Tibet and Nepal there are two general paths with variations on the exact route. The majority of climbers attempt the summit from the Tibet side which is what we'll focus on.
You start by flying in to Kathmandu, the capital city of Nepal. From there you'll take a much smaller plane to the town of Lukla and it's scary airport at the edge of cliff. From there you can trek or take a helicopter to Mount Everest Base Camp.
At this point you'll need to acclimatize to the extreme altitude or you will suffer heavily with mountain sickness. Even small health problems like a bad cold, the flu, or diarrhea can mean you'll need a medical evacuation.
From Base Camp you'll start to trek from base camp up to the higher camps. These are partly to stock up the higher camps for the final attempt but largely to acclimatize your body to the altitude. This process normal takes three to six week.
The final summit attempt will start from Base Camp to Camp 2 where you'll stay overnight, then up to Camp 3 with another overnight stay. From here you'll go to Camp 4 which is the highest camp before the summit. At around 8,000 meters or 26,000 feet it's just under the so called "Death Zone".
From Camp 4 climbers will normally try and sleep if possible – normally only being able to barely rest. As soon as the weather allows for it, the summit attempt will start. Climbers normally set off late at night around 11pm. It can take anywhere from 6 to 10 hours to get to the summit, with the descent back to Camp 4 safely taking about half that.
Getting back is often the most dangerous part. After hours of climbing and going all out to achieve a summit many climbers are mentally and physically exhausted. If you can get back to Camp 4 and get into a tent you have a much higher chance of survival.
Getting back down to Base Camp can be done in a day or two with stops at different camps. Rest, food, and celebration will take a few days. Then you can trek or helicopter back to Lukla then fly to Kathmandu over a few days or couple of weeks.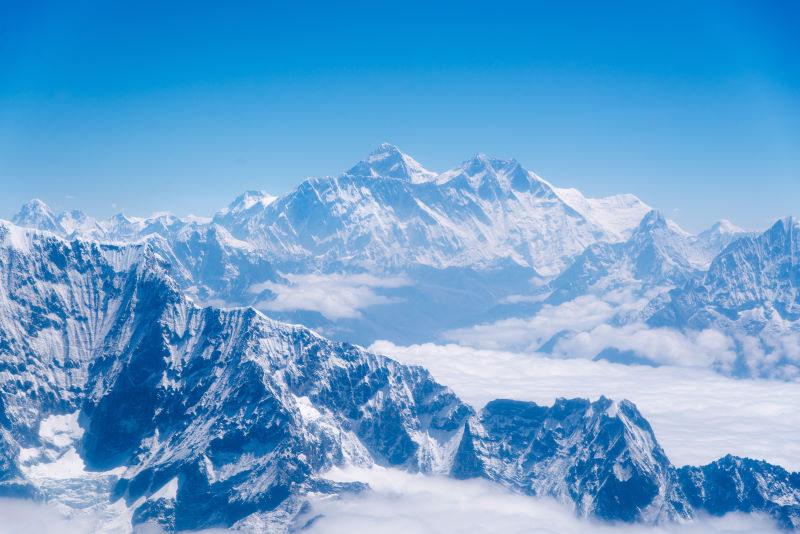 How Tall Is Mount Everest?
Mount Everest is 8,848.86 meters or 29,0129 feet tall. That's measured from sea level. That makes Everest the tallest point in the world and the tallest mountain in the world. It's 239 meters higher than K2, which at 8,611 meters is the second tallest.
Why Do People Climb Everest At Night?
The last summit push from Camp 4 to the summit of Everest normally starts at night. By starting the climb late you won't be able to see much on the way up but can use headlamps to see the path and ropes.
By the time you get to the Hillary Step it should be past dawn so you'll have full light on the hardest, technical parts. This is necessary to avoid missteps over sheer falls. You can then summit in full daylight and most importantly: have light on the way down.
Most deaths at the top of Everest occur on the descent from the summit. You want to ensure you have as much visibility as possible on the descent as your mental and physical reserves will be at their lowest.
Taking too long on the descent, not being focused, making a mistake, or not seeing a hazard are all causes of deaths every year. Climbers have died just a few meters from the warmth of tents at Camp 4 because of poor weather and visibility.
Why Does It Take So Long To Climb Everest?
The three main reasons it takes so long to climb Everest are the trek in, the acclimatization, and the weather. The trek can be skipped by taking an expensive helicopter ride from Lukla to Base Camp if the weather allows. If not it's a 8-14 days trek depending on resting and acclimatization.
Acclimatization at base camp and then the further runs up to camps 1, 2, and 3 are very important. You'll need to make sure your body is ready for the altitude. That means going up to Camp 1 and waiting to see if you're OK, then trying for Camp 2 and doing the same.
Once you've been able to go up to Camp 3 without issue you'll most likely come back down to Base Camp to resupply and rest, then go back up to Camp 3 over a day or two to be ready for the final summit attempt.
Weather dictates everything on Everest. Normally there is only a short period of time where the wind and cold aren't lethal and this could be as little as just one or two days in a year. Bad weather can stop climbers at any point from before Base Camp to the summit.
Camps get destroyed, gear gets blown off of the mountain, the Khumbu Icefall paths can change, and any number of things can causes deadly avalanches. Climbers are entirely led by the whim of the mountain.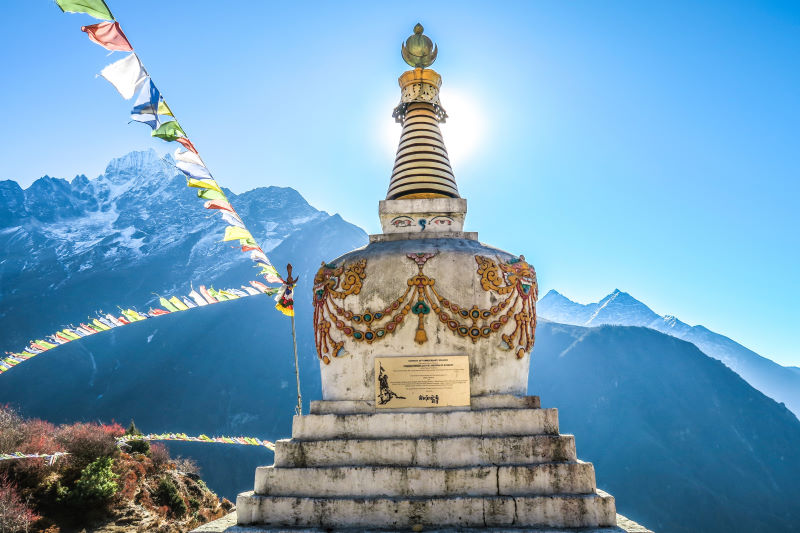 When Can You Climb Mount Everest?
May is generally the best month to climb Mount Everest. It's possible to climb in April or May though many climbers will start their full journey in March. Acclimatization takes weeks at a time so climbers have to be ready for a summit well in advance.
How Long Does It Take To Descend Mount Everest?
It's possible to go straight from the Summit back down to Base Camp in less than a day – though not common. Most climbers will rest at Camp 4 for a while before sleeping lower down at Camp 3 or Camp 2. From there it's down to Base Camp in less than a day as long as the Khumbu Icefall is stable.
You can get down from Everest in just a few hours by some unconventional methods. Davo Karničar skied all the way from the summit to Base Camp in just five hours – the first person to descend the full route on skiis. Jean-Marc Boivin paraglided from just below the summit to Camp 2 in just 12 minutes.
Yuichiro Miura was the first person to ski down Everest though didn't do the entire run down. Many others have tried skiing down but had to switch to walking. Marco Siffredi and Stefan Gatt were the first people to snowboard down Mount Everest though both had some issues getting the entire way down.
How Long Does It Take To Get To The Base Camp Of Mount Everest?
Reaching Everest Base Camp takes one to two weeks. You'll start from Lukla which is already at 2,860 meters above sea level. Most climbers will fly into Lukla's tiny airport, stock up on supplies and hire porters, then make the trek.
If you're just going to base camp as a trek you can take your time to see different peaks, villages, and monasteries. If you're heading for the summit you'll need a lot of porters for the huge amount of gear and food you'll use.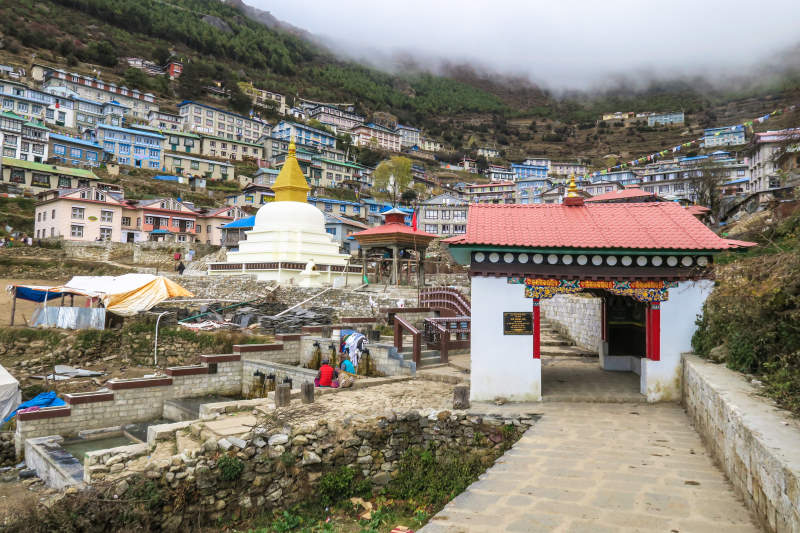 Base Camp is up at 5,380 meters so it's nearly all uphill trekking to Everest's Base Camp. You need to bring all your mountaineering gear, food, cooking equipment, tents, bedding, and some water (you'll melt snow at base camp). Along the way you'll stop at increasingly smaller villages and see monasteries high up in the mountains.
Trekking at this altitude is hard work and most people have a harder time breathing – even while sleeping. It's also possible to get altitude sickness even before base camp with individuals all responding differently.
Getting back from Base Camp to Lukla is only a two or three day trek because it's downhill. Many climbers choose to get a Helicopter back from base camp to cut down on time and help bring back some of the waste and trash.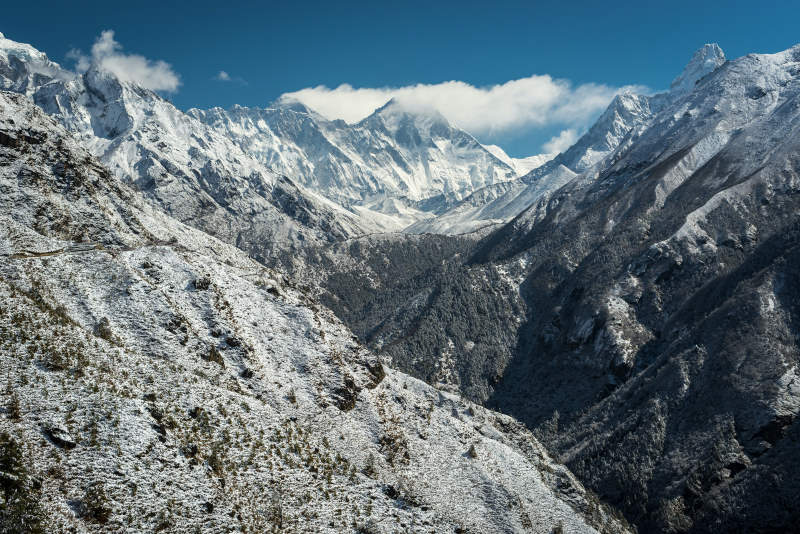 How Far Is Everest's Base Camp To The Summit?
From Everest's Base Camp to the summit it's about 20.5 kilometers or 12.74 miles. That includes a climb in elevation of 11,433.7 feet or 3484.86 meters.
Lukla (Last town with an airport before Everest) – 2,860 meters / 9,380 feet
Base Camp (Nepal side) – 5,364 meters / 17,598 feet
Camp 1 – 6,100 meters / 20,000 feet
Camp 2 – 6,400 meters / 21,000 feet
Camp 3 – 6,800 meters / 22,300 feet
Camp 4 (often called the South Col) – 8,000 meters / 26,000 feet
Everest Summit – 8,848.86 meters / 29,031.7 feet
Read more mountaineering articles
– How many dead bodies are on Mount Everest?
– Best Mountain Climbing documentaries on Netflix + Amazon
– First summit of K2 in winter
What + Where Is The Balcony On Everest?
Heading out from Camp 4 there is a steep climb that is described as seemingly never-ending by many. At the top is a fairly flat section at 27,700 foot / 8,400 meters known as the balcony of Everest. It's a small area where it's possible to rest, change oxygen, and then head on.
In May 2019 a team with the National Geographic Society made history by planting the world's highest weather station on the Balcony. You can actually see the live data feed of the weather here, along with other stations on Everest.
What + Where Is The Hillary Step On Everest?
The Hillary Step was a 12 meter high technical climbing section on rock that is above the balcony and under a hundred meters from the summit. Rock sections are hard to pass because they need ice axes or to be climbed by hand. They are helped by using a fixed rope but still technically hard.
Most of the climbing on Everest is over snow, with small sections on flat rock or gravel. The snow parts are fairly straight-forward to climb (though not easy) as it's literally going straight forward and up. Climbers use a fixed line with an ascender to help themselves up and wear metal crampons for grip.
The Hillary step is named after Edmund Hillary who described it while recounting his historic first ascent of Everest with Tenzing Norgay. To qoute him: –
"We realised that at this altitude it might well spell the difference between success and failure. The rock itself, smooth and almost holdless, might have been an interesting Sunday afternoon problem for a group of expert rock climbers in the Lake District, but here it was a barrier beyond our feeble strength to overcome"
Doing technical climbing with a sheer drop each side, at the top of the world's highest mountain is fairly daunting feat. It's one that drew many climbers because of the danger.
What Happened To The Hillary Step?
The problem is: the Hillary step isn't there anymore. At some point severe weather pushed the large boulder that formed most of the step down the mountain, with other formations around it too. Snow now covers most of what is left, which is a serious of smaller rock steps. An earthquake in 2015 was probably the cause.
There is clear photographic proof (here and here) that it has changed and now represents a lesser challenge. Nepali officials have apparently forbidden discussion of it in the media as well as enforcing a "no photos" rule.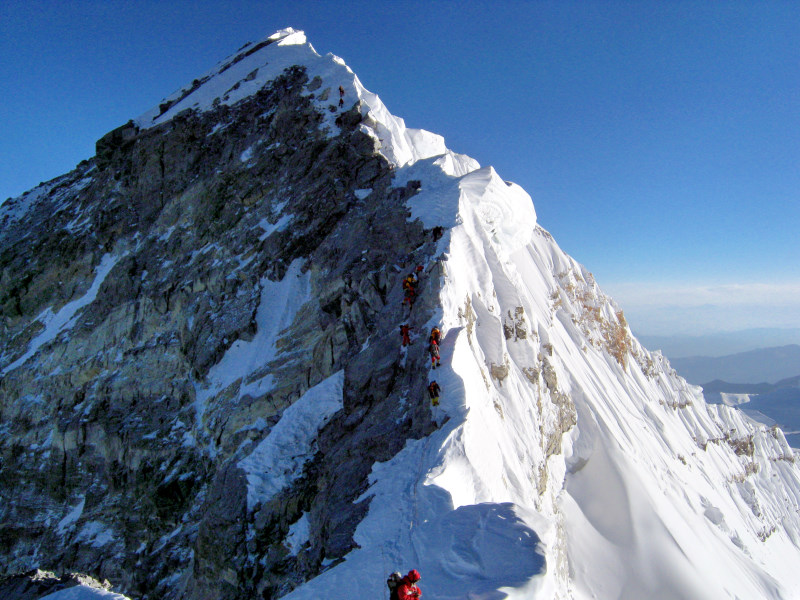 Can You Fly Or Take A Helicopter To Mount Everest?
It's possible to get a helicopter to take you to base camp for a tour but not to the summit. By plane it is impossible because there is nowhere to land. It is generally regarded as incredibly dangerous to fly in a helicopter as high as the "death zone" of 8,000.
As you go up the oxygen level depletes because of the lack of air pressure. This not only affects climbers who mostly use oxygen to help. For helicopters it's nearly impossible to create enough lift or retain control. For planes the closest airport (with a frighteningly short runway) is in the town of Lukla.
Only Helicopter Landing On Everest Summit
In 2005 Didier Delsalle decided to try to land on the summit of Everest. He has been a fighter pilot for the French Air Force and worked as a test pilot for new models of Helicopter.
In May he tried with a Airbus AS350 Squirrel with the passenger seats and other unnecessary parts removed. He made the flight up in very good weather conditions with virtually no problems, landing on the summit safely.
The next day in worse weather he repeated the feat so the first wouldn't be seen as a fluke. No-one has attempted it since.
Highest Helicopter Rescue On Everest
In May 2019 the highest helicopter rescue ever took place. The climber had become injured above 8,500 meters. He was brought down to Camp 4 with help from the Sherpa Pasang Tenzing and lowered with ropes further the next day.
Maurizio Folini was the pilot. At 7,800 meters a long-line rescue was carried out successfully. It is not possible to get a permit for over 7,000 meters so the event was fairly hushed up.
One of the rescuers Simone Moro said in Planet Mountain "Let's just say that the rescue was carried out at around 7,000 meters …we didn't check our altimeter precisely because we were focused on doing the right manoeuvres". The helicopter was of the same model of Airbus AS350 Squirrel that landed on the summit.
Helicopter Flight On Everest – Camp 2
In 2014 climber Wang Jing controversially used a helicopter to get herself and a team with supplies to Camp 2. With a team she climbed to the summit and back successfully.
In recent weeks an avalanche had killed 16 Sherpa's who were moving equipment up through the Khumbu Icefall. This lead to all Sherpa's and paid clients deciding not to climb that year out of respect. It was also thought the Icefall was impassable this seasons as it was too dangerous.
Using a helicopter to bypass the icefall to carry supplies had been discussed by other groups. Wang Jing and her team used the helicopter to avoid this hazard and go straight to the well stocked Camp 2.
Despite the controversy it must be said that it did avoid danger for Sherpas. The climber also donated $30,000 to a local hospital and paid her team well. She was not inexperienced or trying to skip part of the route for ease. This ascent was part of her "Seven Summits" climbs of the highest mountains in each of the seven continents done in just 142 Days.
Helicopter Flights On Everest – Gear Transport
Khumbu Icefall is one of the most dangerous areas of Everest. Much of the Sherpa porters work is transporting gear and food up and down from Base Camp to Camp 1 and 2. As a result many of the deaths are of the Sherpa community in the Icefall.
In recent years Nepal and guiding companies have now started to use helicopters to transport gear to the camps. This is somewhat controversial but could definitely reduce the risk for many Sherpas.
It's been said that this could encourage climbers to start flying to Camp 1, skipping one of the most dangerous parts of the full Everest climb. Whether that will be accepted is another question
What Is The Fastest Climb Of Everest?
There are many disputed records for the fastest climb of Everest from Base Camp to summit. Unfortunately none have seem to have confirmed video or photo evidence. Records have been set and rescinded even though one has as much evidence as the next.
Lhakpa Gelu Sherpa claimed a time of 10 hours 56 minutes. The ascent was from the Base Camp on the south Nepalese side and done using oxygen bottles. It was set in May 2003 and not officially surpassed since.
Pemba Dorje Sherpa claimed a time of 12 hours 45 minutes just a few days before Lhakpa. In 2004 he then claimed a time of 8 hours 10 minutes. This last record has since been annulled by the Nepal Supreme Court.
Kilian Jornet claimed a time of 26 hours without oxygen and without the use of fixed ropes. His claim has been disputed because of incorrect GPS data and no photo evidence. The claim of not using fixed ropes was called into question as there is a photo of him on a fixed rope at one point.
He also claims to have summited again five days later. This time it was from Advanced Base Camp from the Tibetan side to the summit in 17 hours, again without oxygen.
Based on the massive difference in times it's hard to believe some records. Kilian has been the holder of speed records for many other peaks including the Matterhorn, Aconcagua, Mount Elbrus, and Mont Blanc but some of these have been questioned.
Many other claims have been made and disputed. As average times are around 2-3 days from Base Camp to summit, doing the whole thing less than a day is always questionable, let alone under 12 hours. With radio contact, modern GPS tracking, photos from other climbers summiting or at different camps, plus GoPro footage most new ascents should be tracked fairly easily.
On the North Col route from Advanced Base Camp on the Tibetan side Hans Kamerlander has claimed a record of 16 hours and 45 minutes without oxygen.
Why Do People Climb Mount Everest?
Probably for the same reason as you are reading this article: it's fascinating. To have climbed the highest mountain and reached the highest point on Earth is a rare feat. The scenes of terrible weather and extreme conditions are something else.
When George Mallory asked the question he responded "Because it's there". He disappeared on the mountain in 1924 and his body was found in 1999.
For many it's the idea of adventure and personal challenge. For many it's obviously about ego. For some who have achievements on other peaks and mountains it's the logical conclusion and the ultimate goal.
More and more people are attempting summits without having climbed other 8,000 meter peaks or even much mountaineering experience at all. Unfortunately some guiding companies are offering very cheap attempts without requiring other peak knowledge.
Can Anyone Climb Mount Everest?
Yes and no. To be able to climb you need to find a guiding company that will take you, apply for and be granted a permit from the Nepalese or Tibetan government, and be able to pay for the guiding, equipment, porters, Sherpa guides, trash recovery costs, insurance, and multiple other things.
During COVID times Nepal and Tibet don't seem to be issuing permits or are offering much less. It's up to the guide company to decide if they will take you or not.
Though it might seem an incredible challenge: Everest has been summited by an 80 year old, two separate 13 year olds, a person without legs, a person without arms, and a blind person. With a very high level of fitness, a good team it's possible.