In Spring 2020 we have achieved peak hangboard. Not since 15th century Transylvania has hanging in a room devoid of sunlight been this popular.
The hardest thing about fingerboard training for climbing is finding a hangboard app that actually works. For some reason there are a bunch of terrible apps out there – even the official ones. So we sat down and waded through the app stores and found the best hangboard apps so you don't have to.
We'll cover apps for most commercially available hangboards as well as showing apps that allow you to use your own custom made hangboards. Please note we'll use the terms hangboard and fingerboard interchangeably.
There is currently a shortage on most popular fingerboards. If you're looking to buy one please consider supporting your local small outdoors retailer or climbing gym and ask if they have them available or can order in.
– Best hangboard app for Beastmaker 1000 / 200 – Beastmaker 1000 Training Pro
– Best hangboard app for Metolius Simulator 3D / Contact / Project / Rock Rings / Wood Grips Compact – Check here
– Best hangboard app for Trango Rock Prodigy / Forge – Android Grips & Grades – Apple Boulder Trainer
– Best hangboard app for So iLL Iron Palm / Moon Fingerboard / Yaniro / others – Android Grips & Grades – Apple Boulder Trainer
– Best app for Zlagboards – Official Zlagboard app
– Best app for custom hangboards – Boulder Trainer
– Best free hangboard app for Android – Grips & Grades
– Best free hangboard app for iPhone / Apple Devices – HangClimb Timer
– Best hangboard app for Apple Watch – HangClimb Timer
Best Hangboard App For Beastmaker – Beastmaker 1000 Training PRO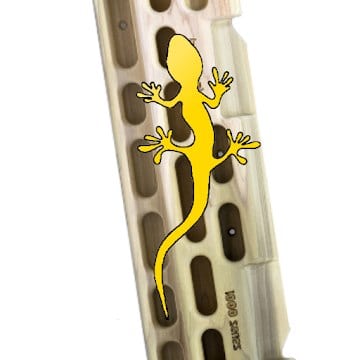 Download – Android Play Store – Paid $1.49 – No iPhone/Apple Version – Buy Beastmaker on Amazon
This isn't the official app for the Beastmaker (that's reviewed below) but it's definitely the best app for the Beastmaker 1000.
This app is specific to the Beastmaker 1000 but the creator TankT72 also makes apps for other popular fingerboards – including the Beastmaker 2000 and most Metolius hangboards. They're often called "LizardEdge" and are currently $1.49 each on the Play Store. They are all essentially the same for options but just have different boards – definitely worth a look. View all of them here.
– Beastmaker 2000
– Metolius Simulator / Project / Contact / Rock Rings / Wood Grips Deluxe 2
Features 3/5
This is a straightforward app with a bunch of pre-made workouts for the 1000. You can also edit the pre-made ones into your own custom workouts without changing the originals. There isn't any safety or introduction to hangboarding.
There is no recording of how hard the workout was, failures, history e.t.c. Also no way of selecting weight used.
User Interface 2.5
The app isn't the nicest looking and the interface isn't the most obvious – but it's not absolutely terrible. The workouts flow and are easy to pause and move through – though you can't skip individual repetitions and have to skip the full set.
Pre-made Workouts 5/5
There are 14 presets for workouts in a wide range of difficulties. It's also easy to see how long the workout takes, and look at the holds and hangs types used before starting so you can judge which one suits your level. The fact that you can make small edits to these is brilliant.
Customization 4.5/5
The best part of this fingerboard app is how customizable it is. You can't create a new workout from scratch, but you can edit the pre-made ones without altering the originals. Just go to the trainings_custom.xml file at the bottom of the main screen and then modify one of the 14 pre-mades.
You can select two different holds to use and then manually write how you'd like to hold them i.e. half crimp, middle two fingers. You can change the reps, duration of the hangs, rest, and rest after finish for each individual set.
I personally find the easy individual set customization the most helpful. If I'm having trouble with certain holds I can quickly increase the rest time so I get the hangs in instead of just skipping them or having to pause each time.
There are also a few different options for the voice descriptions, seconds and rest timing announcements, and a basic notifications options – all in the settings menu in the top right.
Overall Rating 4/5
We love this app specifically for the Beastmaker 1000 because the official one is so hard to customize. This comes with the pre-made workouts, the timing and holds used are obvious during the work out, and the customization options are the best. The design and look won't win awards but this does a great job for training if you know what you are doing.
Read our Beastmaker 1000 review
More Hangboard Stuff
– Full updated guide to the Best Hangboards
– Backcountry's fingerboards
– REI's current stock
– Amazon – Be wary of low quality fakes and copies
Best Apple Hangboard App – Boulder Trainer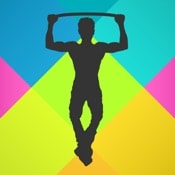 Download – Apple App Store – Paid $2.99
Features 4/5
The best thing about this app is the number of fingerboards it supports. At this time it has 80 fingerboards added and pre-made workouts for most. You can also add your own DIY hangboard by taking a picture and numbering the holds manually.
You have a few pre-made hangboard workouts plus can make your own very easily. You can share workouts and add reminders for yourself. Tips for using the board safely are included.
User Interface 4/5
The Boulder Trainer app used to be a bit messier but in recent versions is much cleaner to use. The timer clearly shows seconds left, what hold to use, and the hold coming up. Voice instructions and timers are clear. We'd prefer it if the hold was highlighted on the board itself instead the number of the hold and a picture of the holds on the hang board separately.
Pre-made Workouts 3/5
A few pre-made workouts are included for the most popular hangboards, and you can download more. You can also download and use custom hangboard workouts from friends. It's can be hard to find the right plan for the right board and it's not the most intuitive for selecting or switching plans.
Customization 4/5
Making and editing your own plan is fairly easy. Holds are numbered and you can select each hand separately. Timings for hanging, resting, and rest for the next set can all be chosen. You also get to choose whether you dead hang, bent arm hang, pull-up, and other forms of pulls and raises. This is great, but a feature to choose how you hold the grip (like middle two fingers, half crimp e.t.c) would be more helpful.
Overall Rating 4/5
Clean looking app with a big range of boards, good customization for workouts and holds/grips. Definitely the best hangboard app for iPhone and iPad. Best fingerboard app for DIY hangboards as you can take a picture and number easily.
Hey!
– The version of this for iPhones/iPad is great – but the Android one isn't updated and is very buggy. We wouldn't recommend the Android version at all.
Best Free Hangboard App For iPhone – HangClimb Timer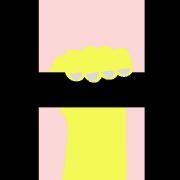 Download – Apple App Store – Free – No Android version
This also happens to be the best hangboard app for the apple watch – mainly because there aren't any others. While this isn't a very fully featured app, the timer does the job and the customization is brilliant.
Features 2/5
This app's main feature is the creation and customization of workouts for a hangboard. It doesn't show hangboards or holds, you have to select the "name" of the hold to use from a list of drop downs. In theory this should work with most hangboards if you just know which hold is the "small pocket" for instance.
User Interface 2/5
The timer is simple but obvious with pause, skip and restart options. There is no logging, history, or much extra. No safety or use instructions. Navigation is simple and doesn't get confusing. Some sound options.
Pre-Made Workouts 2/5
Comes with some basic examples which are decent, but really this is all about the customization.
Customization 4.5/5
Where this app wins in customization is the individual reps themselves can have variations. For instance you might have a set of 6 hangs, but want the hangs nearer the end to have longer rest times, or finish on a smaller hold, or pull up on the first of the set e.t.c.
Even though there is a lot of customization per rep, you can easily create a set of reps all the same without manually making each one. You can choose between types of hangs like dead hangs, pull up, pull up and hang e.t.c. No options for type of grip (full crimp, mono). Unlimited custom workouts.
Overall 3.5/5
A simple app that could work on any board, and can work on the Apple Watch. It's free and does the job if you know which hold is which on your board and don't need logging. Best hangboard app that's free for iPhones.
Beastmaker Training App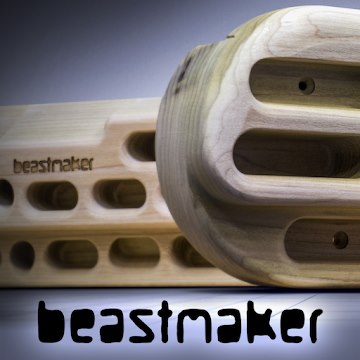 Download – Apple App Store – Paid $1.99 – Android Play Store – Paid $3.84 – Buy Beastmaker on Amazon
If you've got one of the popular Beastmaker 1000 or 2000 fingerboards, this official app might be the first you try. If you just want preset workouts with the same timings this could be great. However – we'd suggest a different app if you want any customization.
Features 3/5
Straight into the app you choose the fingerboard you have and choose a graded workout from 5A to 7C. Choose the times you repeat the whole thing, the hang and rest, and rest time after groups. You can great unlimited custom plans and rate workouts as well as seeing the rating history.
User Interface 4/5
Visually this app is great. The timer on the app is big and the screen changes from green to red for hanging and resting – which makes it really easy to see what to do from a few feet back. You see the next holds very clearly.
There are quick restart and pause options if you miss timers, and you can skip to the next set easily (though can't single hangs). It also shows hands in the actual holds as well as different grip types like half crimp e.t.c. This is really helpful and clear.
Pre-Made Workouts 4/5
There are a bunch of pre-made workouts with Font grades from 5A to 7C. You don't get to see the exact holds you'll be using but do see the grip types. This is an odd choice and we'd prefer both.
When starting the workout you get the choice of how any times you will repeat the entire exercise (called reps), how long you will hang, rest between hangs, and rest time. This is pretty standard but leaves no room for longer rests on harder holds without pausing.
Customization 1/5
You can create custom workouts quite easily by selecting a hand position, moving the hand to the hold, and adding a new set. You can choose two different holds to use in one set but not two different hand positions. You can then edit those hangs, and save a custom name, hang/rest times e.t.c.
However – you can't move the hangs position in the set and can't choose different rep ranges. You also can't have different rest or hang times. The big issue with the customer workouts is that once saved, you can't edit them again and have to start another from scratch.
Overall 3/5
The official Beastmaker app looks great and comes with a bunch of pre-made workouts that can be helpful if you're brand new and don't know where to start. Unfortunately it misses a few tricks. Not being able to edit custom workouts or make custom versions of pre-made ones is really limiting. We'd recommend the the Beastmaker 1000 Training PRO for Android if you want to make small changes to workouts. For Apple devices Boulder Trainer works great.
Read out Beastmaker hangboard review
Best Free Hangboard App for Android – Grips & Grades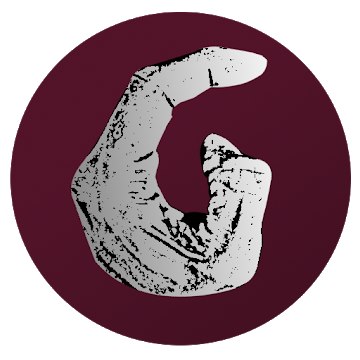 Download – Google Play Store – Free – No iPhone/Apple version
Features 4.5/5
This app takes a novel approach to hangboarding to keep it interesting. Instead of just having pre-made workouts, it generates workouts based the grade you want to train.
There are loads of hangboards to choose from by swiping left or right on the boards image. There are pre-made benchmarks available to use but
User Interface 3.5/5
During a workout the board is shown with a hand in a grip type on the hold. There is text that tells you the grip type as well. The timer is a moving colored bar which is great – but the seconds shown aren't how long you hold on for, instead it counts up the total rep and rest time.
You can pause but you can't skip or restart sets or reps. You can also move the board around, as well as change the timer number size – both maybe helpful but just an odd choice.
Once you've completed a set of hangs you can then hold the hang bar to select how many of those hangs were successful. You are also shown the time left, and where you are in the workout. You can also see history of your hangs and success/failure rates.
Pre-Made Workouts 4/5
While this does have pre-made workouts – this app does things a little differently. It grades all of the holds from the easiest to hardest, then you select a Font grade and it works out what holds would be in that range. You then press a button to generate a workout for a certain time.
You can get pre-made workouts by going to the "Benchmarks" where there are a full range from 5A to 8B for every board. If you like that workout you have to save it during the workout by pressing pause, "Workout Progress" then Saving it.
Customization 3/5
Creating and changing workouts isn't completely straightforward. First you have to generate a new workout or bring up a benchmark. Then you long press the hang to change the hold from one long drop down for both hand positions, and then the hang type. It's a little laborious plus you then have to start the workout to save it.
You can change the hang time, rep time e.t.c for the entire workout but not per set which is a shame for such a featured app. You also can't add custom hangboards.
Overall Rating 4/5
Honestly we'd suggest downloading this and giving it a try if you have an Android phone. It's both surprising and not that it's free for something so complicated. It's fairly versatile and has lots of options – though some odd design and customization choices. Best hangboard app for full features and making hangboard workouts interesting.
Other Hangboards Apps We Tested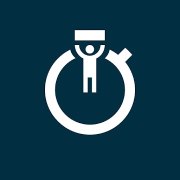 Hang Time – Hangboard Training
Download – Android Play Store – Free
A free app that you have to sign in with a Google or Facebook account to use – this can be a problem to get working and is a bit of a privacy issue. Looks really good with a well-designed layout and interface. Comes ready to work with a few different hangboards.
Customization is there, but not completely user selectable. You can choose the holds to use but not exact timings – though you can change them per set. History and tracking works tough it is basic. This is one of the apps that's worth taking a look at.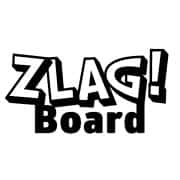 Zlagboard – personalized hangboard training
Download – Android Play Store – Apple App Store – Free with paid plans
If you have one the awesome Zlagboards then you'll probably want to use this app. As we've never had access to one we can only go off of what the app, videos and reviews show us. You create an account for access to workouts and then connect the phone to the board.
The awesome thing about this board is that it can tell when you are hanging or not, meaning much more accurate logging and progression over time. It comes with loads of free pre-mades, plus you can access pro plans made by legendary climbers for a fee. You can also create custom plans.
The timer and app layout is really nice, and it works with a few versions of the board. The board is pretty expensive though may be worth it as an investment. There are also competitions and challenges within the app. Best hangboard training app if you have the Zlagboard.
Zlagboards start from around $120 / €150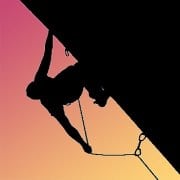 Hangboard Repeaters
Download – Android Play Store – Free
This is a basic app that just allows you to change the reps, hang, pause and rest time, and doesn't show holds on the hangboard. It shows timing suggestions for max hangs and repeaters as well as custom workouts. You can only edit the workout as a whole, not per set.
It doesn't have countdown audio though has chimes for when to hang and rest. It also has basic logging for hold and weights with notes. It works as a basic free app if you know the holds you are using but not much else.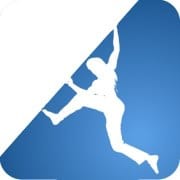 Beastmaker Trainer
Download – Android Play Store – Free – Buy Beastmaker on Amazon
Another basic app that allows to you select reps, hang, pause and rest time. It has basic vibration or beep settings and nothing else. No selectable holds, editing, saving, or history. Free and simple if you know the holds you are using or remember/write down your program. Shows ads.
Read out Beastmaker hangboard review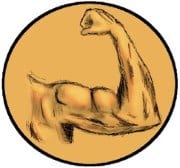 Hang Tight – Hangboard Trainer
Download – Android Play Store – Free
Another free app with ads though you can can pay $1 in app to remove. Simple timer with ability to edit reps, hang, pause and rest timings. Can change sounds and also allows you to skip forward through individual reps. Has two pre-made workouts but timings are the same throughout the entire plan. Can't select the holds use but you can create workouts with short notes.

Nappy Fingers
Download – Android Play Store – Free – Buy Beastmaker on Amazon
A basic free fingerboard app with some pre-made workouts for the Beastmaker 1000/2000. Shows the holds used and a decent timer, but can only pause, not skip/retry. You can create custom workouts by cloning pre-mades and then editing.
You can change the holds per hand, write a description, and change the reps/rest/rest after set, and the amount of reps. Decent functionality but a little niggly to use. Sound and speaking options are just on/off and you can change the voice.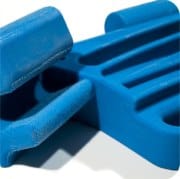 Rock Prodigy Timer
Download – Android Play Store – Free – Buy Trango Rock Prodigy hangboard
There is an official app for the Trango Rock Prodigy. However it hasn't been updated for years and consistently crashes. It also doesn't allow custom workouts. Some of the features and the timer screen are pretty good. It shows where you are in the workout, timer remaining and set info which is great. However, it doesn't show you what grip you should be using mid-set – only before.
Unfortunately this isn't the best hangboard training app for the Trango Rock Prodigy, we'd instead suggest the Boulder Trainer app for iPhone or Grips & Grades for Android.
Find out why we rated the Trango Rock Prodigy as our Best Hangboard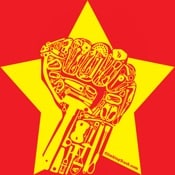 Hangboard
Download – Apple App Store – Free
An older and fairly basic app designed for the Trango Rock Prodigy, also works with the Forge, Contact and Beastmaker 1000. The workout shows the number of the hold to use but not the hangboard on screen. It does the job with some very basic pre-made workouts and does have options for weights, pausing, skipping, restarting, as well as logging success/failure.
What we want from a Hangboard App
No app does all of these but this is our gold standard. Get at us if you develop one that does this all and we'll test it out and feature you.
Big and clear timer with visual warnings (color change for instance and colour blind options)
Picture or nice diagram of each hangboard with highlighted holds
Show hand grips on holds – plus choice to show hands or just highlight holds
Timing screen is really clear but has options for showing time left, sets completed/still to go
Pause, skip (sets and reps), retry
Different selectable beep sounds with choices for when they play
Change voice and options or on/off
Pre-made workouts that show the holds and grips used, timings
Info on how to use a hangboard properly and safely
Interface is clear and intuitive to use
Can create unlimited custom workouts from scratch AND clone/edit pre-made ones
Edit timings and rests per set
Duplicate and move sets easily
Record failures/completion and easy/hard per set
Options for using weights and recommendations based on past use
History logs that show total time, weight, most used holds, weak holds/grips, graphs
Lots of hangboards supported
Ability to take a picture and select holds for custom hangboard
Share workouts easily
Reminder notifications
We hope you've enjoyed our way too over the top round up of the best hangboard workout apps. We probably went way to deep but hey. With unlimited hours per day, and hangboarding is the only bit of climbing you have left – this is what happens.
More great climbing gear articles
– Complete guide to the Best Hangboards For Climbing
– Full guide to the best home climbing training equipment for lockdown
– The best climbing shoes of 2020 updated with the latest models and upgrades