Climbers News is back again with your weekly round up of all things climbing to ease you into the weekend again.
1. Watch the IFSC Youth Bouldering Finals tonight
The IFSC Youth World Championships take place every year and gather hundreds of the most elite sport climbing athletes between the ages of 14 and 19. The bouldering events come first, spread over a few days, then onto Speed and Lead events every day until Sunday the 10th.
You can watch the Bouldering Finals for the Youth A group directly at ifsc-climbing.com this evening with events continuing on through the weekend and next week.
2. Mina Leslie-Wujastyk takes a big fall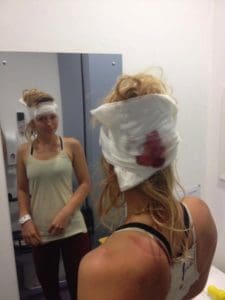 Chances are you're headed out for a long weekend at the local crag, so here's a quick reminder on what can happen to an experienced professional climber on a popular route and how to protect yourself. Mina Leslie-Wujastyk was out in the Yorkshire Dales, UK at Malham Cove – a popular limestone area with hundreds of routes.
On "Rainshadow" a 9a sport route Mina took a pretty standard fall from a spot she had previously fell from before but took a head injury and needed rescuing partly because of a harness that was too large, and lack of a helmet.
"…essentially I fell, inverted back and flipped sideways impacting the lower Raindogs wall hard with the back of my head and left side of my body. My brain felt like it reverberated around my skull, stunning me, shooting pain in the back of my head, instant paraesthesia (pins and needles) coursed down both my arms. Needless to say, I screamed."
Mina goes into full detail of the incident, the reasons why a fall she had taken before suddenly became so dangerous, and her subsequent rescue and recovery with ukclimbing.com as well as on her personal blog.
3. "Pretty Strong" hits 33k out of 50k funded in three days
We reported recently on "Pretty Strong", a climbing film by women, for women from the Never Not Collective. As of this morning the total pledged for the Kickstarter funding is at 33k of the 50k asked for! Get involved here if you haven't already.
4. Arno Ilgner – author of The Rock Warrior's Way" features on the Enormocast
If you don't listen to the Enormocast, go and download the episode now. The best climbing podcast out there has just featured an interview with Arno Ilgner, a well known climbing trainer and author. His most famous book is "The Rock Warrior's Way: Mental Training for Climbers" which was a ground breaking collection of theory on the mental side of climbing training.
Shoutout to Chris Kalous for bringing us so many amazing interviews and insight from the climbing community for 135 episodes now. We are big fans here.
5. Get your gear from the world's highest climbing shop
37.5 Technology decided to market their advanced body temperature materials by opening the world's highest pop-up shop. At 6,296ft the shop served up some fancy looking gear to the likes of legendary Lynn Hill. The material is used in lots of different brands and was served up by Dave Bywater of 37.5.
Welcome to the Cliffside Shop
What do you think? Maybe a good idea for when you've run out of the right size cams trying to save some weight on your rack? Let us know what you think, and check out our instagram, facebook or twitter while enjoying downtime this weekend!