Bouldering is now well and truly established as it's own world within climbing. Big names like Daniel Woods, Nalle Hukkataival, Jimmy Webb, and Charles Albert are all pushing the boundaries of power and style.
At the same time many great new indoor bouldering gyms are popping up and creating the new wave of hard boulderers and avid enthusiasts alike. The ease of starting is as simple as a pair of shoes, some chalk, and a bouldering pad.
While other areas of climbing require multiple methods of protection and various preferences for safety gear, bouldering really only needs the one. Bouldering pads are also known as crash pads or safety mats but all do the same thing – protect you from the ground. Whether it's a low to the ground cave, or a big drop from a high ball problem, you'll need a bouldering crash pad to stop injury. This is an exhaustive guide to everything you need to know.
Just want recommendations? Check out the Best Beginner Bouldering Pads.
The Basics – What is a bouldering pad?
When you fall, you want to land on something soft to stop injuries to your body and feet. At it's simplest, a pad is a thick foam core normally with a few layers of different hardness, covered in protective fabric. Nearly all pads will have a rucksack style set of shoulder straps that in some cases can be removed, often a chest strap too, and most will fold up to a smaller size and secure with a locking strap to be carried on your back to the crag.
Optional extras can include a top carrying handle, velcro areas for attaching multiple pads, or carrying pockets. Some pads have an extra fold out or detachable mat for starting routes or cleaning shoes. Read What Is Bouldering?
What Foam? – Hard, Soft, Recycled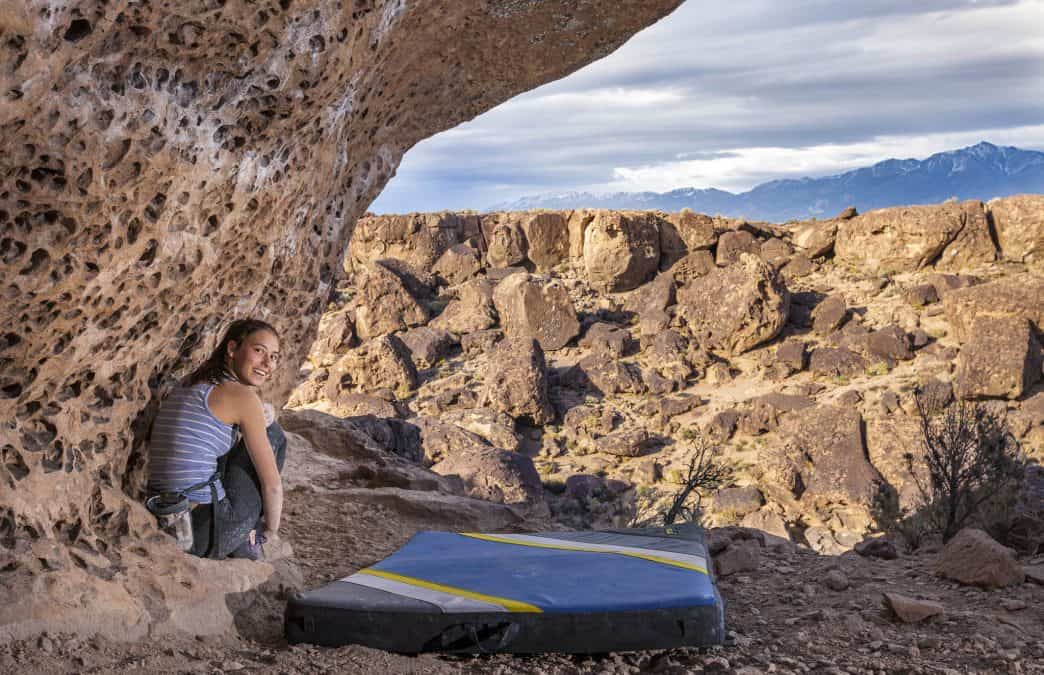 Most pads come with two or three layers of foam, and generally use a mix of layers using open cell or closed cell PU (polyurethane) foam. The open cell foam is a softer and lighter foam that is designed to cushion the fall – like sitting back into a couch – and is generally on the bottom or in the middle of the pad's layers. The closed cell foam is a more dense, hard and heavy foam that does the job of spreading the force of the impact.
Though you might think a softer pad overall would be comfier and easier to land on, the hardness of the foam and how long it stays hard is important for actually stopping injury. If you have a cheap soft pad, a pad that's too thin for the height of the fall, or an old pad that's lost it's firmness, you risk completely compressing the foam and hitting the ground.
Some modern pads use a top layer of memory foam that is a good mix between softness on a fall and durability. Also newer pads like the Mad Rock R3 use a shredded mix of recycled foam that creates a good cushion and a less stiff structure that is good for bumpy and uneven ground.
A good quality pad like the Black Diamond Drop Zone will have a good mix between durability and weight. Cheap pads commonly use chemicals to make a cheaper foam harder but this foam can break down faster – leaving you no choice but to get a new pad or risk injury.
What Thickness? – High Falls and Low Starts
A standard thickness is 3 to 4 inches in total. Some "fat" pads come in 5 inches or more, and thinner pad of 1 to 2 inches are available – though generally used for sit-starts with a larger pad under the crux. Thin but wider area pads can be used as a cover over a larger area to fill in gaps.
A general rule is a minimum of 3.5 inches though if you do a lot of highballs consider a "fat" pad or stack pads together. Most pads also open up so replacing the foam is possible. Some manufacturers like Organic sell completely new replacement foam pre-cut.
Folding Style – Flat, Angled, Tacos?
A standard pad folds in half for carrying, though some have three sections that fold, or taco style shells that roll up like a mat. Where the two halves join – the hinge – is important on pads as the seam can leave a gap or "gutter" where there is no protection. In basic folding mats where the foam is cut in half at a straight angle, it is possible it land in the middle causing the pad to fold up while you hit a rock or the ground with no protection.
There are various solutions to this problem. Most flat hinge pads use velcro in the hinge or a strap along the bottom that keeps the two sides together. Some manufacturers create an angled hinge to alleviate the gutter problem and some have also tried a "step" style hinge that has the same effect. Pads like the Petzl Alto come as one continuous layer with no a hinge at all and fold up in a "taco" style.
What style you choose is dependent. If you commonly boulder on uneven terrain or where there are many rocks or hazards under a fall, you might want to go for a taco style pad or one with an innovative hinge, or a floppier overall design that will conform better to the terrain. Odd pad placements can see the mat slide away or not fit under a problem properly.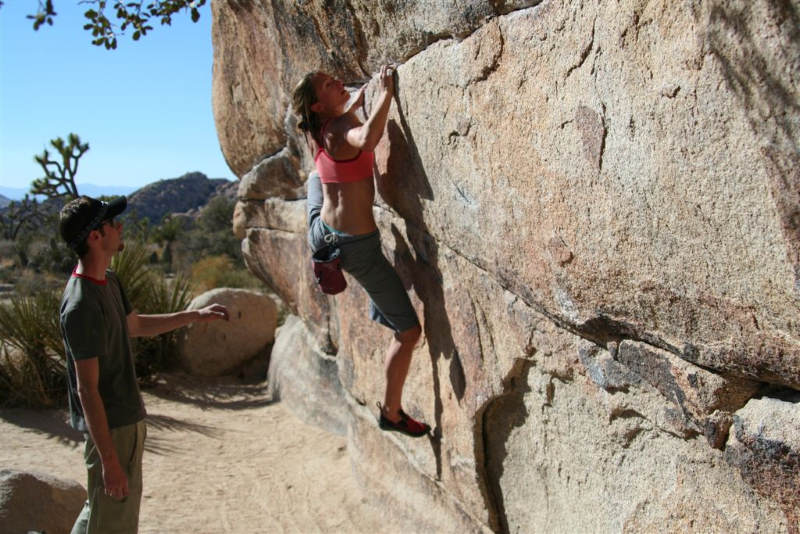 Size Matters
A standard sized pad is around 45-50 inches on the long end and 35-40 inches on the short (that's 115-127 by 89-101 cm) but most pads will vary. If you are a frequent boulderer and often go out alone to repeat projects, you'll want a bigger pad to cover your falls when no one is around to move it. If you boulder in groups a lot you can pool your pads and great a big landing area. Consider "satellite" pads, usually thinner but larger area pads that cover gaps between mats, and are helpful on very low routes with little ground clearance.
Size is really up to you. The most important thing about a bouldering safety mat is that you use it. If it's too heavy, or too large to fit in the car you might be tempted to leave it behind. Make sure you can happily carry the pad with all your extra gear and lunch.
Consider whether you could use one larger tri-fold pad like the Metolius Recon, or a double with a smaller one that straps on easily, a couple of small to mid sized packs that stack or attach side by side, or if one giant pad for higher problems would be better based on your preferred areas and style of climbing.
The most important thing about a bouldering safety mat is that you use it. If it's too heavy, or too large to fit in the car you might be tempted to leave it behind.
Before you buy, do consider how you fall. Most bouldering injuries with a mat come from things like rolling an ankle, or awkward landings. If you fall foot first on the edge of a pad, you run the risk of twisting your ankle as your foot moves from high and hard big of foam to the ground. Softer edges can help and extra mats can fill in, but consider how you might fall before every route
Durability and Materials
Most pads come with a durable outer layer of fabric, often a 600D or 1000D (high denier, higher numbers for higher weight means it is more durable) nylon, or sometimes cordura "ballistic" fabric used for military purposes. Good fabric and good stitching will keep your pad from tearing or wearing out. Look out for pads like the Evolv Maverick that have reinforced corners and edges, or rubber bottoms to stick to rock and repel water.
You might also want to move rocks or cover up sharp roots under a pad's landing to save some wear and tear. Pads get dragged around a lot and a fall accompanied by a "pop" of a rock going through the fabric of a new pad is common.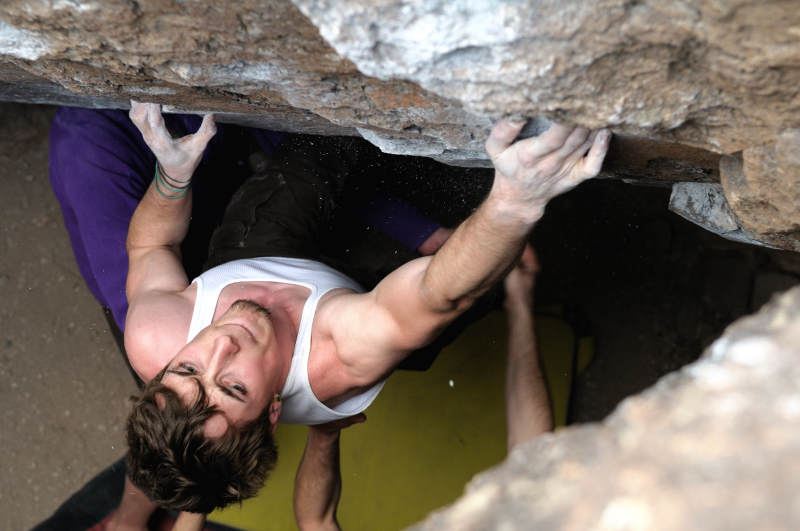 Carry Style – Getting There and Back
A good carrying strap system that is adjustable with a good waist belt can be a really helpful addition on longer approaches over rough terrain. A big bulky pad that won't stay on can ruin an approach. Some straps can be removed and stored easily.
Some pads can be bought as a set and carried together and attached as one big pad via a velcro system ala the Mad Rock Mad Pad and the rest of the mad rock line.
Extras – Welcome Mats, Pockets, Zips e.t.c
A "welcome mat" is a thin pad with a furry towel-like fabric used to clean shoes or to stand or sit on when beginning a route. Some pads have these built in or removable, and some use them as part of a system to help attach another pad to the first when carrying.
Thin "auxiliary" pads like the Petzl Nimbo or Asana Rock Star are for the inbetween jobs. Great for fit starts, adding a little extra padding, or covering areas in between pads. Having
Pockets can be really helpful if you only have a few things to take in to the crag but be sure you need one before shelling out extra. Make sure you take items out before climbing if you don't want to stand all your weight on house keys and an expensive phone. Most people just put a backpack on their front to take in the essentials.
A sturdy closure system can be important. Plastic buckles can break, and a badly designed closure can mean the pad opens while walking or gets caught. Multiple strong metal buckles can help and some pads include a zip the entire way around the pad or a clever velcro system. The pad should also have a strap or velcro system than keeps the pad straight when opened out – especially important with a flat hinge.
Good grab handles make a day out in an area so much easier. Being able to grab a corner handle to move a pad to the next problem in an area like Fontainebleau is so helpful. Rubber backing on pads can keep them from slipping on steep flat rocks, some pads have a "bean bag" layer underneath to conform to odd ground like the Edelrid Balance. Pads with a velvet or nice soft material top do exist for feeling extra comfy after failing to send. Some tri-fold pads even turn into a half decent crag couch!
Skip To The End – Summary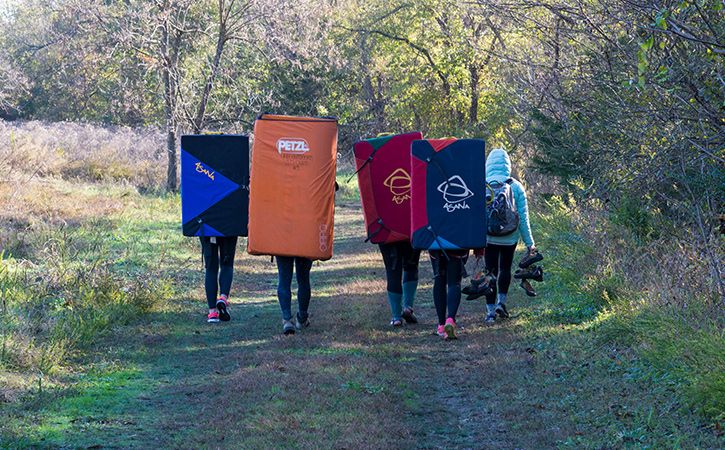 Use our handy guidelines when looking to buy your first bouldering pad: –
Check a few pads out at a shop to get an idea of size, weight, and features
Get a pad big enough for you but not so heavy and bulky you won't take it
Get the right style of hinge for the areas you use – Consider taco style pads or the R3 for uneven ground
Don't cheap out on foam if you want it to last – or to protect you
Don't buy a regular gymnastics pad or a kids foam pad, and don't use an old second hand pad unless you know it's still firm
Consider an extra smaller pad for sit starts, cleaning shoes, or covering gaps
A beer mat or old towel is a cheaper way to clean shoes and avoid standing on dirt, instead of a a fancy "welcome mat"
Buy as a group to get a good mix if you boulder often with the same crew
If you mostly do one style of bouldering, get the right mat to suit you
Don't sleep on your pads, you'll wear them out
Our Top Bouldering Pads
Black Diamond Drop Zone
An updated classic all-rounder. Hard wearing outer, mix of hard and soft premium foam, taco fold with great closure.
$249.95 $187.46 at Backcountry
Metolius Session II
This best seller has been updated with small refinements. Great foam, drag handles, closure and carry system, integrated shoe cleaning carpet in the middle logo. Comes in at a great price.
Consider the Metolius Recon for a larger tri-fold pad.
If you are in the market for a new mat, read our Best Beginner Bouldering Pads guide or get hyped for your next sesh with more bouldering articles. We also have some great gear guides for the best climbing shoes, best beginner climbing shoes and best beginner climbing harness.